With a name like 'Elegant Technology', the storefront which embodies its namesake needs to be spectacular!
That's why this online retailer turned to the experts at OC Designs Online for their eBay Store Design needs.

By confining the main navigation menu to the very top of the site, this eBay Shop Design leaves ample room to showcase all the quality electronics contained within.
Below, the Elegant Technology logo and a sleek, spherical cluster of keys greet customers while framing the same day shipping promise as well as a notification regarding the over 100,000 OEM parts inside.
Realizing that many customers prefer to target their searches as opposed to browsing, a custom search bar awaits the entry of a part or model number. For the decisive buyer, this feature will simply make their entire shopping experience.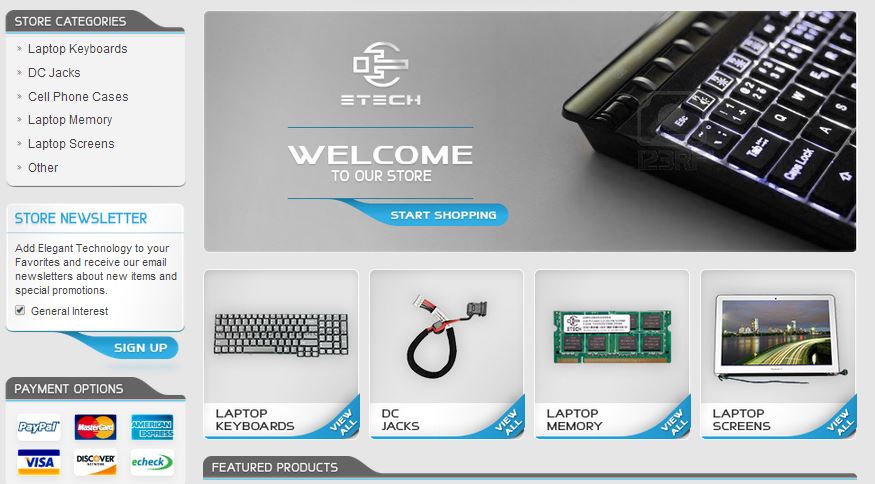 With 100,000+ choices in the mix, keeping organized is essential. That's why our designers were sure to layout this eBay template's store categories in two distinct features. One with vertical category links including keyboards, jacks, cases, memory and more, and visual panes which sit catercorner. Each of these is underscored with a hi-res graphic and option to 'view all' in the lower right quadrant.
Back in the left sidebar, shoppers can easily stay abreast of new items and special promotions by signing up for the newsletter.
To ward off questions before they arise, payment options are available at a glance. The logos for all major accepted credit cards, paypal and echeck alert buyers as to the simplest ways to complete their purchases.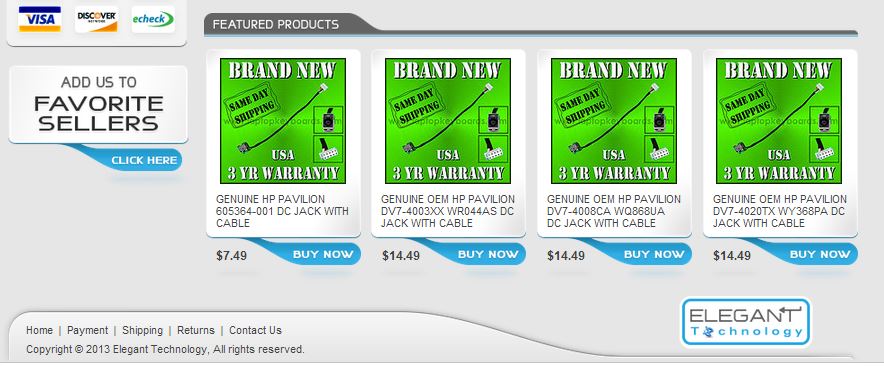 As a unique twist the featured products swath in the midsection is slated for high traffic. It also serves as an effective marketing tool by promoting the site's policy of same day shipping and three year warranty.
Finally, a custom footer rounds out the eBay Store Design. With a mini sitemap to guide shoppers through payment options, shipping and returns policies or contact information customers can buy with confidence. The Elegant Technology logo acts to counterbalance the site and reinforce brand recognition.
Learn how OC Designs Online can help you drive sales by building you a stunning "must-shop-in" eBay Store Design where shoppers can easily find what they want while experiencing a sharp and crisp design.
Request a free quote and be sure to browse our massive eBay store design portfolio and learn more about our storefront solutions.
Don't forget to like us on Facebook and add us to your circles on Google+!