While it's true that the clothes don't make the man, the creme de la creme of fashion never loses its appeal. eBargain Square is home to the likes of Versace, Dolce & Gabbana, Tiffany, Christian Dior, Tod's, Gucci, Burberry, Hugo Boss, Ralph Lauren, Bvlgari and many more legendary names.
As "purveyors of high fashion to the fashion conscious and astute", eBargain Square needed a website which was as stylish as their wares. To achieve this goals, they turned to the experts at OC Designs Online.

The custom logo greets shoppers as they enter. Next, a promise of free shipping on all US domestic orders ensures customers can use these cost savings to update their wardrobes!
In the upper right corner there's a sign in for existing customers or an option to create a new account. Targeting inventory is an absolute cinch  with the custom search bar below. Or cruise on down to the main navigation panel and let the shopping frenzy begin.
Reviewing company info, size guides, FAQs, shipping/returns policies or contact methods is a great way for customers to ensure the company they are about to buy with is 100% legitimate. As an added touch, our professionals have cast the 'sale' tab in red to accentuate bargains.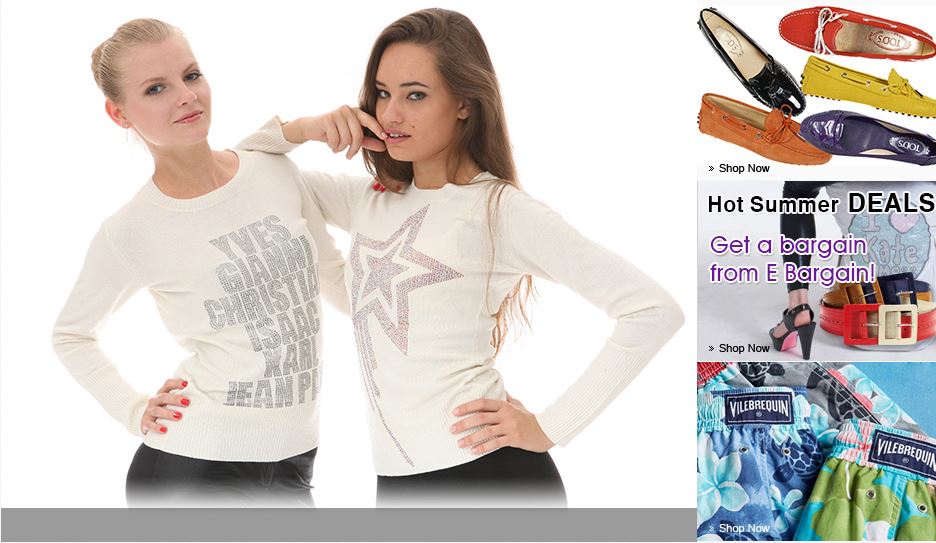 A hi-res graphic in the center page gives a nod to the high fashion in the categories below, while the left sidebar boasts hot summer deals encased in colorful loafers and designer trucks. Each of the three features a link where buyers can click to 'shop now'.

The midsection is devoted to store categories including women, men, kids, eyewear, electronics, gifts and sale merchandise. Customers will also appreciate the ease with which they can browse, thanks to the superb organization of the storefront.
Moving over to the featured products section a four panel spread of clothing sits effectively highlighted on the site's prime location. Each can be easily changed out depending on the season or with forecasted trends.

Wrapping up the stylish storefront is a custom footer complete with mini sitemap, accepted methods of payment and social media plug ins for shoppers to follow eBargain's facebook and twitter.
Learn how OC Designs Online can turn your store design into a stunning "must-shop-in" retail store where shoppers can easily find what they want while experiencing a sharp and crisp design. Browse our portfolio and then request a free quote.
Let's be social! We cordially invite you to follow us on Facebook and Twitter. For Pinspiration, wander over to our Pinterest boards and take a peek.