After a successful 112 year run at a brick and mortar structure in the heart of downtown New York City, this full-service camera store and photographic equipment retailer decided to expand their business with an eBay store design.
While it wasn't long before Willoughby's Camera became the largest eBay Seller specializing exclusively in the sale of photographic equipment, the shop never diverged from its number one commitment– its customers.

. The Willoughby's logo, local number, fax and toll-free contact all appear in the top left corner of the storefront along side the promise of free, 24-hour shipping.
A Statue of Liberty graphic helps effectively celebrate their residence on 5th Avenue as well as a vow to serve the public a full 7 days a week. Just below, buyers are invited to try targeted browsing by electing to enter key works or phrases in the prominent search box feature.
A thin blue line breaks up the custom header from the main navigation panel. Here, customers have the ability to read up on the company, access contact information or frequently asked questions, view the shipping policies and compare it with the in store pick up option, or see checkout info.
The site wastes no time launching into the product lines of well-known names offered in the inventory, and directly below the header employs a highly recognizable display of quality camera brand logos. This kind of instant recognition is a great way to draw in potential buyers.

Part of the genius behind this sleek eBay shop design is its ability to help shoppers easily navigate through the inventory selection. Along side the site's welcome message, a vertical list of seven clickable store categories sits ensconced in a light blue box against a classic black and white photograph.
As a means to stay connected to the most avid photographers, an invitation to sign up for the store newsletter will ensure loyal buyers never miss a promotion.

Three of the most prominent categories are beautifully represented with hi-res images of the items in question.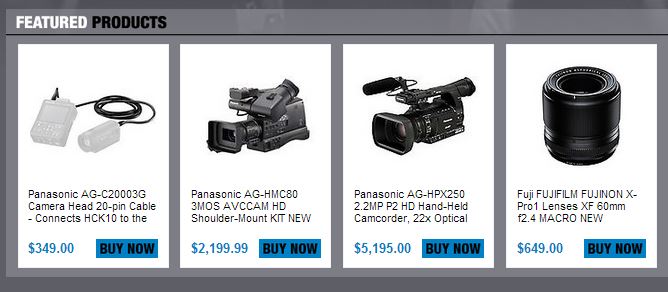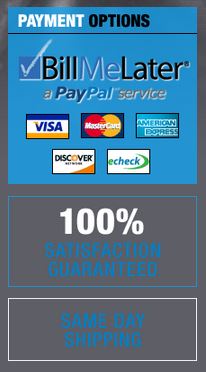 As is standard with many of our eBay design templates, this set of four featured products can help sway indecisive buyers.
Offering customers a multitude of acceptable payments, including PayPal's "bill me later" option, coupled with with a 100% satisfaction guarantee is a great way to ease shoppers' minds during the buying process.
A custom footer to close out the storefront is yet another part of the ineffable charm of these eBay store designs.

Let OC Designs Online show you what a carefully crafted eBay shop design can do to boost your site traffic! We are experts in the template designs guaranteed to grow your online business and we invite you to browse our ever-growing portfolio.
Contact us about your eBay store design—it's easy to request a quote!
We invite you to like us on Facebook and don't forget to follow us on Twitter!