They say everything's bigger in Texas, and their love of Leatherman multi-tools runs deep!
In an effort to bring these southern gems to the rest of the world, Texas Tool Crafters, Inc. has called upon the experts at OC Designs Online to create them a custom eBay store design to help them cast a wide net for their quality merchandise.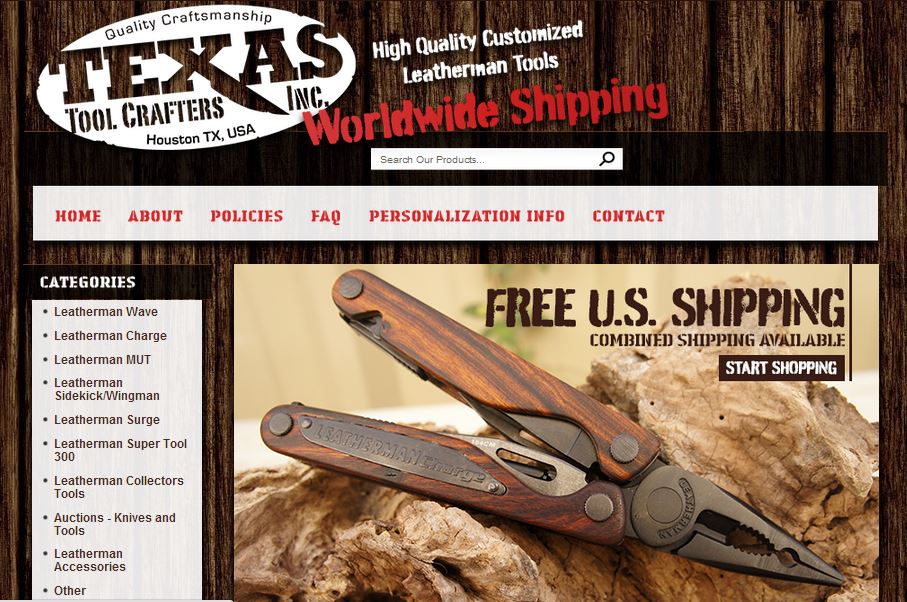 The rugged, wood panel background is a constant throughout the site, setting the tone as you enter. The Texas Tool Crafters, Inc. logo, and promises of high quality customized tools and worldwide shipping are branded into the grain in true southern style.
For a more targeted search, customers are invited to enter keywords or phrases into the custom search bar or visit the site's main navigation tab to access company information, store policies, FAQs, details on personalization, or ways to get in contact.
Next, a list of vertical store categories link to a plethora of Leatherman options, all easily accessed with the click of a mouse.
The hi-res graphic on the main page promotes the free shipping policy and a 'start shopping' icon linking buyers to the store's full inventory.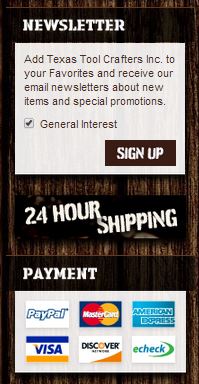 The right side bar is the perfect locale to house other essentials on your custom eBay shop design.
First, we've included an invitation to join the newsletter and stay abreast on special promotions. The sign up tab at the bottom makes the process a cinch!
Additionally, not only are your items shipped free of charge within the U.S., buyers are also reminded they'll be out the door and on their way within 24 hours.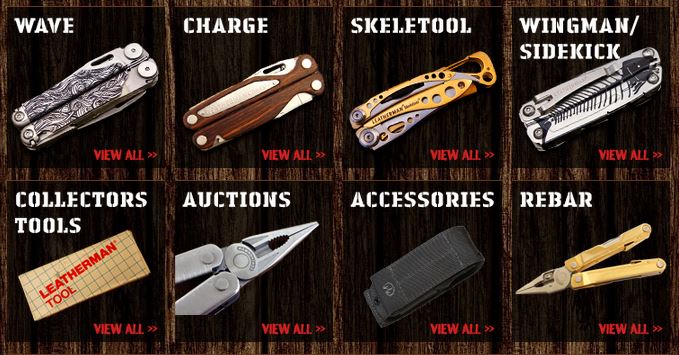 The midsection of this eBay template is devoted to a highly organized representation of store categories and product listings. Two rows of four individual panels invite shoppers to view the wide variety.

Have a product in high demand or a surplus of merchandise you need to unload? Our eBay store designs make it easy feature specific items for increased exposure.
With a photo, brief description and price, shoppers are encouraged to "buy now", while a 100% satisfaction guaranteed and hassle free returns reminder will lay to rest any potential concerns about shopping online.

Finally, this custom footer replicates tabs from the main navigation pane and reemphasizes the logo at the bottom right corner.
Need some ideas for your online store? Peruse our portfolio or go to our Pinterest page for inspiration. By liking us on Facebook, you'll be first to hear about deals.
Ready for a new eBay shop design? Request a free quote!