While owning a horse is an invariably rewarding experience, the upkeep can get pricey quick! Between required essentials such as saddles, bridles and headstalls the price tags are sure to add up.
That's why Tackwholesale.com, the world's largest online tack store, asked the experts at OC Designs Online to create a custom eBay store design to properly showcase the more than 1,600 items in stock.

Immediately, one's eye gravitates to the monochromatic logo in the center of the site's main navigation panel. To the left, customers have the ability to target specific products with the custom search bar.
Company information including store policies, top sellers, contact options and current deals span left and right, bolstering this clean look of this eBay shop design.
By highlighting the top reasons to shop just below, buyers get an overall sense of the level of professionalism offered by Tack Wholesale.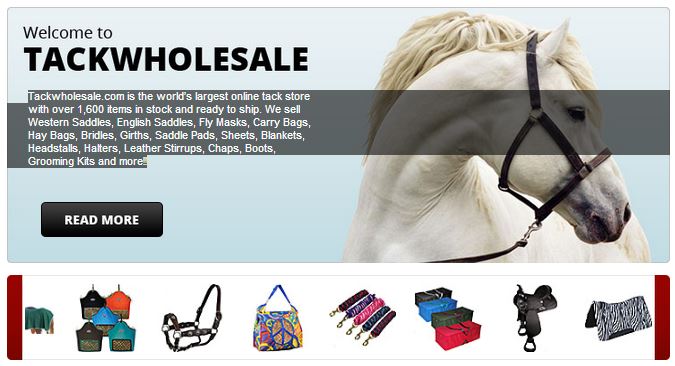 The primary welcome panel gives a brief introductory to the products offered within. Shoppers can elect to 'read more' by simply selecting the link along the bottom.
As a visual component, images of everything from stirrups to hay bags fly past on a scroll. This is a great way for retailers to showcase options and make sure buyers don't miss an opportunity to gather all their merchandise in one trip.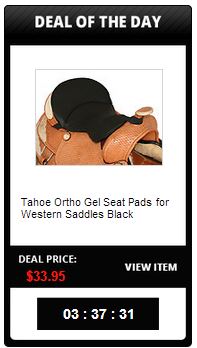 With a prominent 'Daily Deal' in the right side bar, hot ticket items which are temporarily discounted are sure to steal the limelight.
To encourage equestrians to act fast, the clock counts backwards to the sale's expiry date.
A brief description piques the interest while the deal price is highlighted in red, effectively communicating its discount.

Store categories are featured with two easy to navigate options. In the side bar, a vertical list of category links spell out product groupings such as English and Western Tack, blankets and sheets, even pet supplies. The list is mirrored to the right with images to underscore each category.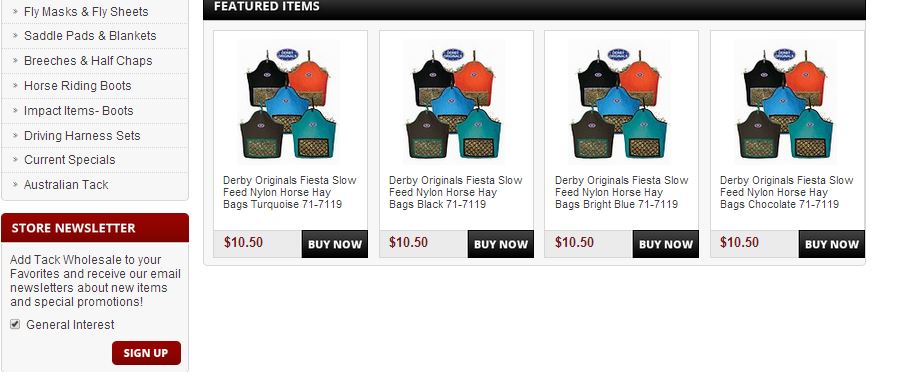 Our custom eBay templates make it easy to showcase your most sought after products with a 'featured items' tab. Change them out to rid your store rooms of discount merchandise or to highlight a steal.
By inviting customers to join the store newsletter your most loyal buyers will be thrilled to keep up with any upcoming sales or promotions.

Finally, a custom footer will round out your eBay store design. Here we've re-emphasized accepted payments, a mini sitemap and the Tack Wholesale logo.
We are delighted with this eBay shop design and if you're looking to sell on eBay or already do, browse some of our other eBay store designs to get an idea of what we can do for your ecommerce store!
Let's be social…Be sure to find us on Facebook and Twitter, and remember that quotes at OC Designs Online are always free!