Since the dawn of the gladiator, sports fanatics have existed. But today fitness is more vital than ever in our computer fueled, sedentary lives. Perhaps it's no surprise then that more and more people are turning to sports recreation as a means to keep their bodies healthy and cut down on stress.
Recognizing this need, Australian-based retailer Smart Sports enlisted the help of OC Designs Online to construct a sharp, easy to navigate eBay store design for fitness enthusiasts in any country.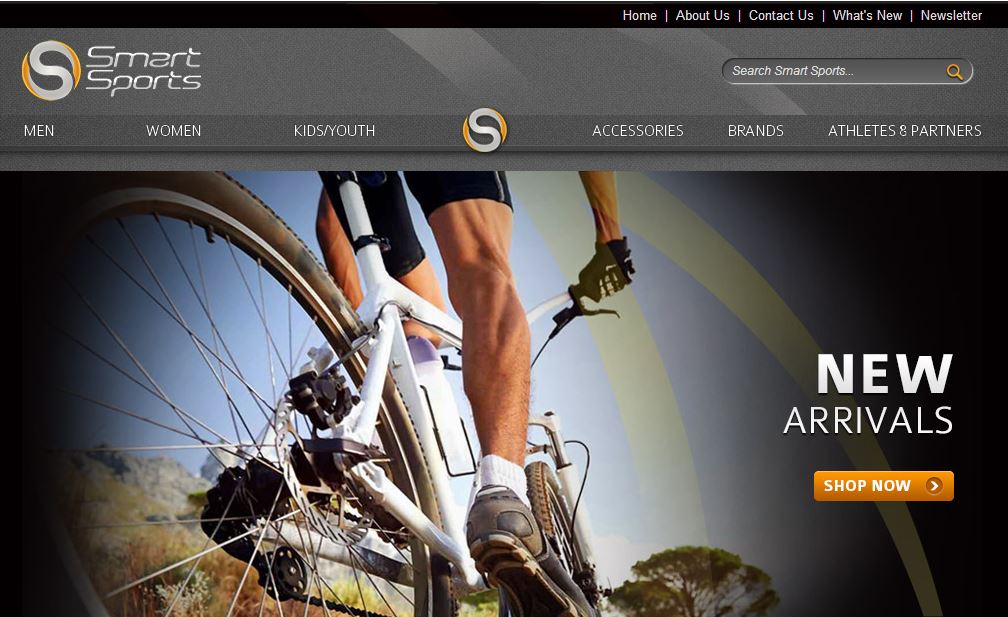 This custom eBay shop design wastes no time introducing themselves. The very top of the storefront offers company information, contact numbers, new offers and a link to the newsletter. This frees up room for customers to shop uninhibited.
Below, the Smart Sports' grey and orange logo sits left of the site's custom search bar against a sleek metallic panel. Left categories are listed by men's, women's and children merchandise. A creative repetition of the logo in the center divides the second three category sets: accessories, brands and athletes & partners.
Scroll across anyone of these six offerings and options are further organized by brand, color, size and more.
The welcome feature is comprised of a rotating hi-res graphic which effectively promotes new arrivals, huge savings, and a large compression garment collection. Each includes an orange 'shop now' button for easy access to quality product lines.

To visually stimulate buyers, category listings are beautifully represented with active athletes across a three-panel stretch. Below, the eBay template aptly offers compelling reasons to shop above competitors, including same-day shipping, 30 day returns and guaranteed quality.

A featured products section is yet another way to cleverly and prominently display your eBay store design's most in-demand merchandise. Here, the four panes can be rotated out depending on the seasons or a change in demand.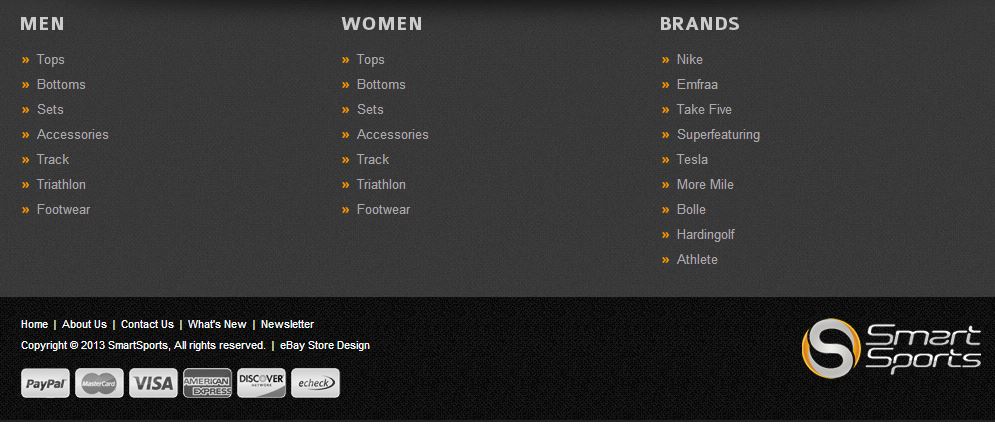 Above the custom footer, categories are lined out in three vertical lists to facilitate a pleasant user experience. By breaking down options into clearly marked designations, shoppers can effectively target their purchases.
Wrapping up the design we've used a mini sitemap which directs buyers to company info, while a list of accepted payments sits below, underscored by their appropriate logos.
However, it's Smart Sports which has the final word. It's logo occupies the bottom right corner, counterbalancing the navigation panel above.
Be sure to browse our portfolio and then request a free quote to ensure you capture the audience you want and sell more than ever with a custom eBay shop design!
Don't forget to follow us on Facebook and Google+ and be sure to check out our Pinterest page!