In the west, people spend an average of 2 hours per day in their cars. Extrapolate that out and you're looking at close to 60 hours a month, 720 hours a year! Makes sense that you'd want to be choosy with something you spend so much time in.
Be it the interior, electrical, or auto body, KUD Auto Parts has you covered when it comes to keeping your vehicle looking and performing at its best.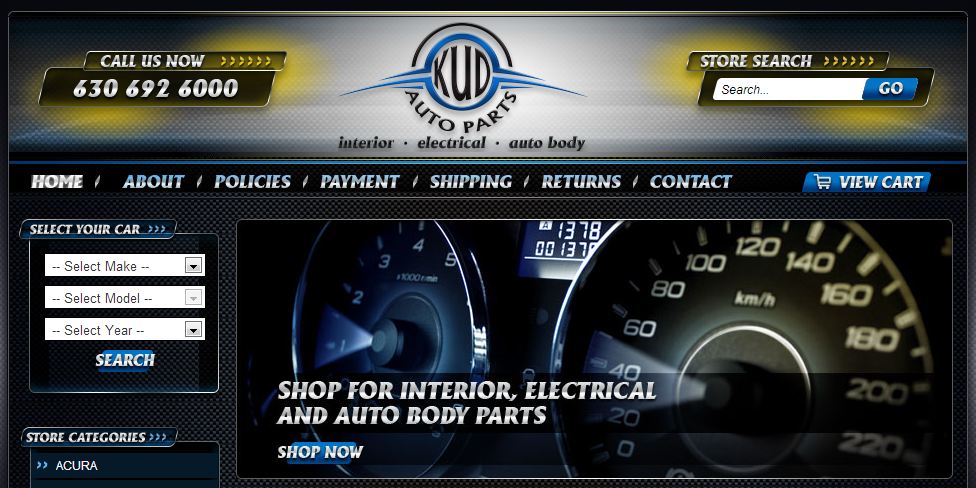 The customer service number, prominent logo, and a search bar occupy the top space, so as not to over crowd things. All are highlighted with sprays of golden hues leaping from the black and gunmetal background.
A clean navigation panel offers buyers the option to view company information, shipping policies, payment and return procedures as well as a contact tab. The small blue icon at the far right allows customers to view their shopping carts and review planned purchases.
Drift below and a rotating graphic of a speedometer flashes the tagline and sports a 'shop now button' in the lower left hand corner. This special feature can be used in a multitude of ways to display any number of promotions or products.
KUD Auto Parts makes it a cinch for customers to view only that inventory which suites their specific needs with the 'select your car' feature. Here, the products fitting for one's specific make, year and model are easily identified with the handy drop list.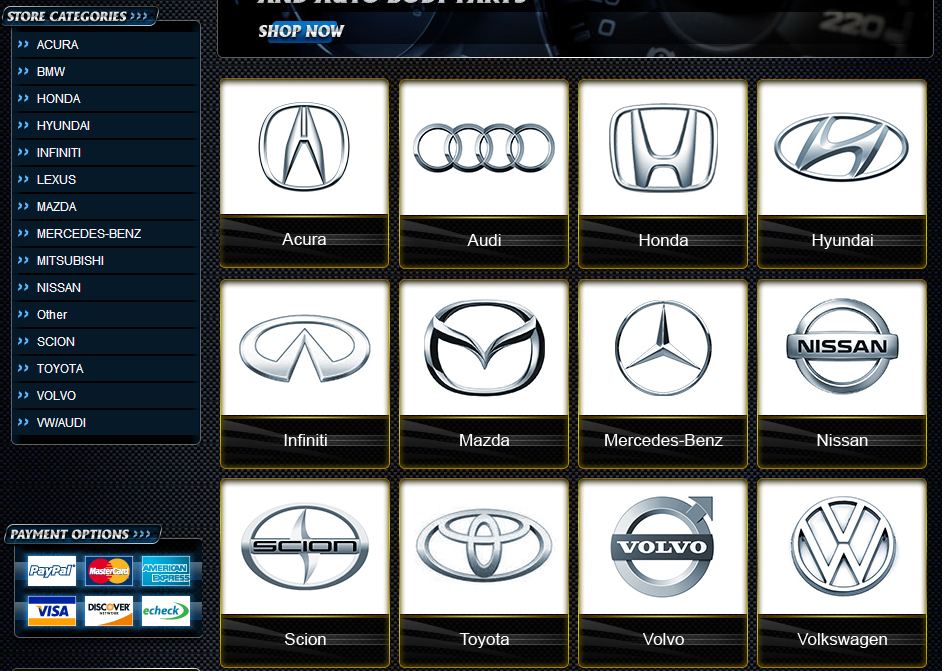 For those a bit less familiar with the auto industry, our designers have elected to utilize highly recognizable car maker logos. This not only facilitates brand recognition, but gives the storefront a polished, professional visual appeal that's organized and easy to navigate.
These same category options appear in the left sidebar within a vertical list and sit atop the site's accepted methods of payment.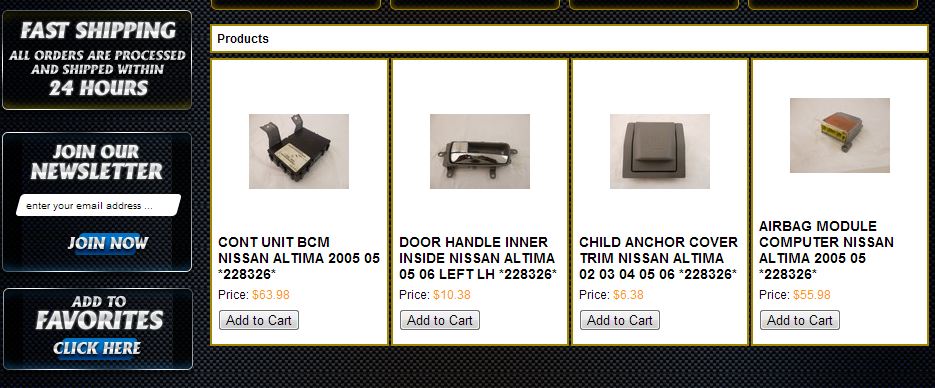 Graphics to depict the company's promise of 24 hour process and shipping time rest below along with an invitation to join the newsletter and/or designate the site as a 'favorite'.
The midsection boasts featured products to include the car's make and model, as well as a brief description and total unit price.

A mini sitemap sits at the bottom of the storefront, marked off by a light blue boarder. A shadowy logo appears in the right corner, counter balancing the header.
If you think an eCommerce platform may be right for you, why not browse some of our awesome designs in our portfolio? It's easy to request a free quote and we hope you'll like us on Facebook and follow us on Twitter!