No symbol in British culture is more singularly recognizable than the quintessential bright red telephone booths which line its streets. Anyone who's ever traveled abroad to Great Britain has no doubt documented their trip with a picture in and around one of these statuesque fixtures.
Want to own a piece of this iconic history? The English Telephone Booth Co. makes it possible with their custom eBay store design courtesy of OC Designs Online.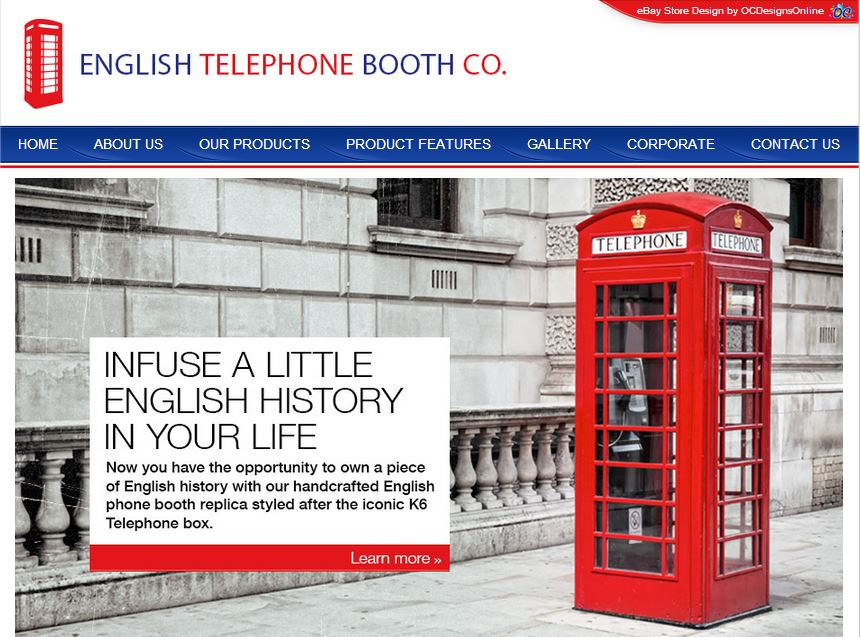 A patriotic red, white, and blue color trio set the tone for the site's crisp, classic look. The site's main navigation panel offers customers the opportunity to learn more about the company and their products, view the gallery of product features, or view the various methods of contact. Corporate customers even have a designated tab to highlight specialized products and services.
This eBay shop design effectively uses the welcome space to display the sightly, iconic telephone box. Shoppers are invited to "infuse a little English history" into their lives, and can learn more by clicking the red link featured at the bottom of the space.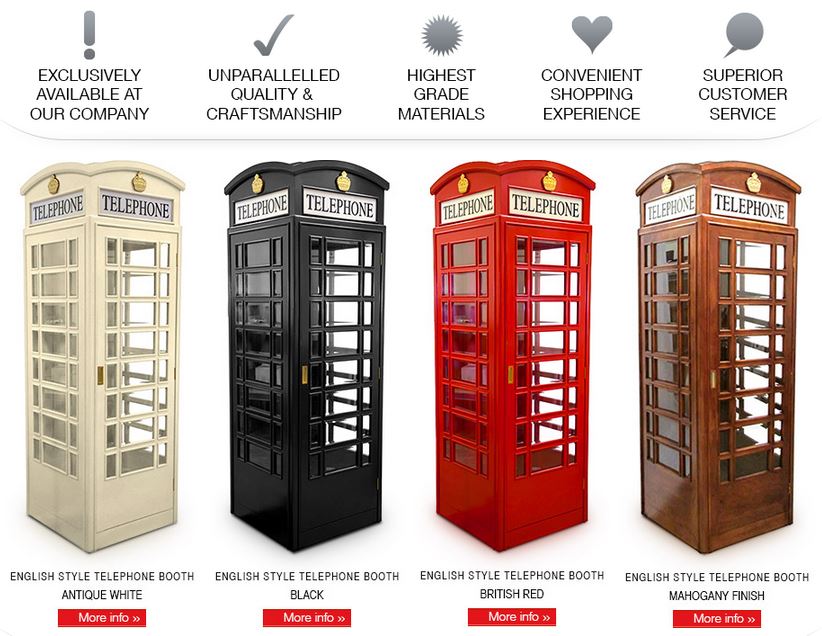 A list of five reasons to shop are sure to squash any buyer hesitation. Each is represented by a clever icon in keeping with the theme of promises such as company exclusives, highest grade materials, or superior customer service.
Directly below sit four featured booths, sporting different finishes which offer customers a departure from the classic red.

The rotating customer gallery offers visual cues to show how the booths truly are "a fit for any lifestyle".
This effective selling point is one of many offered with our custom eBay templates.

To wrap up this eBay store design, customer service links offer buyers easy access to ordering and payments, shipping and processing, along with a section for returns and exchanges. Once these housekeeping tasks have been checked off the list, shoppers can drift right and sign up for the newsletter or peruse a list of special offers.
Finally, a mini site map and list of accepted payments at the bottom of the storefront help buyers easily navigate to the appropriate tab.
Selling specialty items on eBay is one competitive world. Make your storefront eye-appealing and inviting and request a free quote from OC Designs Online to see how a custom eBay shop design will make your store pop.
We also invite you to browse our portfolio of stunning eBay stores and don't forget to find us on Twitter and Facebook!