If you are looking to leverage more sales and have a company website where you feature products or services online, we can help you reach more customers and boost site traffic with a custom ecommerce store. Spot Hot Deals took full advantage of this strategy by asking OC Designs Online to create their new Big Commerce store design!

Big Commerce offers a multitude of options for online retailers to best serve their customers. For this Big Commerce store design, we wanted to ensure shoppers were able to quickly and easily navigate through the wide array of product categories and goods offered on the site.
We utilized their staple color, green, on the Big Commerce storefront to build a brand and stand out from the rest. As the seller, a Big Commerce site will offer the advantage of must-have shopper tools right at the top of the store like a shopping cart, order status link, wish list and options to view their account or login and create an account. These subtle linked bars follow the model of other real, trusted websites and help you avoid the risk of shoppers lumping you in the category of another ecommerce selling venue.
Next, we inserted Spot Hot Deals' creative logo with thematic flare along side a visible cart app. A wide assortment of links sit directly below encased in a bright green navigation pane. Here shoppers can easily search within a plethora of diverse category listings from electronics to pets, home and garden to jewelry and beyond.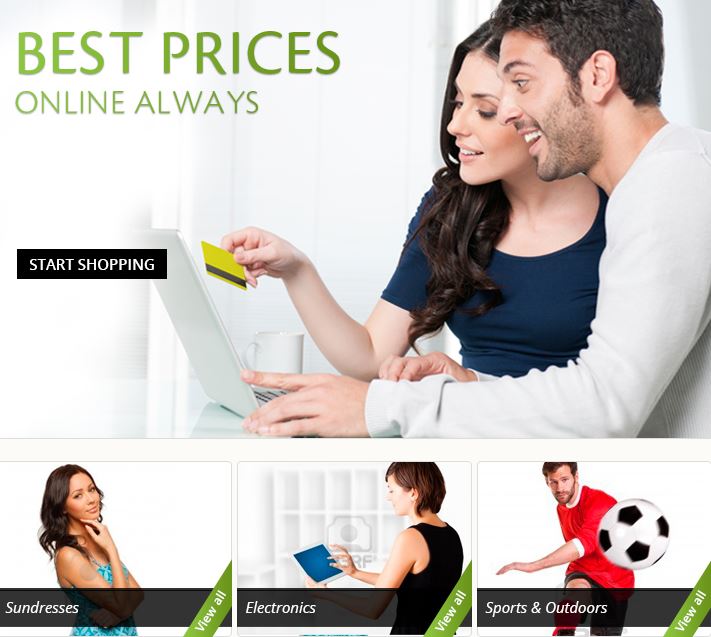 An eye-catching graphic follows and is adorned with a 'best online prices' promise as well as a clearly marked 'start shopping button'.
As an additional feature to help shoppers quickly find the products or service they need, in the next section we inserted colorful imagery of the types of products offered as well as green "view all" diagonal banners in each corner. Each clickable product box takes shoppers to the full list of inventory specific to each category type.
The left sidebar is home to a wealth of company contact information including phone numbers, an invitation to stay connected by joining the mailing list, hours of operation, and a store closure message.
We rounded out the left sidebar in this Big Commerce Store design by inserting graphics to effectively represent and highlight the ways Spot Hot Deals commits themselves to their customers. The 'why choose us' is a must-have for all Big Commerce stores and includes a menu list of 'why buys' including hassle free returns, 24 hour immediate response, free U.S. shipping, and a buy three get one free offer among others. We also included a 100% customer satisfaction guaranteed seal to encourage consumer confidence.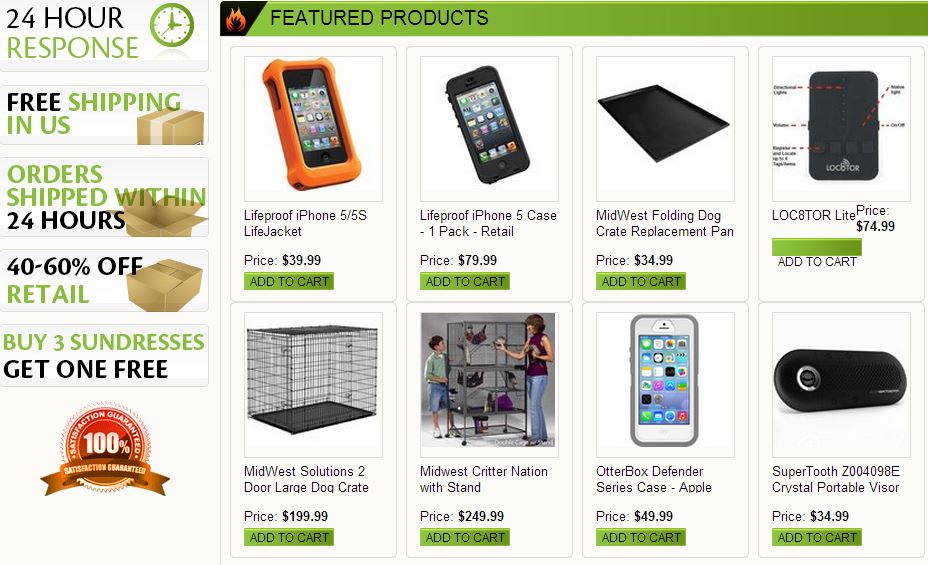 Venture right and buyers are met with a section of 'featured products' which is displayed in two rows of four, clearly outlining product specifications and price. Shoppers who like what they see can easily 'add to cart' thanks to the conveniently placed button centered at the bottom of each section.
At the bottom of this Big Commerce store design are Media, Info Support and Payment Options with sub-headers that connect shoppers to useful ecommerce selling tools and a social media plug linking to Facebook.

OC Designs Online offers all sorts of Big Commerce Store Templates that can make online selling easy and more profitable.
Contact us to today for your affordable ecommerce store, visit our portfolio, then request a free design quote and be sure to check out some of our store solutions as well as Facebook page and custom Twitter designs!