Cell phones have become a ubiquitous, necessity for most of us. Beyond that, given the price of your average smartphone, protecting your device is key!
That's why the folks at Monster Accessory solicited the help of OC Designs Online to create a fresh ecommerce storefront to help this retailer surge ahead, selling unprecedented amounts of cases, covers, chargers, skins, holsters and more.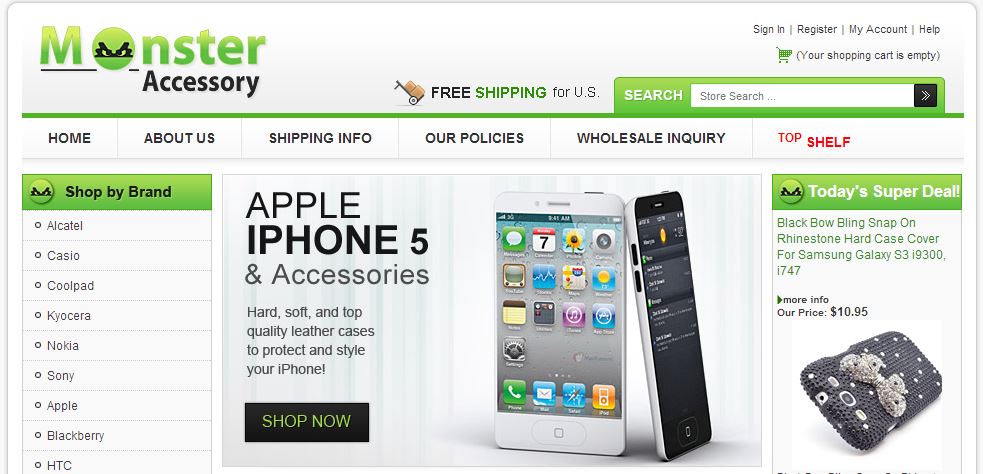 With the Monster Accessory store design, our experts utilized welcoming lime green hues set against a clean, black and white backdrop which help the customer's eye quickly dart to the key categories and fields.
The top of this eBay storefront is sectioned off with a thin green line, housing the Monster Accessory logo, account features, and conveniently placed search bar. A reminder of free shipping within the U.S. is wisely placed before buyers begin their shopping so this savings can be applied towards their future purchases.
The main navigation panel offers company and shipping info along with a wholesale inquiry and top shelf tab which is set in red for added emphasis.
Directly below, a rotating Super Deal of the Day to the right and vertical listing of brands to the left encase a prominently displayed ad for the ever-popular Apple iPhone 5 and its accessories. Complete with a black and white 'shop now' button, customers are quickly and easily transported to a host of iPhone products.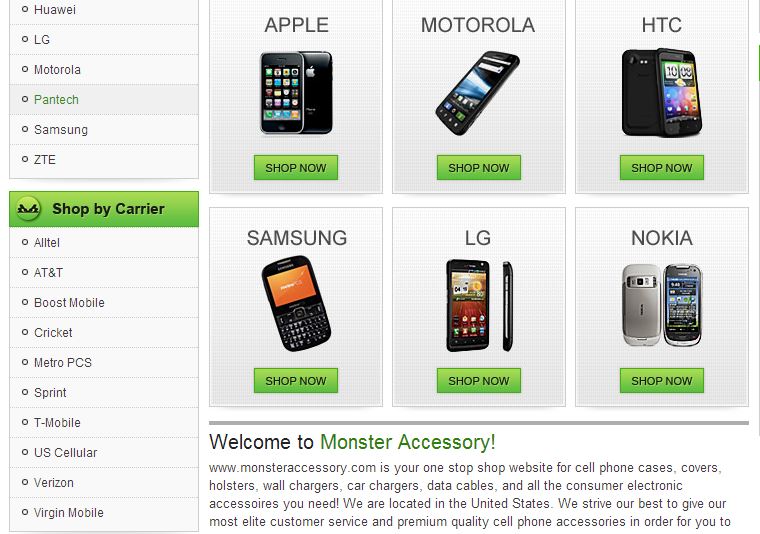 Next, comes the middle section where shoppers are welcomed to the online store beneath six of the most sought after mobile brands. Each square is equipped with images of the most popular phones in the line and is a good organizational tool to help buyers sift through the inventory.
However, customers wish to search by different criteria are covered directly left with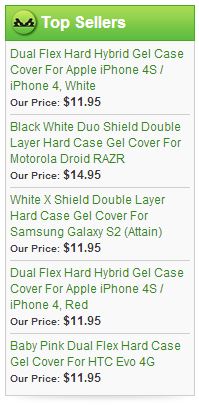 links to narrow the product search within the confines of your particular cellphone carrier.
Even those with no firm preferences in mind can benefit from the right sidebar where a list, description and price of top sellers give shoppers a strong lead as to which quality product could be right for them.
A scroll down reveals a section of featured items. Here, a list of helpful products are on display. Many items exhibit additional selling points and add-ons which set them apart from your standard protective cellphone case.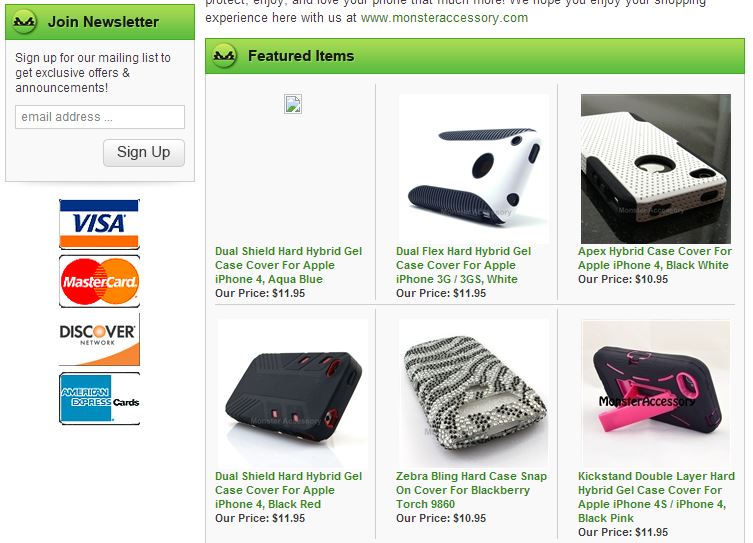 To the left, customers have the option to receive exclusive offers and announcements by submitting their email addresses and joining the newsletter or reviewing accepted methods of payment.

Finally, a thin swatch of green sections off the custom footer which recaps useful links, account information, contact options, social media icons, and a compelling list of "why buys".
Learn how OC Designs Online can turn your ecommerce store into a stunning "must-shop-in" retail store where shoppers can easily find what they want while experiencing a sharp and crisp design.
Request a Quote and be sure to browse our massive eBay store design portfolio and learn more about eBay and other ecommerce store solutions.
Don't forget to like us on Facebook and add us to your circles on Google+!