OC Designs Online is experienced in the art of building eBay store designs for online coin retailers. A custom storefront, like the one we crafted for Modern Coin Wholesale, can help you reach more of your target audience and boost sales. Check out the end product below!

Our in-house graphic designers can draft an original logo like the one above, or fuse your existing logo into the site, building a strong brand. Here M.C.W., Inc. chose cool blue tones as the backdrop for their product line.
Essential info lines the top navigation panel including the toll-free number and hours the phone lines are in operation. Although payment options are clearly displayed, customers never have to worry about being charged for shipping if their purchases are being sent domestically. Shoppers can also click through ten linked sections to get quick overviews of available products and company policies.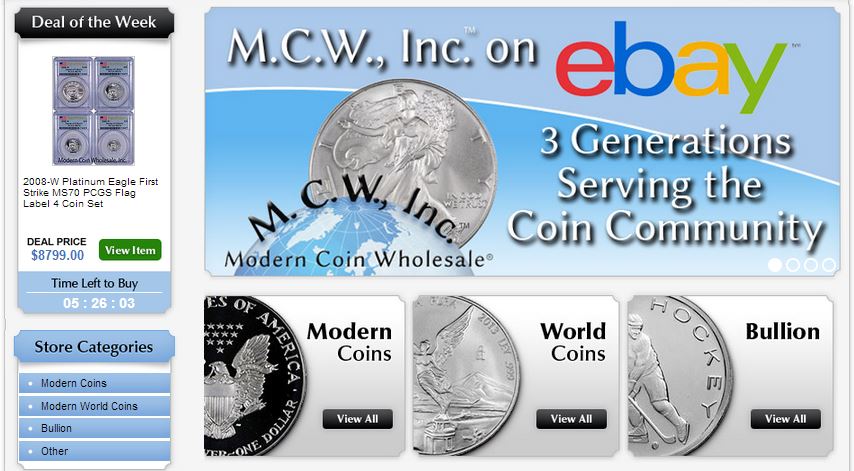 Just below, a prominent rotating banner displays flashy images of minted coins, unique company information and essential "why buy from us" features. Conveniently placed 'shop now' buttons exist in the appropriate sections, offering customers easy access to inventory.
Extra features a like deal of the week, vertical store category lists as well as coin groupings represented by hi-res icons exist to facilitate and enhance the shopping experience.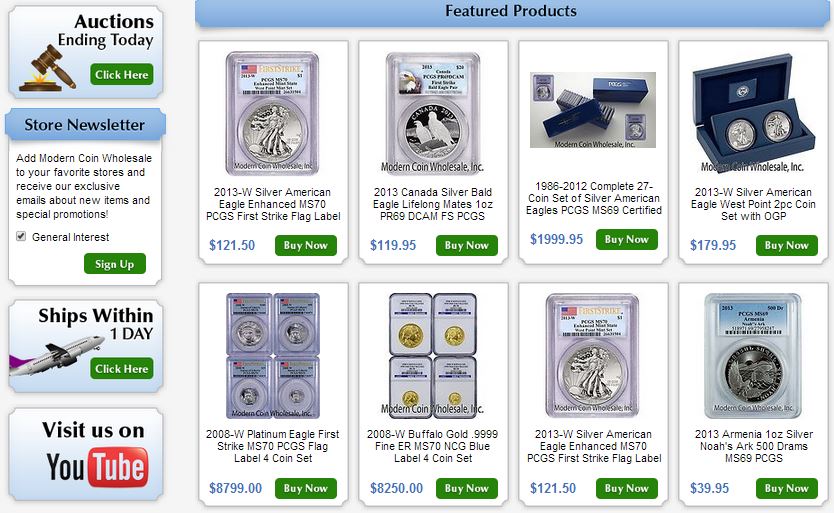 In conjunction with the promoted weekly deal, the site also entices buyers by highlighting additional featured collectibles in the "Auctions" section. Below, newsletter sign up and link to the store's youtube channel ensure the most avid collectors can easily keep up to date with new inventory stock.
Directly right sits a grouping of eight 'featured products' which can be rotated out to properly showcase sought after coins and rare finds.

The storefront is rounded out with an impressive display of logos including the society for paper money collectors, inc all aimed at casting this coin retailer in a very professional light.
The Modern Coin Wholesale logo appears in the bottom right corner to counterbalance the top navigation panel. The most vital information is repeated for the customer's convenience and a prominent 'PayPal Verification' is placed below acceptable payment options, boosting customer confidence their products are in trusted hands.
By now, we're sure you're ready to request a free quote and get an original eBay store design for your coin store!
We hope you'll like us on Facebook and follow us on Twitter and be sure to browse our ever-growing portfolio to see if a custom online storefront is right for your business.