When power seller, Fuzion Electronix set out on their mission to "be the destination for the latest gadgets in the world", they called in the experts at OC Designs Online to help them create a world-class website to match their revamped image.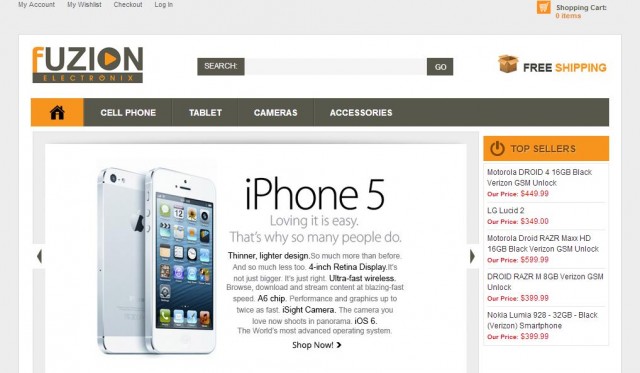 Since 2009, Fuzion Electronix has been providing customers with a seemingly endless supply of quality electronics, cell phones, tablets and cameras– all of which are based on the idea that these should make your life easier, all at a highly cost-effective price.
Upon entering the website customers are prompted to enter their shipping region and language preference into an effective pop up window. Once they have selected their choices they are met with personalized ways to shop.
At the top left shoppers are invited to log-in and access their wishlists, pre-established accounts or view their shopping cart. Once signed-in customers are able to see the number of items in their carts as they continue to shop.
Directly below is a search bar for those clients who wish to reduce browsing time and immediately make a purchase.
An effective selling point arises when buyers hover their mouse cursors over the the home icon below the logo.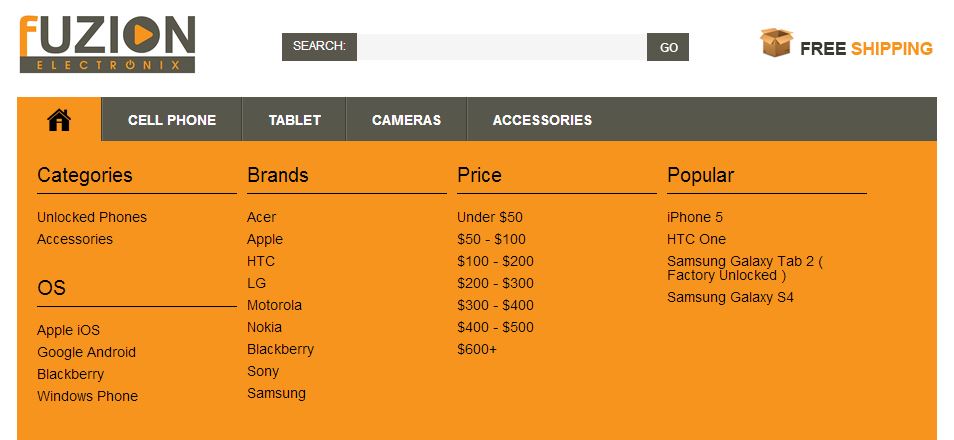 Here, organized categories emerge including brands, price, and most popular. Directly right of the home icon are four additional horizontal link options for cell phones, tablets, cameras and accessories, each of which offer similar, clearly defined categories.
However, arguably the main draw is a rotating screen with an attractive display of the site's most popular products. These are complete with hi-res images and ample descriptions of the features included. The top sellers are listed again along the right side of the main feature with a clearly indicated price to advertise the savings.
To further entice shoppers, the Volusion store design experts have also fashioned a compelling graphic answering the question "why shop with us", where Fuzion Electronix's free shipping offer is again stated in more detail, along with the hassle free return policy.

Below is a visually appealing section devoted to displaying various clickable featured product links. These are represented by a current photo of the gadget and are intended to give the undecided customer a taste of the electronics offered in the inventory list.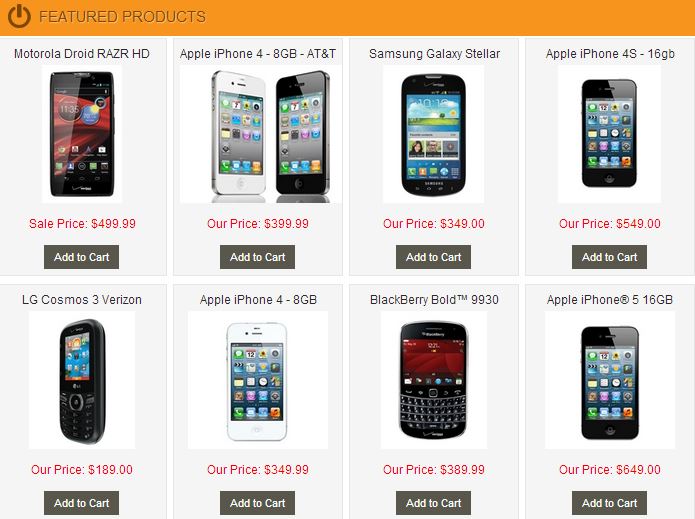 Any of the relevant purchase information listed above is again repeated in a concise window located at the very bottom of the website.

With a simple click, gadget hunters can see company info, policies, terms and conditions, their account options, customer service and/or enter their email address to be added to the mailing list.
With a Volusion Secure Site logo centered between the PayPal and credit card logos, buyers can 'click to verify' and be sure that Fuzion Electronix has their safety in mind when making purchases.
If you think the Volusion ecommerce platform may be right for you, why not browse some of our awesome designs in our portfolio? It's easy to request a free quote and we hope you'll like us on Facebook and follow us on Twitter!