OC Designs Online specializes in rejuvenating ecommerce retailer's eBay store designs. Not only do we guarantee they will help you stand out above your competition, they look so enticing shoppers might forget they are on eBay! With so many available ecommerce platforms, it's important to ensure your eBay store is noticeable and eye-appealing. Just take a look at what we did for Elite Eyeware!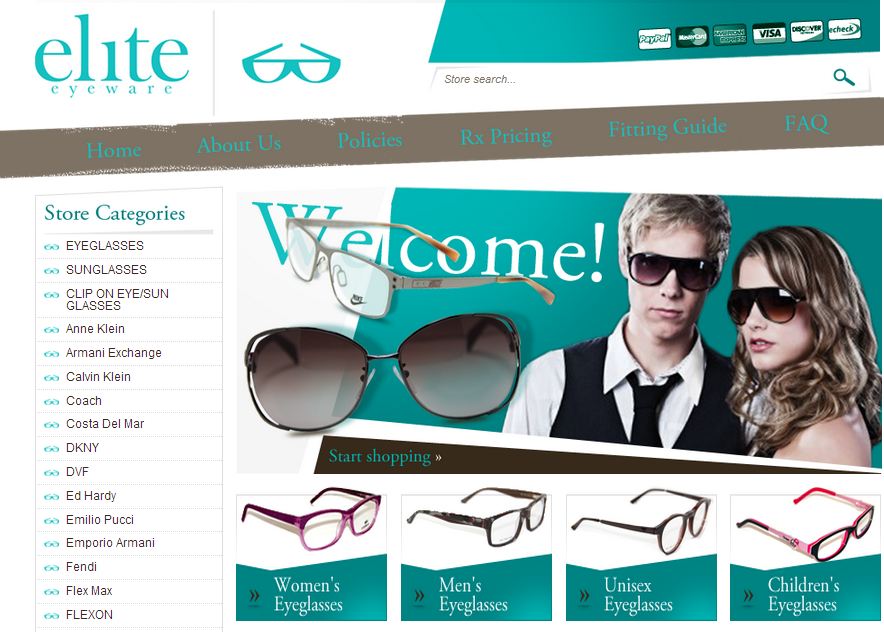 This eyewear eBay retailer specializes in selling name brand, authentic eyeglasses and sunglasses at discounted price points. And because they offer both designer eyeglasses and sunglasses, they make it easier than ever to get the look you've been searching for. Elite Eyeware is now the proud owner of a custom designed storefront to welcome and engage their customer base!
The sleek look of the site gives customers an indication of the quality, stylish products housed within.
As a departure from your typical navigation bar, the site blasts off with a grey and teal horizontal pane, slanting slightly upward. Contained within are links to company information, policies, prescription pricing, a fitting guide and FAQ.
On the left sidebar, a plethora of store categories help buyers get an immediate visual of the large selection. However, the real genius lies in the fact that the site is exceptionally easy to navigate. The category panel extends into the middle of the landing page and lists the brands and designers available for purchase.
Directly right, two rows of four photo links send shoppers to the full list of products offered in categories such as Men and Women's glasses/sunglasses with select, featured products just below.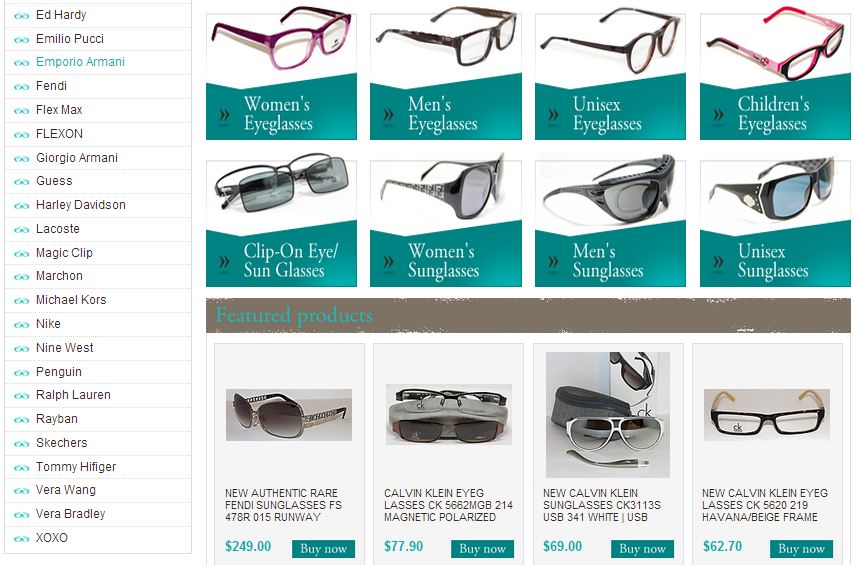 Click on any of the category links in this section, and you are given complete access to items within the listing. Conveniently, the store has been designed so customers are able to choose the layout from list to gallery and/or sort by the criteria of their choice. To access these features one need only hover his or her cursor over the designated links.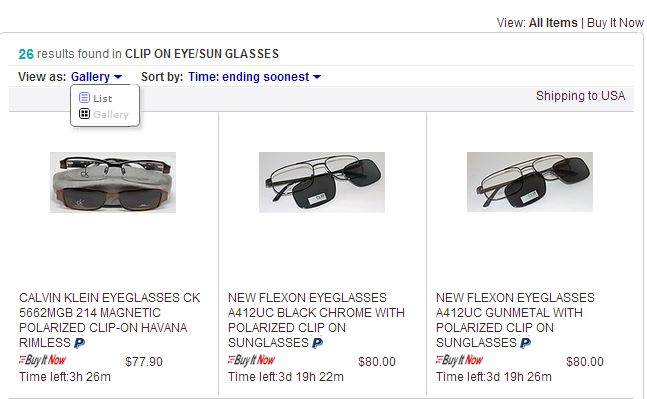 Back on the landing page the site advertises its commitment to free shipping, hassle free returns and international shipping so customers can feel confident in their purchases.
The site wraps with an invitation for interested customers to enter their email addresses, and closes out by repeated links which appeared in the navigation pane, segmented from the white space above by the polished grey and teal logo design.

No matter what you sell on eBay, at OC Designs Online, we want you to dominate your market niche. That's why our eBay store designs are so affordable. We also offer ecommerce store solutions with matching eBay listing templates!
Take your store to the next level and request a quote from OC Designs Online, then browse our portfolio where you can visit our store creations live.
Don't forget to like us on Facebook and add us to your circles on Google+!