OC Designs Online has created many eBay store designs for online coin retailers and if you sell coins and want to sell more, a custom storefront, eBay matching listing templates and eBay category pages will make all the difference. Let us show you how easy, affordable, and profitable this process really is!
Custom eBay Storefronts
All of our online coin eBay storefront designs begin with chatting with the client to see what they're looking for and if they have a logo or need one designed. Our in-house graphic designers also ask if the coin retailers have a website and if so, we try and match the colors of the website to the eBay store design for strong brand building.
Take for example, Modern Coin Mart. We utilized elements of their website like their logo and both web pages have a rotating banner and easy to see telephone number in the center…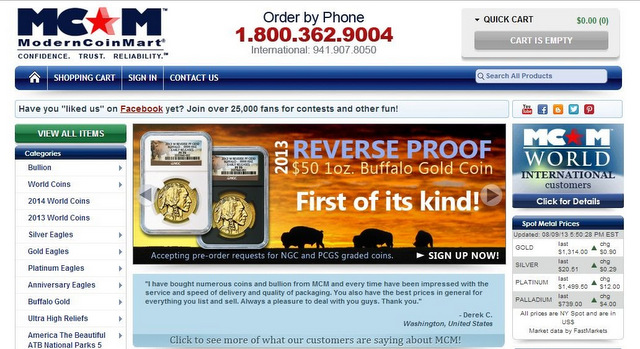 Now, a look at their custom coin eBay store design…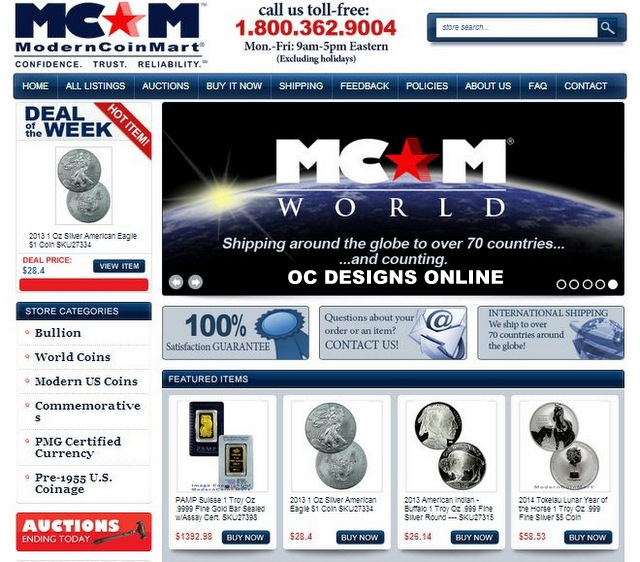 Consistent elements help consumers shopping on eBay recognize your name and brand.
In addition, all of our online coin eBay store designs have essential features like a search the store tool, easy to use navigation bar at the top and on the side if desired, and awesome confidence buyers like badges for being PayPal verified or a top-rate seller or PowerSeller.
We can also include tons of custom elements like videos, welcome boxes with rotating banners and essential "why buy from us" features like "free shipping" or "100% Satisfaction Guarantee."
The most important element to remember with custom coin eBay store designs is we work with each and every client until they are satisfied with the design and every element they want is included.
Here's a look at another eBay store we designed for Wilshire Coin showing tons of extras like deal of the day, specials, newsletter sign-up and logos for the memberships they belong to which aid in building consumer confidence: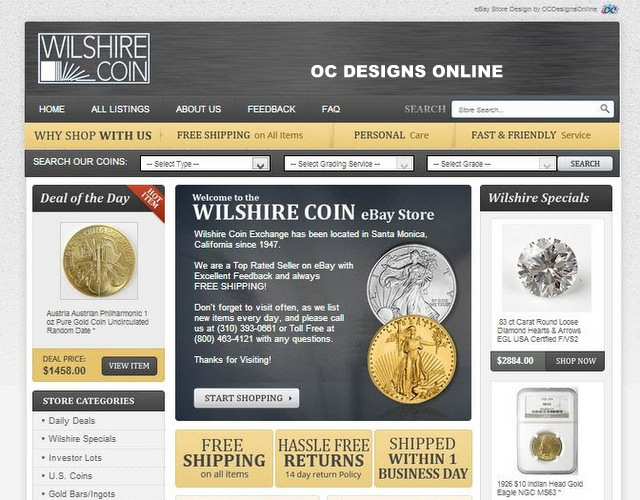 Custom Listing Templates
Another service we offer here at OC Designs Online is eBay custom listing templates. These make it much easier to list your items but they do more than that.
With custom listing templates when shoppers click on an item to view the description, the main elements of the storefront remain so they know they are in your store. It's also much easier for them to navigate your store—even within a listing. And, our eBay listing templates are much more engaging than the bland ones that come with regular eBay listings.
For example, below is a custom storefront design we did for Liberty Coin.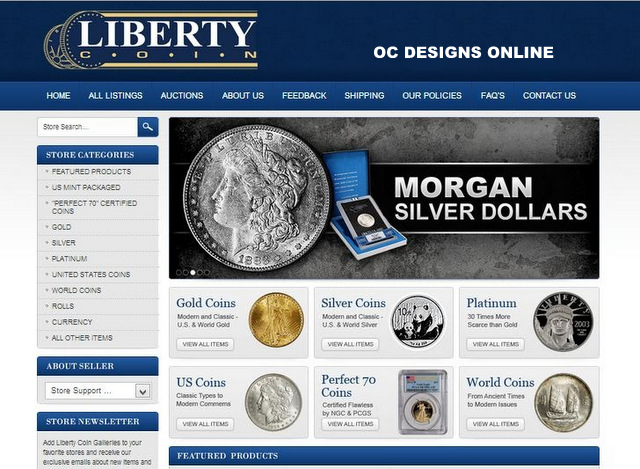 Now, take a look at the eBay custom listing template and notice how the navigation bar and other storefront elements remain.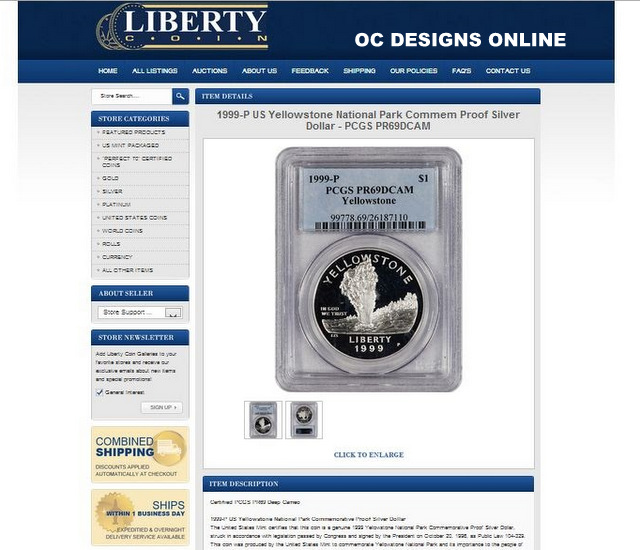 And, if desired, we can even create custom pages like we did for Liberty Coin. Take a look at their "About Us" page below. When buyers click on About Us pages, they want to read about your coin store as well as learn what you're all about, how long the store has been in business—these pages also help to build consumer trust.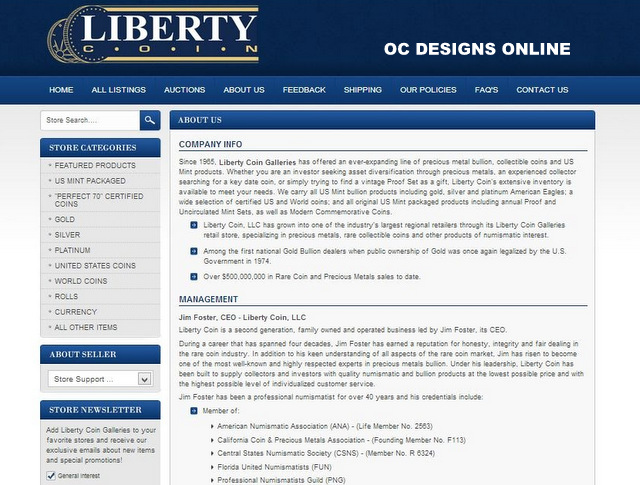 In fact, if you don't want to write the content for these custom pages (About Us, Contact Us, Store Policies, etc.) we also employ content writers so the process of custom page is even easier.
Custom eBay Category Pages
Wouldn't it be nice if when shoppers click on your "category" tab if the category pages also had the same elements as the storefront? This is possible with custom designed eBay category pages!
Once again, Liberty Coin was smart and took advantage of this feature to help them sell coins on eBay. Take a look: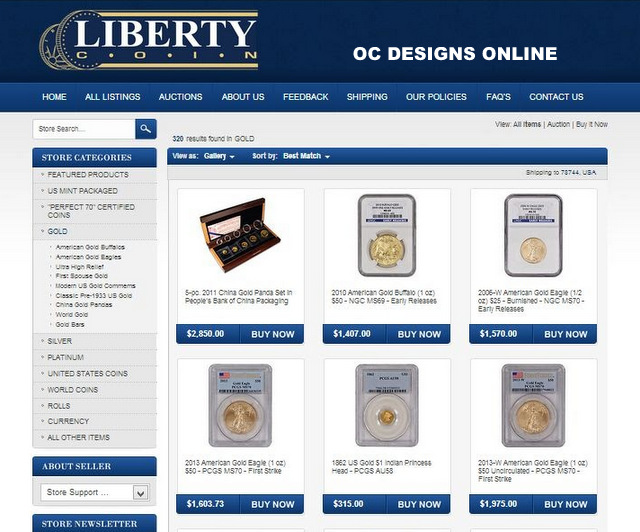 Step Up to the Next Level
Isn't it time you took your eBay coin store to the next level of professionalism to help build consumer confidence and trust? Shoppers are attracted to eBay stores that have a custom design so you sell more coins!
Here is another custom coin retailer eBay store design we did for The Happy Coin: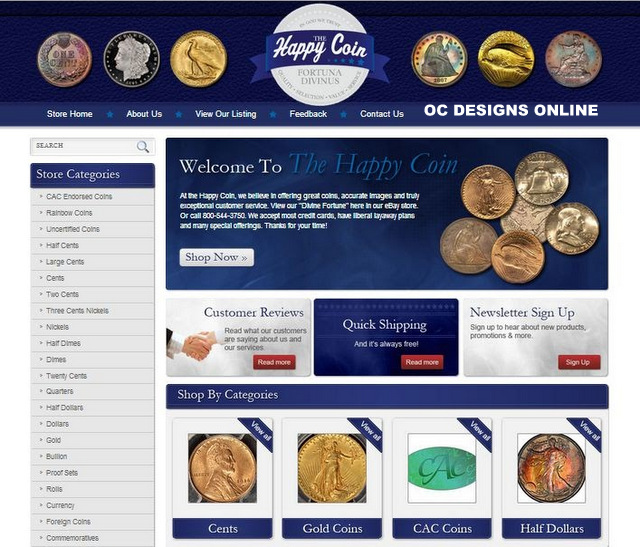 By now, we're sure you're ready to request a free quote and get an original eBay store design for your coin store!
We hope you'll like us on Facebook and follow us on Twitter and be sure to browse our ever-growing portfolio.
We're ready to answer all your questions on custom coin retailer eBay stores, eBay category pages, custom web pages and of course, eBay custom listing templates!