JK Restaurant Equipment enlisted the help of OC Designs Online for a new eBay store design and now they are branding on eBay while selling!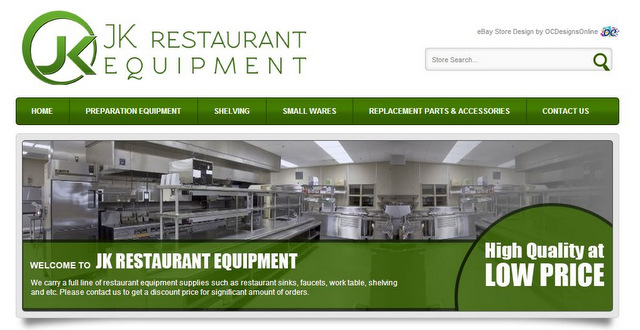 The colors of the site feature off-white, green W3C and Gainsboro gray. At the top of the page, the online shoppers note the name and logo of the business. Off to the right, there is a store search option that lets the buyer enter a keyword for a quick inventory search. Below these two site components, a horizontal list of clickable links gives the buyer a first option at choosing from the items currently for sale.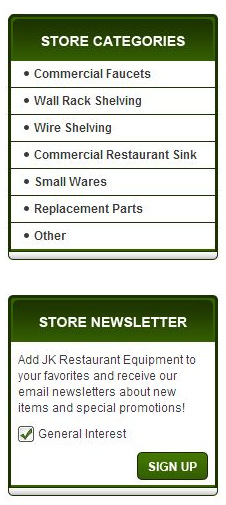 Buyers have a choice to return to the home page, search the available preparation equipment, pick suitable shelving, shop the small wares section, peruse the inventory of replacement parts as well as accessories and also contact the store's owner. Underneath this listing is a wide-angle shot of a professional restaurant kitchen and a welcome message from JK Restaurant Equipment. The store's owner would like shoppers to know that the business sells high-quality gear at low prices.
Moreover, the inventory contains a full line of popular restaurant equipment supplies. Customers who place large volume orders are urged to contact the store management for a quantity discount price.
To the left of the eBay store design, there is a vertical listing of store categories. Buyers may choose to examine a variety of commercial faucets, wall rack shelving, wire shelving, commercial restaurant sinks and an assortment of replacement parts. Below this list, there is an invitation to sign up for JK Restaurant Equipment's newsletter. Taking advantage of this offer ensures that the shopper stays up to date with new inventory items and also special promotions.

To the right, there are three rows of three photos each. Each photo depicts a popular inventory category complete with multiple photos and an invitation to "click here" when the buyer wants to see more. Listings include commercial faucets, sinks, kitchen work tables, shelving options, cabinets, tables, replacement parts, small wares and equipment stands. At the bottom of the page, the customer notes a smaller horizontal list of clickable links. They provide access to the home page, plumbing wares, shelving, small wares and other inventory items that are related to food preparation.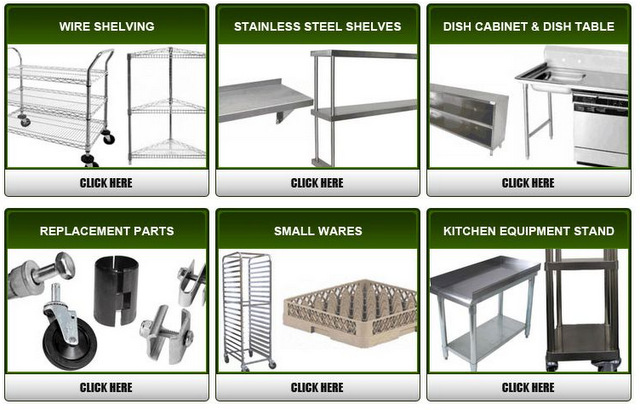 By working with OC Designs Online, JK Restaurant Equipment succeeds in presenting an easy-to-navigate website that makes it simple to sort the inventory. Even if a shopper is unfamiliar with the grouping of commercial kitchen inventory items, this setup makes the search for just the right gadget quick and convenient. Since the look of the website is so uncluttered, finding the right item is a snap.
Do you sell kitchen equipment or kitchen wares? If so, why not take advantage of a custom eBay store design and custom eBay listing templates to really make your online store stand out?
We hope you'll take the time to browse our ever-growing portfolio and once you do, simply request a quote and we'll start working on your design ASAP!