Calling all camera and video online retailers—do you have an eBay store but not a custom eBay store design? Even eBay says stores with a custom design and logo will sell 25 percent more than stores with no design and bland listings.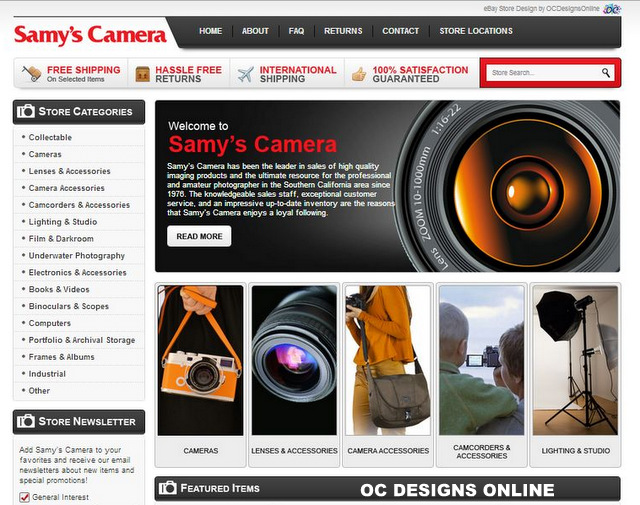 Why not boost your sales and make more money on eBay with a custom eBay storefront? OC Designs Online is not your typical eBay store designer—we believe in affordable pricing for eBay retailers. We also offer custom listing templates and custom category pages. Isn't it time you stepped up to the next level of selling on eBay?
Our in-house graphic designers are experts at not only designing stores but also helping create fantastic logos—if you don't have one. We also pride ourselves in matching your website for consistent brand building.
So camera and video online retailers, what can you get with a custom eBay store design?
Awesome One-of-a-Kind Storefront
An eBay store with no design or reason is a store shoppers will leave—quickly. However, our custom camera and video eBay store designs showcase you and your products.
Must-have elements include a top navigation bar making it easier for visitors to browse your store. A search the store tool is also a necessary must for every eBay store design.
Other things you can implement into your storefront are sidebar category listings. Showcase your corporate name and logo. Or, let us create the perfect "welcome to our store section" where you can choose from static designs or rotating banners—even videos!
Place important "why-buy-from-us" badges and graphics like how you're an eBay top-rated seller or that you offer a 100 percent customer satisfaction guarantee. Offer free shipping? Why not announce it using a graphic? Or, tell people all about your fast and free—or international shipping policies.
The list is endless for custom camera and video eBay store designs. As with the store you see on the top, here's another custom camera and video eBay store design we are proud of: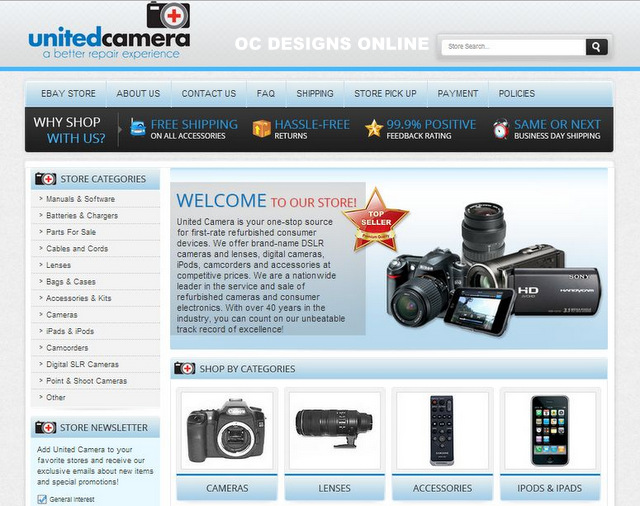 Category Pages
Wouldn't it be nice if shoppers could enter your custom camera and video eBay store and click on a category that led to a web page that looked just like your storefront? This is what eBay custom category pages are all about and OC Designs Online are experts are creating these to match your store.
Below is an example of Photo Video 4 Less' storefront where you'll see a category for "Point and Shoot Cameras."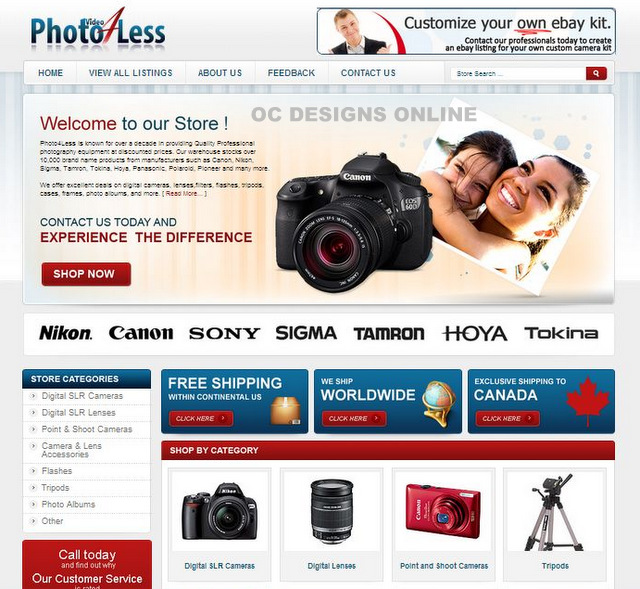 Once the shopper clicks on that category, they are able to browse point and shoot cameras and the storefront's design elements remain—take a look: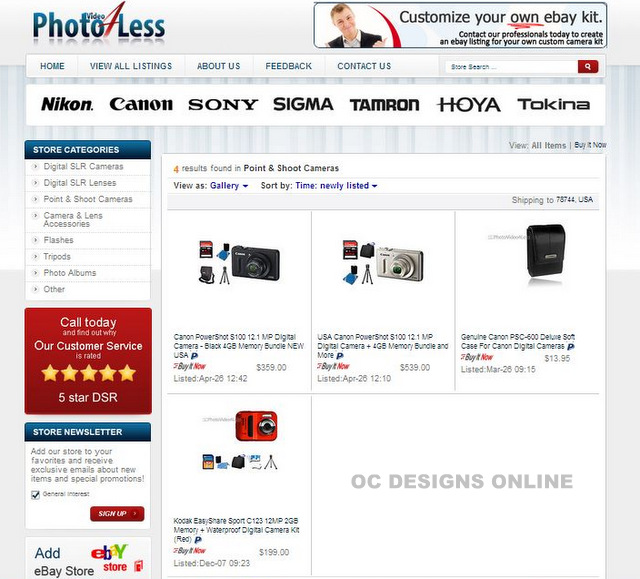 Custom eBay category pages are great for camera and video stores, especially since the products you sell often include a wide variety of brand names. And, with the sidebar always present showing all of your categories, shoppers can switch to a new category quickly and easily.
Custom eBay Listing Templates
But as they say—wait there's even more you can do with a custom camera and video eBay store—custom eBay listing templates.
Say a shopper is looking for a particular camera like a "Nikon Digital Camera." Once they find items matching their search they can click on the individual listing. Now, here is where eBay merchants can lose the shopper's focus. eBay's listing templates are ordinary where a custom eBay listing template is yours and yours alone.
For example, take another look at the storefront we designed for United Camera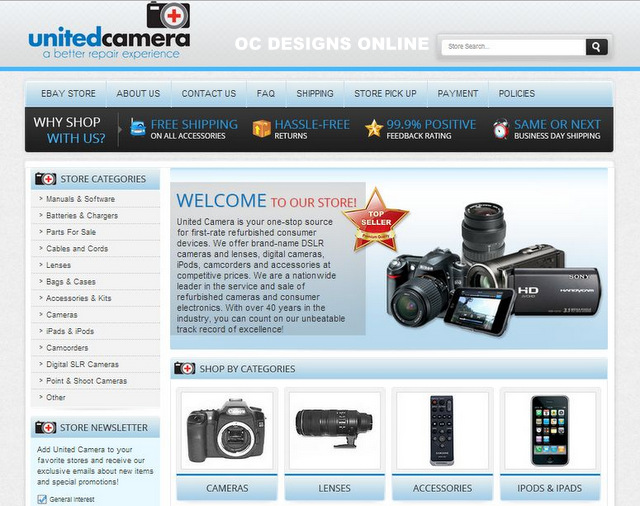 The shopper sees category listings and notices United Camera sells "Cameras" of course! Once they click on the camera category they find the Nikon they seek. A click to this listing and the shopper is wowed! It's not a mundane listing but a custom eBay listing template that offers the feel the shopper has never left your store. Take a look at this Nikon camera custom listing template: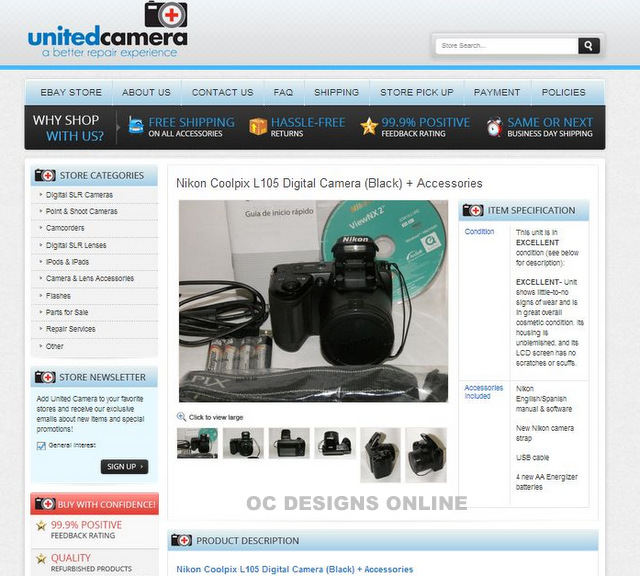 It's a fact that custom eBay stores get 25 percent more visitors than eBay stores with no customization. In addition, graphics and images that are pleasing to the eye helps engage online shoppers and will encourage them to buy your products.
Custom category pages and eBay listing templates offer the feeling of being in one single store instead of hopping all over eBay looking for the right camera or video product—or camera or video accessory.
If you want to boost your sales on eBay, contact OC Designs Online and let us show you how custom camera and video eBay store designs, matching eBay listing templates and eBay category pages will make your store shine above your competitors.
Please feel free to browse our ever-growing portfolio and be sure to like us on Facebook and follow us on Twitter!