OC Designs Online has created so many bike and bicycle eBay store designs we wanted to show online bike and bicycle retailers what a custom eBay store design can do!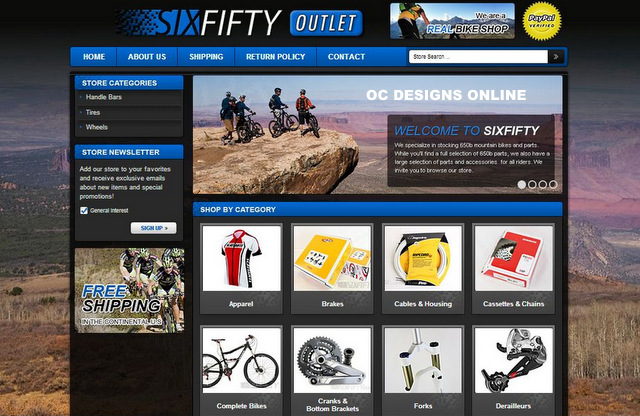 Why Custom eBay Storefronts Work
Everyone seems to shop at one point or another on eBay. If you see a "store" that doesn't have a professional design and boring listings and then find a store that is expertly designed with company logos, professional listing templates and one that is also easy to browse, what store would you choose to purchase from?
We bet it's the custom bike eBay store!
Professionalism is an absolute must for today's online retailers, especially since there is so much competition.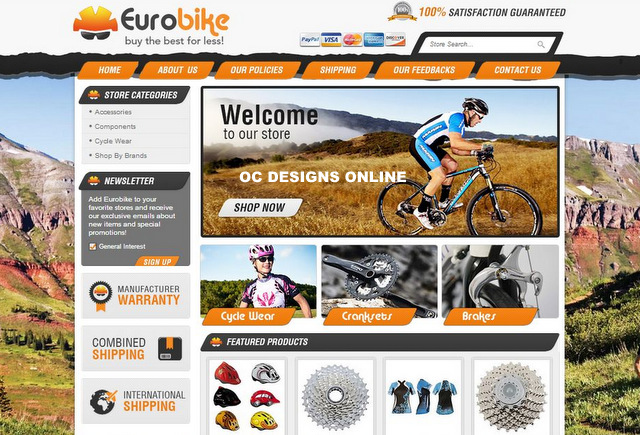 And, online retailers on eBay have to compete with brick and mortar stores so a stunning and eye-appealing bicycle eBay store design will win over those boring and mundane stores and listings.
Why You Need eBay Custom Listing Templates
Beyond a design that includes your logo and company colors for brand building a custom bike eBay store design, depending on desired elements, offers custom listing templates!
With eBay custom listing templates, shoppers can view each listing and still gain the feeling they are still inside your store. For example, take a look at this listing template we did for Euro Bike showing a fleece winter cycling jacket: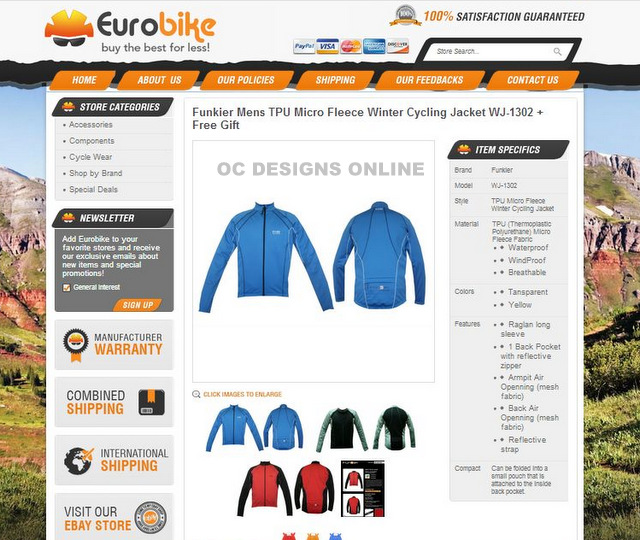 Or, this one we did for Funstuff.ie: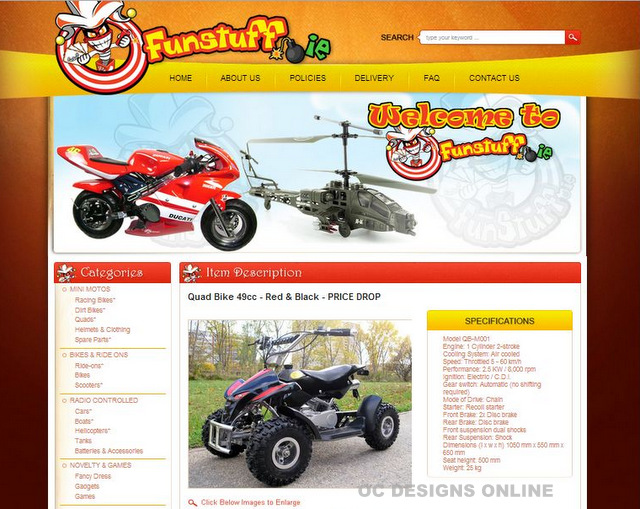 Notice how the main storefront elements remain within these bike shop eBay listing templates. One can still browse the store from the sidebar category menus, sign up for the newsletter, and the store's top navigation bar remains constantly in the shopper's view.
There's no need for the shopper to hit the "back" button. They can continue to browse your store right from the listing template!
In addition, shoppers can easily read product descriptions in each listing template and feel like they are inside a dedicated and custom-designed eBay bicycle shop.
You Get Features and More Features!
An eBay design that is created by one of our in-house graphic designers offers features galore!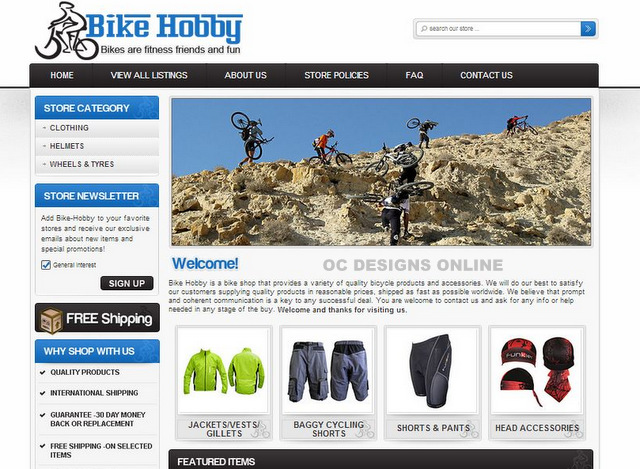 Some of the features we can design for you include:
Rotating storefront banners – Want change the look of your storefront? It's easy with a rotating banner that showcases your products or offers information about you as an eBay retailer!
Videos – Did you know you really engage consumers to stay in your store by including a storefront video in your eBay bike store design? Take a look at this design we did for Wheel & Sproket: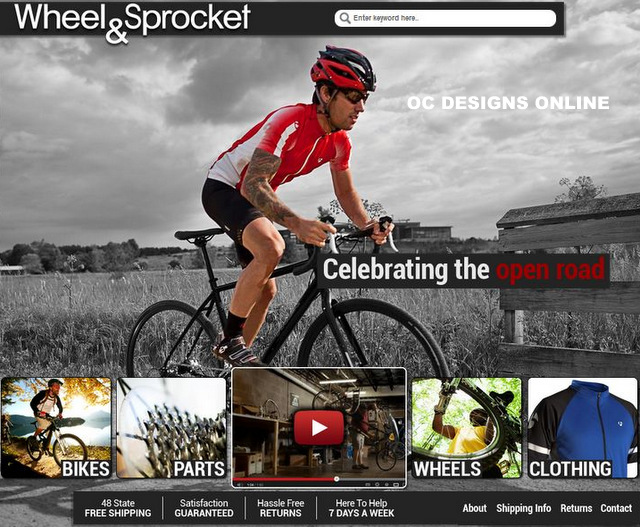 Easy to Browse Stores – Our eBay bike shop designs offer many ways for shoppers to browse your store. They can search for what they want using the sidebar categories, use a search our store tool or click on featured products or best sellers.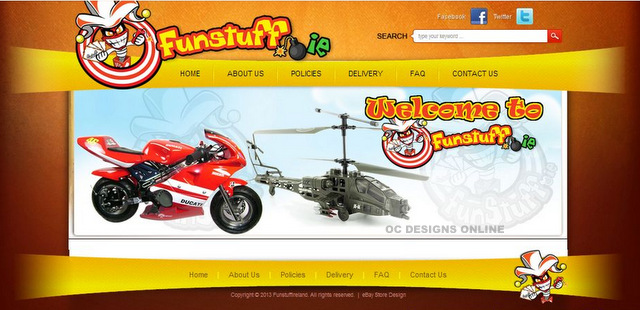 Bike Store Brand Builders – These include must-have elements such as the types of payments you accept, that you are PayPal Verified, are an eBay top-seller or an eBay Powerseller. Other custom eBay bike shop designs include badges for the Better Business Bureau, 100% Satisfaction Guarantees, Free Shipping, Welcome paragraphs, and even links to your social media accounts like Facebook and Twitter.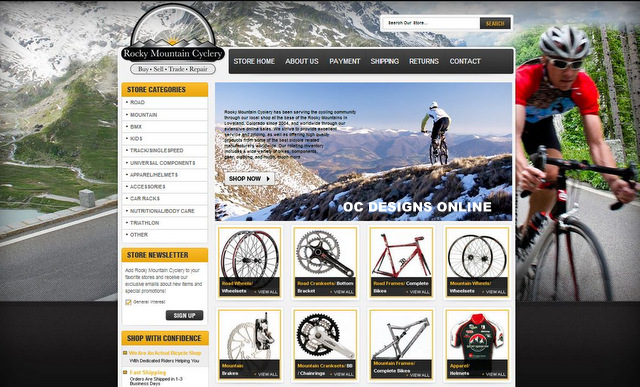 Shop by Brand Ability – Many eBay bike and bicycle stores offer brands customers recognize and search for. With a custom bike eBay store, you can insert a shop by brand section including brand logos so shoppers instantly connect with the brand name bike and bike accessories they want to purchase.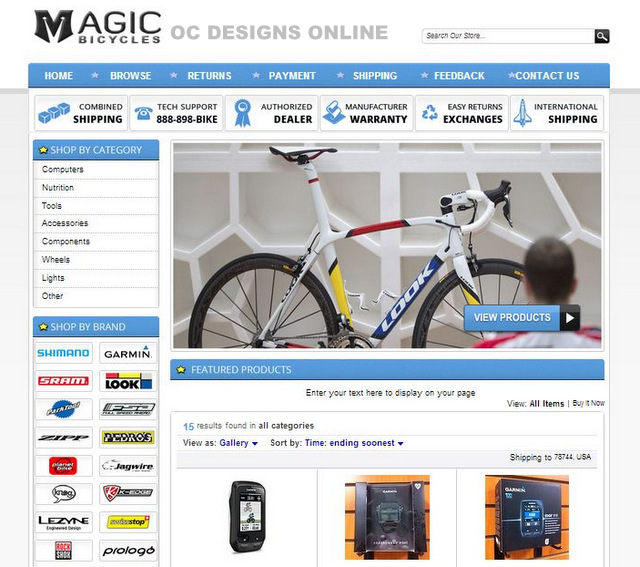 Top Navigation Bars – All of our eBay bike shop designs include a top navigation menu bar that aligns with the store's design. These are absolutely essential as they lead shoppers to the places they want to go such as reading your eBay feedback scores, contacting the seller, learning more about the seller, a link to view all listings, learn the bike shop's policies on shipping and returns and of course, head to the store's home.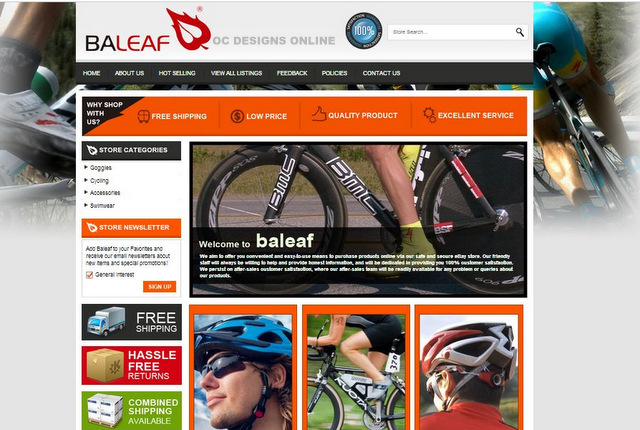 In fact, our designers are so creative and we work closely with all of our clients to make sure their custom bike and bicycle shop eBay store designs contain everything they desire.
What's Holding You Back?
All online retailers need to find unique ways to drive traffic. With a custom-designed bike shop eBay store design, the traffic will find you. Many people search eBay stores before they search anywhere else on eBay. Why? They will look for store names with the words "bike," "bicycle," "bike parts and accessories," etc. With our designs, shoppers will find you and your bikes and accessories, clothing and apparel, and those needed bike parts.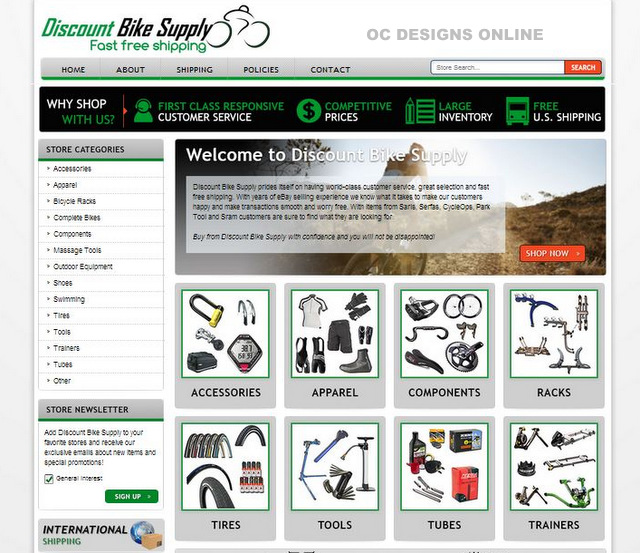 It's time to step into a new way of getting noticed on eBay. Contact us for a free quote on what we can do for your bike store—don't forget to ask about our custom eBay listing templates so each and every product you list shines above your competitors.
OC Designs Online invites you to like us on Facebook and follow us on Twitter!
We also hope you'll take the time to browse our ever-growing eBay store design portfolio—you'll be impressed and inspired!
Ready to go custom?