Verona Diamonds and OC Designs Online have collaborated to bring shoppers a chance to find discounted rings via an attractively laid out eBay store design. The color scheme of the site includes dust storm that is a pale gray shade of red, taupe and various shades of ecru.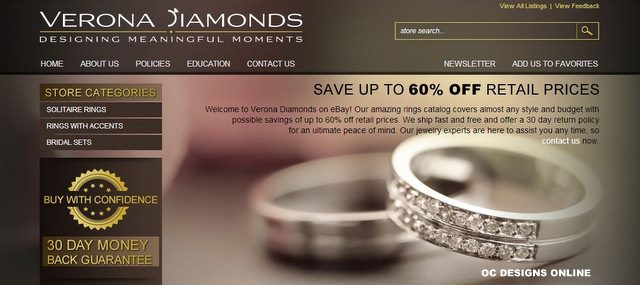 At the top left of the page's setup, the shopper notices the store's name, logo and motto. To the right are two clickable link options that allow the online buyer to peruse all listings and view the store's feedback. Right below these links, a keyword search box invites to try targeted browsing.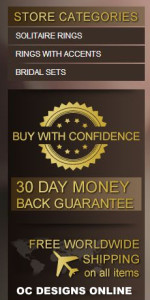 Next comes a horizontal listing of clickable links. Buyers may return to the store's home page, learn more about Verona Diamonds, read up on policies and get a bit of education on diamond basics, which makes shopping for these precious stones a lot more fun. Other clickable options include an opportunity for the shopper to contact the store operators, sign up for a newsletter and add the store to a favorites listing. The middle of the eBay store design is taken up by a sample photo of the available merchandise and a promise that shopper may be able to save up to 60 percent off retail prices.
It is here that the shopper first learns about the store's shipping and return policies. To the left, a vertical set of clickable options features the store categories. Buyers may choose to peruse collections of solitaire rings, rings with accents and bridal sets. Shoppers learn that they can buy with confidence because of the 30-day money back guarantee. The store operators further advertise their free worldwide shipping policy and repeat the offer to sign up for the newsletter.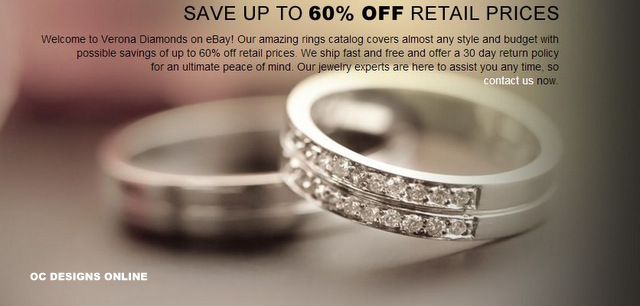 A grouping of photos underscores the three store categories. Online buyers who are uncertain what type of ring to choose appreciate the opportunity to see photos representative of these groupings. A listing of accepted payment options rounds out this section of the page. At the bottom, Verona Diamonds repeats the display of its name, logo and motto on the right side. To the left, the store notes various symbols and abbreviations of nationally and internationally recognized gemology groups and institutes.

Shoppers are sure to appreciate the uncluttered and easy-to-navigate setup of this site, which makes it straightforward for the novice diamond buyer to make an informed choice between different ring styles. It also helps to comparison-shop styles and categories.

If you sell jewelry or fashion of any kind on eBay, don't you want to take your store to the next level and stand above your competitors? OC Designs Online offers affordable designs for eBay stores and eBay store listing templates.
Please browse our ever-growing portfolio and then request your free quote today!
We hope you'll like us on Facebook and follow us on Twitter!