TT Beauty Boutique and OC Designs Online have collaborated and created a captivating eBay store design for online shoppers. The look and feel of the storefront hints at some of the whimsical designs and products the shopper can hope to find in the inventory.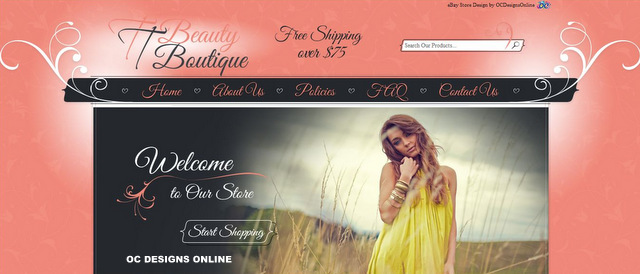 The inventory consists largely of attractive daywear, healthy skin products and accessories that are suitable for personal use and gift-giving.
The primary color scheme of this eBay store design includes Congo pink, jet black and white. Pink creates the backdrop for the design items, while black is the color of the navigation bar and clickable link frames. White accentuates artwork and serves as font color for much of the text. That said, these three colors also factor into ornamental designs that support the store's goal of creating a capricious feel.

At the top of the site, the online shopper discovers the TT Beauty Boutique logo and learns about the latest shipping offer. In addition, a search bar lets buyers look for products by keyword. The absence of clutter at this top is inviting for the online bargain hunter. Below, shoppers note a horizontal navigation bar that offers access to the home page, a page briefly describing the store's background, policies and frequently asked questions. Finally, there is access to the store's contact information for new and returning customers.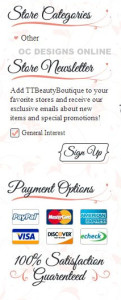 A photo and welcome message takes up the middle section of the storefront. A "start shopping" button offers access to store categories, the store newsletter sign-up and a display of products from all categories. It is a great option for the bargain hunter who is ready to jump into the experience. For the buyer who needs a bit more information before getting started, there are three product categories noted right below the photo. They are women's apparel, accessories and skin care.
Below this selection is a collection of four featured products. They come from all product categories and offer "buy now" options. To the left, the online buyer finds a store category listing, a newsletter sign up option and an explanation of accepted payments. At this time, the buyer also learns that the store owner offers a complete satisfaction guarantee.

At the bottom of the page, the TT Beauty Boutique logo repeats at the right side of the page, which beautifully balances out the top. Small clickable text links offer access to the same options as the navigation bar at the top of the page. Overall, the organized and clean appearance of the page is a joy for the buyer who wants to quickly narrow down options and get down to the business of shopping.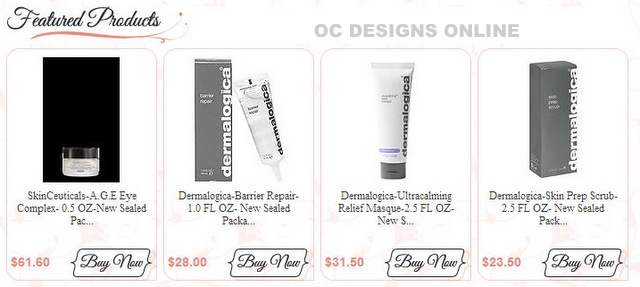 If you're looking to gain an edge with a stunning and noticeable eBay store design, browse our portfolio and then request a quote! We invite you to follow us on Facebook and Twitter!