Nationwide Auto Recycling, Inc., is a family owned recycling facility in Lancaster, Massachusetts that specializes in purchasing and selling salvaged late-model auto parts.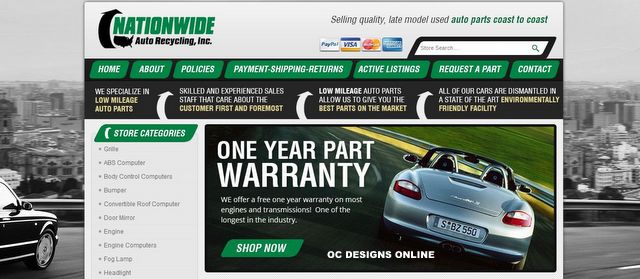 In the business for nearly half a century, the Warila family knows everything there is to know about quality, low-mileage auto parts. For this eBay store, OC Designs Online created a dynamic, intuitive marketplace that will appeal to all auto parts shoppers.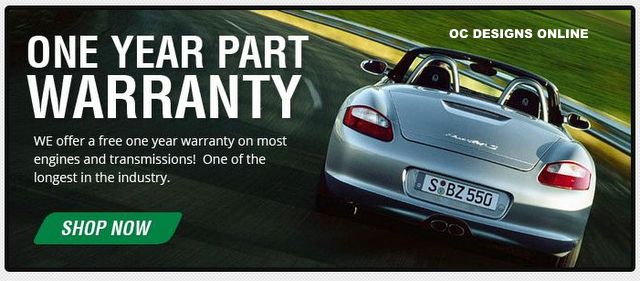 Nationwide's green and black theme colors serve as the anchor for this eBay store design. There are three primary ways in which shoppers can quickly find the part they need, or browse for specific parts. The category menu on the far left column features Nationwide Auto Recycling's top searched products, from bumpers to engines, radios and visors.

Nationwide Auto Recycling also sells parts for luxury vehicle models like Audis, Porsches, Volvos and Mercedes-Benz which is show via manufacturer logos for a visual connection.
The second way shoppers can easily find what they're looking for is by clicking on an even tighter, more condensed category hotlink, which is illustrated with high-res images of engines, transmissions, head lights and other top-searched inventory. Finally, shoppers who know exactly what they need can simply type it into the Store Search bar at the top right. Need a right tail light for your '93 Benz? You can hone in on just the products you need and filter out the rest.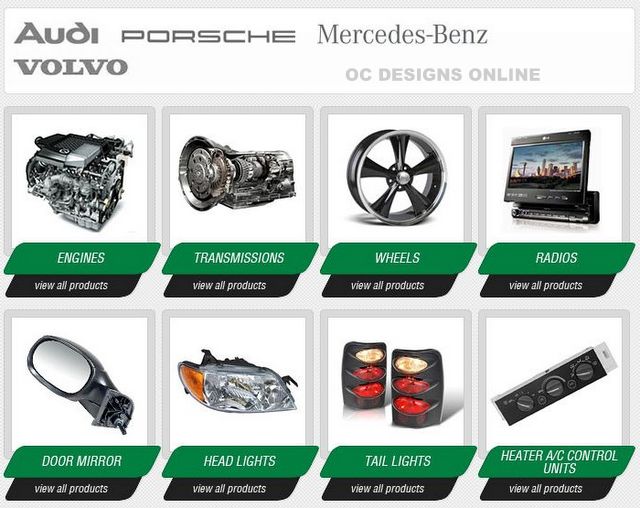 Unique to Nationwide Auto Recycling's eBay store is their four-point statements of authenticity at the top of the page revealed with noticeable text and eye-grabbing up arrows.
In an industry teeming with questionable Internet pop-up stores, Nationwide dashes any fears weary buyers may have with just four declarations: they specialize in used parts, they have a skilled and experienced sales staff, Nationwide always provides quality parts, and they provide service in a state of the art, environmentally friendly facility. This last statement forms a clear bridge to their primary theme color: green, for the environment.
Interested in seeing more samples of our eBay store designs? Go to OC Designs Online to see our comprehensive portfolio. We can also keep you updated on news and deals if you follow us on Twitter or like us on Facebook.
Ready for your eBay online store to start wowing your customers now? Simply click on the request a quote tab and you'll soon be on your way to a customized eBay store that will engage and start reeling in the customers.