If the natural color system blue and pigment red that make up the majority of Best Costume & Toy Deals' horizontal navigation bars and keys remind you of Spiderman or Cinderella, it is no accident.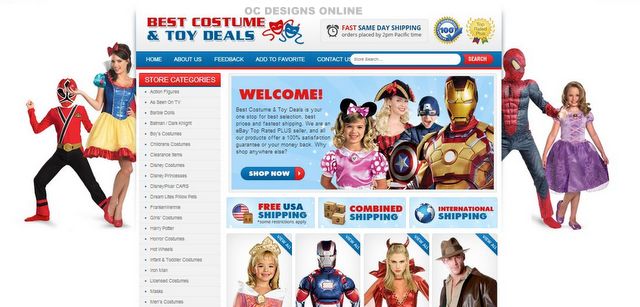 Playfully integrating these color choices into the costume portion of the eBay store, OC Designs Online hints at the wealth of superhero, princess and novel dress-up clothes the shopper is likely to discovery here.
At the top of this eBay store design is the company name and a promise of same day shipping for customers who place their orders by 2 p.m. Pacific Standard Time. The buyer also learns that the store commits to 100-percent customer satisfaction and proudly carries a top-rated-plus designation.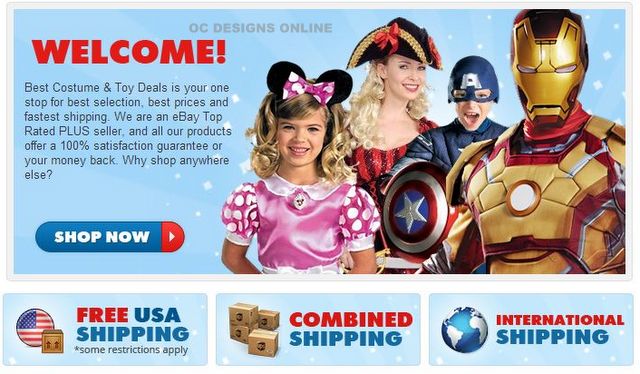 The uppermost navigation bar enables the shopper to return to the home page at any time, learn a little bit more about Best Costume & Toy Deals, peruse the feedback that other buyers have left, add the store to a favorite listing and contact the store owner. A search function makes it quick and easy to find a particular costume by entering a keyword.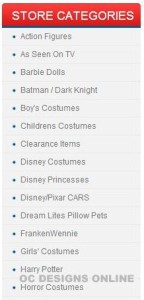 For the buyer who is not quite certain yet what type of toy or costume to choose, there is a vertical listing of store categories on the left side. Choose from categories that include action figures, "as seen on TV," children's costumes, clearance items and a wealth of brand name and licensed costumes.
This setup also allows buyers to check out toys, games and wig accessories that do not come standard with some of the dress up clothes. Right below this listing is a newsletter sign-up option.
Making up the middle of the website are not only a big welcome message and "shop now" button with colorful examples of the costumes the buyer finds when checking through the store's inventory, there are also three function buttons that provide details on free shipping in the United States, the store's combined shipping policy and international shipping details.
Right below this section are four examples of available costume categories. They focus on girls', boys', women's and men's costumes. These search functions are excellent opportunities for the buyer in a hurry to simply click on the most apropos button and then make a costume selection from there.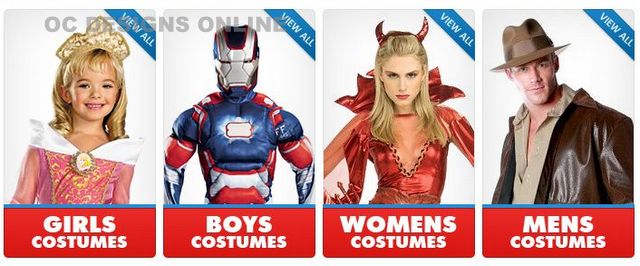 For the shopper who needs just a little more inspiration, a featured products section focuses on eight toys as well as costumes. Showing pictures of the items and listing a current price, the red "shop now" button is a great element to quickly use eBay's convenient "buy it now" function. The selections run the gamut from inexpensive toys with a superhero twist to the more expensive action figure.
At the bottom of the eBay store's page is a listing of payment options as well as a repeat of the first row of horizontal navigation topics.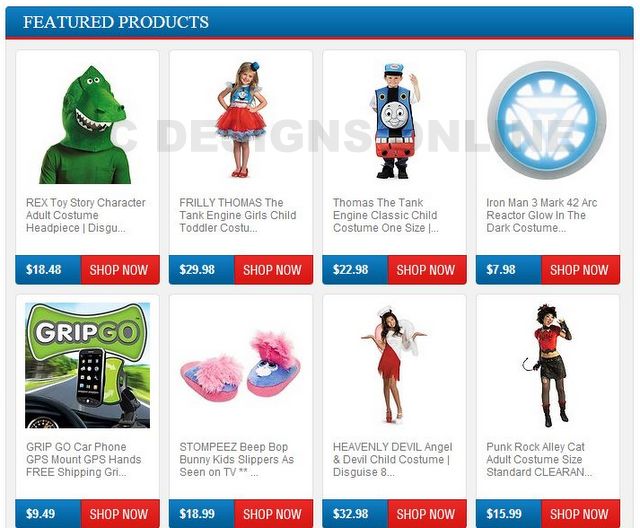 Selling specialty items like costumes on eBay is one competitive world. Make your storefront eye-appealing and inviting and request a quote from OC Designs Online to see how a custom eBay store design will make your store pop.
We also invite you to browse our portfolio of stunning eBay stores and don't forget to find us on Twitter and Facebook!