With both music and art in its eBay store name, MG Music Art needed a site that combined striking, professional and user-friendly. The eBay store design created for them by OC Designs Online does just that.

MG Music Art offers a substantial array of musical instruments and accessories, art supplies and books, CDs and DVDs related to music and art, as well. Shoppers can expect to find everything from guitars and mandolins to music stands and guitar exercise books, and the layout of their eBay store design will help them discover exactly what they are looking for.
The design features a clean, white background framed by a textured periwinkle surrounded with a subtle musical pattern. The foreground of the design draws vivid colors, such as a rosy pink, verdant green and sapphire blue, from the MG Music Art logo.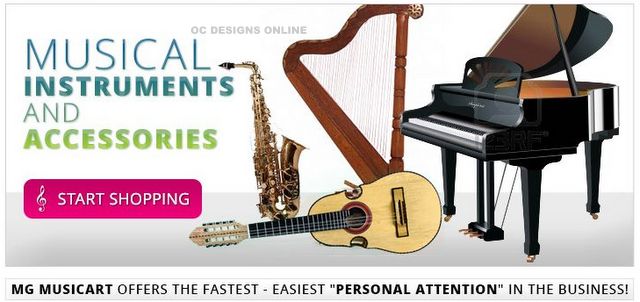 The logo is tastefully promoted across the top of the page along with unobtrusive logos of each payment type the store accepts. Below this is a black navigation bar that provides links to the Home, About, Policies, FAQ and Contact Us pages in white lettering with pink eighth notes separating them. Also on the navigation bar is a search box, which enables customers to search the store for that something special.
The eBay store design includes a Why Shop with Us? bar below the logo in the theme's distinctive pink. Each of the store's characteristics is bulleted by a washed out store logo.
A prominent Start Shopping box draws shoppers' eyes with large, legible text in complementary colors and high quality images of various musical instruments, such as a piano, a harp and a cuatro. Clicking anywhere on this section takes customers directly to the entire store inventory where they can browse to their hearts' delight.
Next is a Category section, which displays four distinct groupings. Each category (Instruments, Accessories, Live Sound and Art Supplies) includes an eye-catching image as well as a blue label and a pink circle announcing "View All"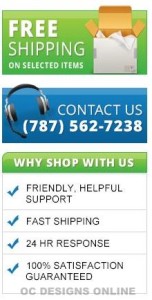 Below this is a sampling of featured items, which also carries the eBay store design with its bright pink price label and Buy Now button, green heading and high quality images.
A useful navigation pane runs vertically down the left side of the page providing an inclusive listing. In addition, the pane provides a store newsletter signup button, shipping and contact information and a list of benefits the store offers consumers.
The eBay store design theme continues at the bottom of the page with a small-scale navigation bar and a black-and-white version of the logo.
If you desire a store design that combines quality and creativity, consider OC Designs Online. We invite you to browse our portfolio of imaginative designs and request a quote to learn more.

Please look us up on Facebook, follow us on Twitter and check out our Pinterest boards too!