Everyone loves a great deal, but finding a bargain that also gives you the warm fuzzies doesn't happen every day. That is what sets Deal Dreaming apart from other discount eBay stores.

This retailer offers good buys on everything from health and beauty products to tools and wallets to electronics, phone accessories and as seen on television items. Not only that, but they also donate a percentage of their profits on specially designated products to well-deserving charities and organizations.
Because of their unique approach, Deal Dreaming needed a distinctive eBay store design, so they enlisted OC Designs Online. The result is an appealing layout that combines clean lines and a modern motif with just the right amount of whimsy.

The first thing visitors to the store are likely notice about this eBay store design is its understated yet pleasing moon, cloud and stars theme. The theme colors of gold, white, blue-gray, steel blue and deep sky blue are carried throughout this eBay store design.

At the very top of the page is the company logo, a smart site search box and navigation bar, all which appear to be suspended from two golden cords looped through holes in the tag-shaped boxes. The navigation bar allows visitors to view the Home, Donation Deals, About Us, FAQ, Contact Us and Store Newsletter subscription page in a single click.
The Welcome to Our Store section is a larger version of the hanging horizontal price tag shape with a gold cord looped through the top. A young woman dressed in the eBay store design's blue and white carries gleaming shopping bags in one hand and a megaphone in the other, beckoning potential customers to start shopping.
The Shop by Category section comes next, with callouts announcing groupings such as Donation Deals and 99-cent auction deals. Vibrant photos identify each category, giving customers a glimpse of the goodies in store for them.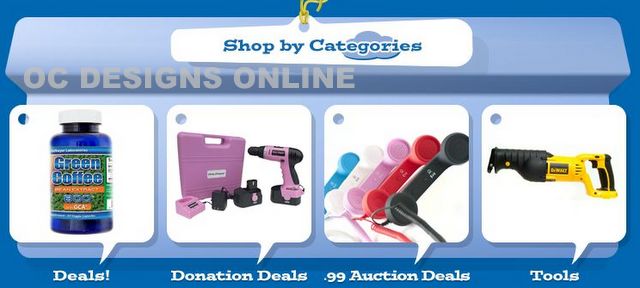 The dynamic Featured Items segment displays highlighted products of the day. Each contains a brief description, a high quality image and the price of the item. Clicking on the item takes shoppers directly to the product's eBay page.
Four vertical hangtags dangle delightfully down the left side of the page. The first provides a more comprehensive list of store categories. The second announces reasons customers should shop with this eBay store, including low prices, fast and free shipping and, of course, their donation policy. The third tag displays payment options and the fourth links to the store newsletter subscription page.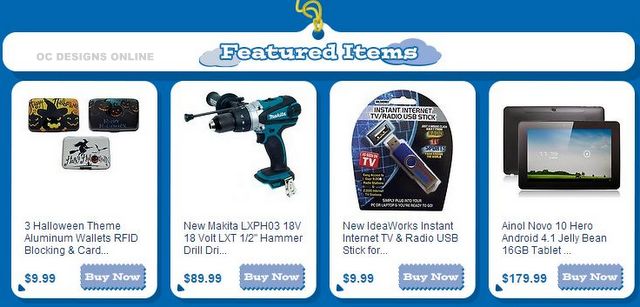 Just like Deal Dreaming, you deserve an eBay store design that offers quality and creativity. Find out how OC Designs Online can create a custom theme for you. Please browse our portfolio to see some of our spectacular creations, and then be sure to request a quote!
Find us on Facebook, follow us on Twitter and check out our Google+ Page!