Just like we enjoy our UK and Australia clients, we also enjoy our Canadian ecommerce retailers and when Partsr asked OC Designs Online to help the gain an edge in the world of computer parts and accessories, we did just that with a new eBay store design!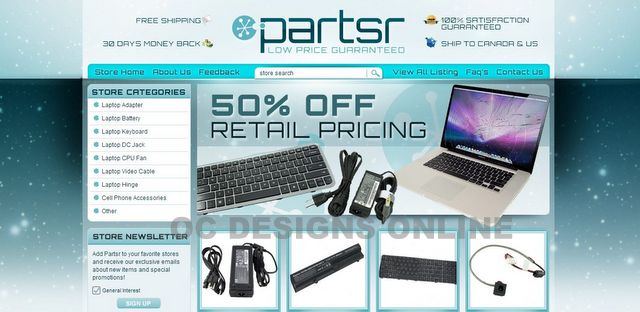 Since 2005, Partsr has been selling computer parts, equipment, accessories and laptop accessories and peripherals. They also specialize in cables, cords, USB cables, internal, external and portable hard drives, memory expansion, CPU fans, keyboards and cell phone accessories including cell phone cases.
To rejuvenate this computer accessory eBay retailer, we embedded their logo and motto: Low Price Guaranteed right in the top center of their storefront. To the top right and left are what we call eBay store design must-have why buys like how they ship to the U.S. and Canada, have a 100 percent satisfaction guarantee, free shipping and a 30-day money back guarantee.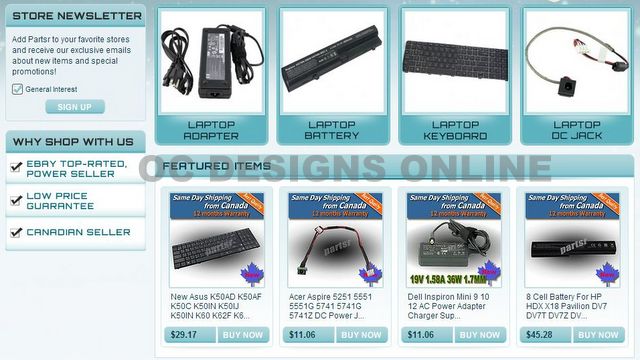 The light, medium and dark blues in the background and throughout the storefront makes it easy for shoppers to navigate the store from one featured area to the next.
In the top navigation bar shoppers can learn more about Partsr, read their feedback or FAQs, view all listings or contact the seller—all in eye-catching blue with the essential search the store tool in the center.
The left sidebar offers a shop by category tool with subheadings that includes all the computer, laptop and cell accessories they sell for easy browsing.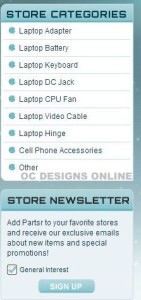 The mid-section of the store or what we call the "welcome" section in all our eBay store designs, which immediately announces Partsr offers 50 percent off retail prices surrounded by stunning product imagery.
Below the welcome section are clickable boxes with product images revealing some of their popular products and beneath that is their featured items section—again with clickable boxes and product images to engage the shopper.
Also at the left shoppers can sign up for a free newsletter and even more why-buys were inserted for brand building like how they are an eBay top rated seller, a Canadian ecommerce retailer and that they offer a low price guarantee—something very important to eBay shoppers looking for computer, laptop and cell phone accessories.
The bottom of the store is wrapped up with a contrasting dark blue background, a mini sitemap and a repeating logo.

eBay sellers have to compete and stand out to gain consumer trust and build their brand. That's exactly what a custom eBay store design can do for you no matter what product you offer on eBay.
We invite you to browse our portfolio to see how spectacular we can make your eBay storefront and then request a quote to get started!
Don't forget to find us on Facebook and follow us on Google+!