If you haven't heard of the Reva™ Vase, it's time for you to step into the 21st Century as far as flower vases go! These vases are reusable and expandable and are made of eco-friendly products with no PVCs! Not only are these a great choice for your home but because they are also shatterproof, they're great for hospital visits or taking as a gift to a friend or family member's home. Simply fill them up and stick your flower arrangements in and they'll stand high as if they were made of heavy glass.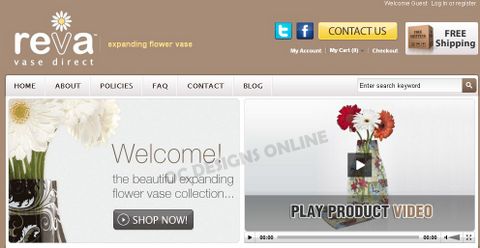 Shatterproof means they are also pet and kid safe and because they are ultra-portable and convenient, you can literally take Reva Vases anywhere—even use for outside events like picnics or weddings! And, the many designs they come in offer you unlimited use—birthdays, thinking of you, even the holidays.
Gated Distribution is a woman-based business located in Long Beach California and because they sell Reva Vases online, they asked us to help them create a great Magento Go store design to aid them in displaying these vases in an eye-catching format where a potential buyer simply has to learn more.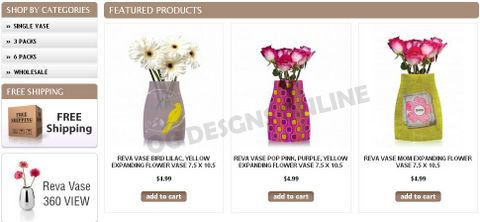 For the Reva Vase Direct Magento Go store design, we included some pretty snazzy elements! First for the top of this storefront we inserted their logo and text telling buyers right away they are browsing "expanding flower vases." We also included links to their Facebook and Twitter pages and a clear and easy-to-see Contact Us tab.
Next, we inserted a menu navigation bar where shoppers can learn more about Reva Vase Direct, their policy page, FAQs and with a Magento Go store design you can even have a blog! The mocha colored theme is placed throughout their Magento Go storefront and their Welcome Box encourages shoppers to "Shop Now" or watch an amazing video on how Reva Vases work—videos are another nice feature offered by Magento Go.

Further on down, consumers can shop featured products and the clickable boxes offer great images of the Reva Vase product line. Buyers can also shop by categories: single vase, 3-packs, 6-packs and Reva Vase Direct even offers wholesale accounts.  Also on the left we included their free shipping offer and another clickable box that leads to another video which shows a 360 degree view of the Reva Vase.
We also included the well-known green vehicle recycling logo to show Reva Vases are environmentally friendly and green in every way and a place for those interested to sign up for a free newsletter. We rounded out this Magento Go store design by offering a mini sitemap, more social media logo links and a place where shoppers can ask a question of the seller. There was also enough room for the seller to add text emphasizing why Reva Vase Direct should be your choice for buying these reusable and convenient vases.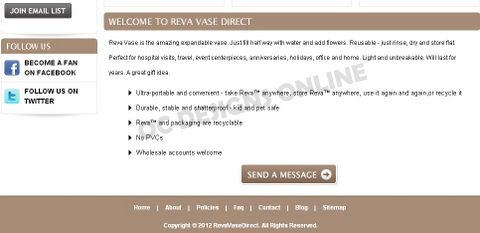 If you're distributor of any sort of product ask OC Designs Online how we can help you reach your sales grows by creating a custom Magento Go store design. We work with Magento Go retailers worldwide so we invite you to Request a Quote and be sure to follow us on our Business Google+ page. Finally, check out our portfolio of ecommerce store designs and then pick up the phone or send us an email—at OC Designs Online our goal is to treat every client like they are our very first client!