Every Volusion store design OC Designs Online creates is always an exciting blank canvas for our in-house design team—and we like that! We understand how some online retailers want to focus on some page elements where others want something different. That something different is exactly what we did for Bday Parties—the store for theme dress-up costumes and party supplies for kids of all ages.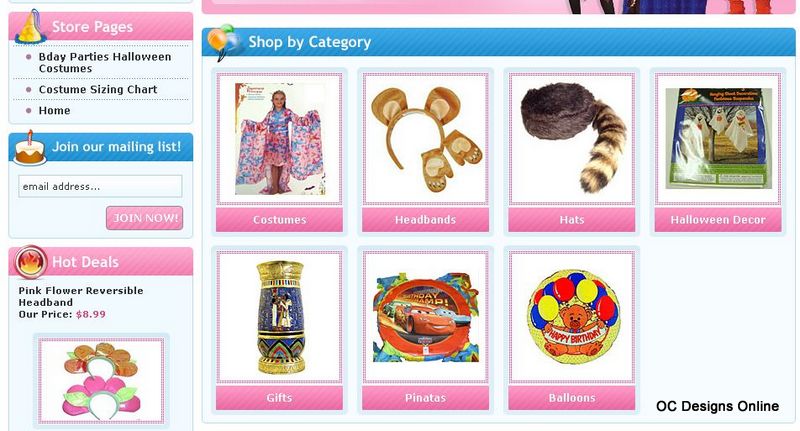 Bday Parties is headquartered out of Kansas and needed a Volusion store design that would easily define the products they sell. First, we utilized bright and eye-appealing blue and pink colors so right away buyers know the holiday costumes and party supplies they sell are for men and women and above all—kids! Basically, if you have party needs, Bday Parties can help and with Halloween so near, why not check them out?
Elements with a Plan
Our designers worked with Bday Parties to ensure the proper store elements were properly placed to lure in potential buyers and keep them there. Their colorful logo was included at the top along with both their local Kanas telephone numbers (two locations) and a toll-free number—and of course a store search tool.

Below that we included their "About Us" within welcoming text so interested buyers could find out right away what they specialize in along with where they ship—and they do ship worldwide.
Side bar menus where buyers can shop by category, go directly to specific store pages including their sizing chart web page, a place to sign up for their free newsletters and a must-have "Hot Deals" product section were also essential elements for this Volusion store design.
We also include clickable boxes so buyers can choose the right categories and start exploring and below that a list of featured products.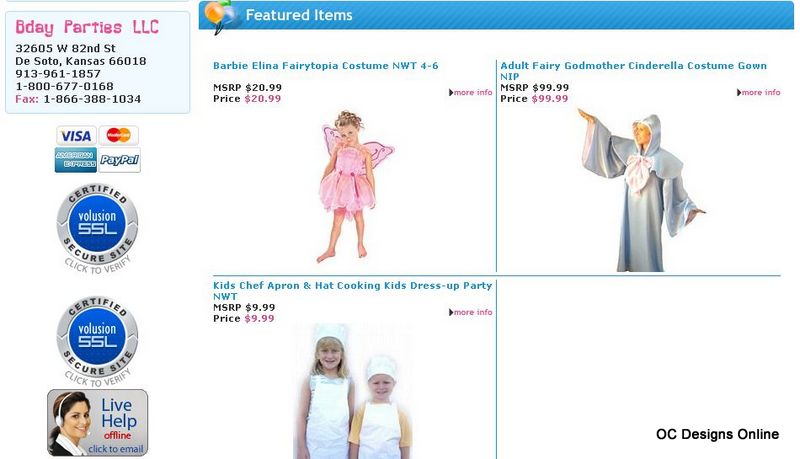 Finally, on the left sidebar we listed the types of payments they take, a symbol showing they are Volusion verified and a venue where folks can utilize their online chat system—or send an email.
The more options your Volusion store design offers, the more browsers you'll gain. Any e-commerce store that is confusing to navigate or boring in appearance is just not enough these day to make your online marketplace stand out.
If you're considering a Volusion store design, contact us for an affordable quote and above all, we invite you to browse some of our Volusion store portfolios designs to get an idea on what we can do to take your Volusion store the next level and keep it competitive!
We are now on Google+ so follow us and read our popular posts and don't forget to follow us on Facebook!