Sometimes having an e-commerce store is the first stepping stone for small business owners before they open a brick and mortar store—this is just what Addicted2Shirts hopes to do by first opening a custom Shopify store created by OC Designs Online.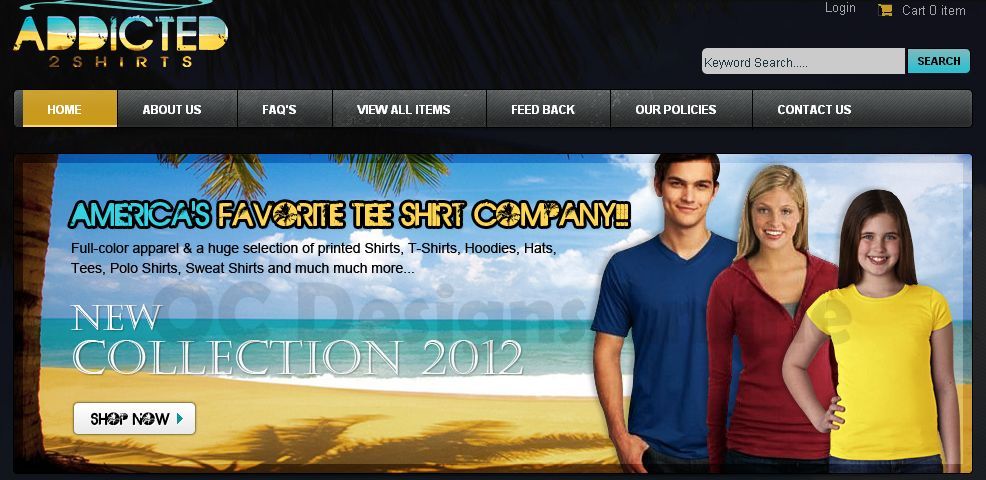 Shopify is one of the easiest e-commerce solutions available to online retailers and features an easy-to-navigate customer menu and aids you in keeping customer information neatly organized for special marketing campaigns. If that's not enough, Shopify also allows for inventory control—a must do for online retailers.
For this Shopify store design we implemented a great top layout with a menu bar so shoppers can easily go to their About Us page, leave feedback or contact the seller—even view all store listings. We also included a search tool for easy customer shopping and of course the company logo.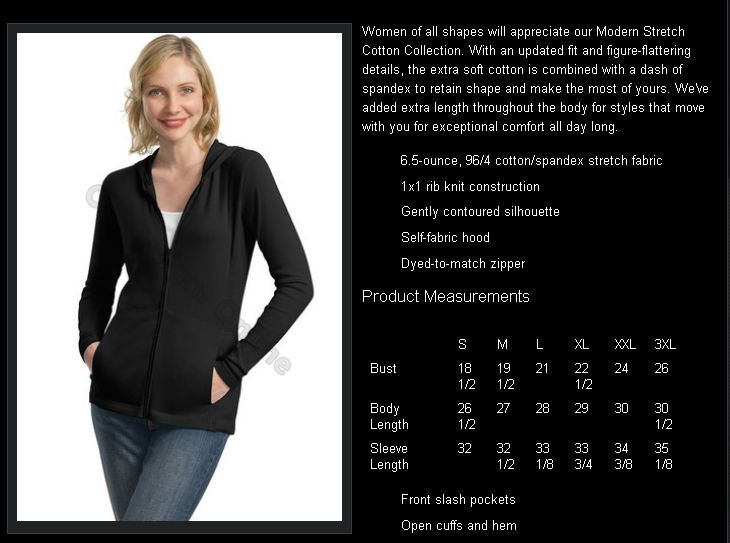 Beneath the menu bar we utilized imagery and their slogan "America's Favorite Tee Shirt Company" and announced their new 2012 collection with a clickable arrow so folks can start shopping as soon as they land on their homepage.
The mid-area of the store has a side menu bar of store categories and more clickable boxes if you want to shop aprons, Tees, hats or men's and women's clothing. The side bar category menu we think is especially nice. If you click on one of the categories you get another menu bar to help you narrow down your search even more, as shown in the screenshot below.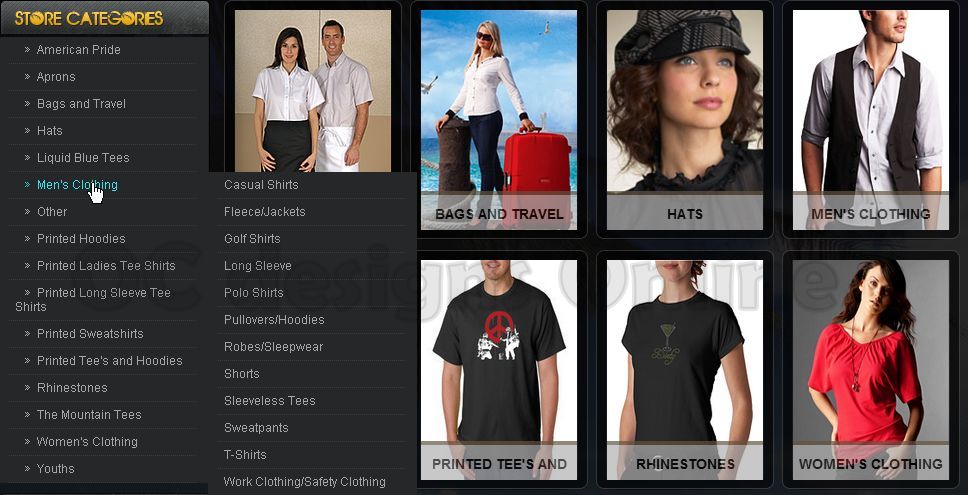 The bottom of Addicted2Shirts' Shopify store design reveals a fast shipping policy, a place to sign up for their free newsletter, their logo and a statement from the company on what they specialize in. We also included a place to find them on Facebook, RSS feed and a site map-type menu bar.
Are you ready to open an e-commerce store and are wondering if Shopify is right for you? First check out our FAQ section and then let OC Designs Online show you how we create the most stunning Shopify store designs and be sure to check out our portfolio and the Request a Quote and before you know it, you'll be an online entrepreneur and can start selling—just like Addicted2Shirts. Your dream is just a Shopify store design away!