If you love the camping, hiking, climbing and even bringing your pet along for the fun, you need to take a look at the eBay store design we did for Rocky Mountain Outdoors. Because eBay store designs and eBay store templates are a specialty of OC Designs Online, Rocky Mountain Outdoor knew to stand out, get noticed and make a reputable presence on eBay, they needed a sharp storefront.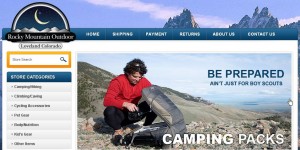 Every eBay store needs to clearly convey what they sell but also needs to convey trust. To do this, certain elements must be present in order to show your store is reliable and reputable. For Rocky Mountain Outdoors we did a few things to ensure eBay shoppers would enjoy their online experience.
First, we hit potential clients immediately with the large images of camping and their neat catchphrase: "Be Prepared Ain't Just for Boy Scouts." We also showed images and included text so potential buyers would know exactly what they sell: Camping/Hiking, Camping/Caving and Pet Gear.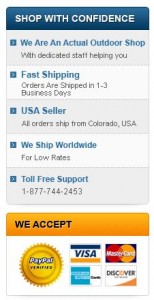 Two other essential elements were a clickable store category menu and an area where those interested in updates from Rocky Mountain Outdoor products could sign up for a free newsletter. Also on the side bar we revealed how eBay shoppers can buy with confidence and listed the reasons why: Fast Shipping, USA Seller, We Ship Worldwide and a Toll-Free Support Telephone Number. Below that is another must-have element; the types of payments they accept.
Along with their featured products displayed right in the middle of the storefront, on top we included the logo and where they are located (Loveland Colorado), a search this site tool and tabs where shoppers can easily contact the seller or read their "About Us" page along with other tabs so eBay shoppers will feel confident when purchasing from Rocky Mountain Outdoor.
It's hard to compete in the eBay retailer world but at OC Designs Online, we make the process of opening an eBay store easier—or if your eBay store needs a facelift, we are the most affordable eBay store designers you'll find anywhere.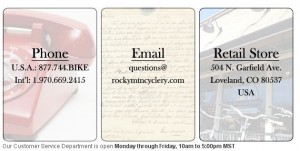 Request a Quote to get started and be sure to browse our many eBay Store portfolios! Need a little more convincing? Read our FAQs to learn more about eBay store designs!