Search eBay Stores using the word "discount" in their store name and you'll get around 3,100 results! When there are that many stores to compete with on eBay, Discount Glasses decided in order to stand out they needed a refreshed eBay store design and that's exactly what OC Designs Online helped them do!

eBay store design and eBay template designs are our specialty at OC Designs Online and we've helped hundreds of eBay retailers get noticed with custom storefronts dedicated to not only what they sell but also helped them by inserting the most favorable elements every eBay store must have to succeed.
With Discount Glasses along with their logo at the very top, we also offered one of the best eBay store tools out there—a "search the store" tool. Searching an eBay shop makes it much easier for customers to find what they want specifically—in this case "discount glasses" but with the search tool, they can also find the products they want by brand or item.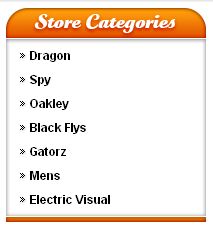 Another popular and must-have element is the menu side-bar showing store categories. Why is this so important? It also helps buyers narrow down choices. For Discount Glasses it was a must do to have a specific "Men's" category along with their most popular brands.
Under the store categories we placed what all eBay shoppers want to know before they buy—a list of why they should choose a particular seller.  Here, we included what Discount Glasses offers such as free shipping, hassle-free returns, shipping within one business day,  14-day return policy, international shipping and that all the eyewear they sell is 100 percent authentic. A menu-list of "why shop with us" makes eBay buyers more confident.

Below Discount Glasses "why buys" those interested in staying on top of their product line can also sign up for a free newsletter.  Finally, for this store to work, we included a clean and crisp look of brands with logos and featured items.
It's hard to compete in the eBay retailer world but at OC Designs Online, we make the process of opening an eBay store easier—or if your eBay store needs a facelift, we are the most affordable eBay store designers you'll find anywhere.
Request a Quote to get started and be sure to browse our many eBay Store portfolios! Need a little more convincing? Read our FAQs to learn more about eBay store designs!