Today we are going to share with you how we got helped White Mountain Outdoors meet their goals and sells more. Our eCommerce design services, tailored to meet the spirit of his eBay customers and brand identity, are trusted by thousands of eBay sellers. This eBay store design is one of the many you can see in our portfolio.
If you want an eBay store design that suits how you envision your company, make sure to request a free design quote at the end of this post.
Logo design services and more
White Mountain Outdoor's logo is designed to share the two main product sold at this successful eBay store – outdoors items and firearm accessories. The logo shares those two attributes with the mountains, road, and then the eye-sight feature. The gun eye-sight was then added into the header of the store as a way to bring attention to some of their value adding propositions. These include their 100% satisfaction guarantee, combined shipping,24-hour response, and international shipping.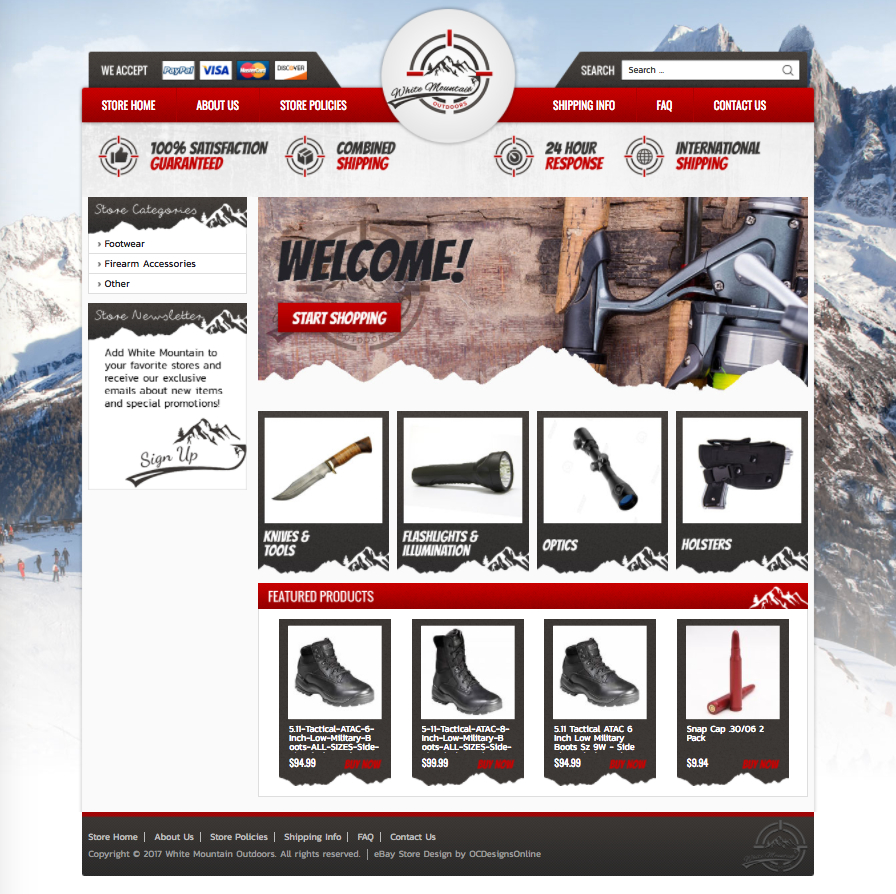 Featured products widget helps increase average cart size
Beneath the header and welcome area with category buttons, we have the Featured Products widget. This is a valuable tool to feature on an eBay store because it shows at a glance some of the products available at this store, as well as a great place to establish price point. It's also perfect to share trending items, seasonal promotions, and clearance products.
Color and tone was selected purposefully
The greys, blacks, and reds in this design were chosen purposefully for this store. We create everything to work alongside the products to share their brand story. The black frames on the featured products and category buttons outline a mountain, which is a nice subtle element. The backdrop of the store also implies adventure, something that shoppers at White Mountain Outdoors want to be a part of.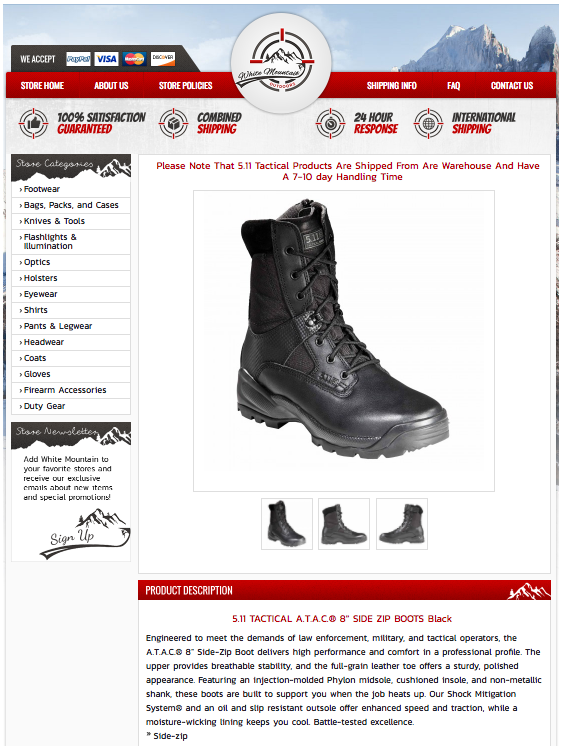 And did we mention that this store also has a custom eBay listing template? Find out more about the importance of these templates below.
Read more articles from our team below:
Request a free quote now to get started
OCDesignsonline has a large portfolio of clients, spanning several years and platforms. Browse our portfolio to get a feel of our quality of work and then request your free website design quote. You want to see what we can do! Don't forget to also follow us on our social media accounts: Facebook, Twitter, Google+, and Pinterest for more updates.