OCDesignsonline is happy today to share with you the design we created for Wing Tactical, a veteran-owned business that aims to help fulfill the needs of officers, military personnel, competitive shooters, hunters, and many more at a discount.
This design was a fun one to create, with exciting angles in the header and a large welcome image to encourage shoppers. The blacks, grey, and reds suit the products well.
We started with a value adding header
Beneath the logo we shared a few sentences about our client, Wing Tactical, and their services. Their fast shipping guarantee, authorized dealer certifications, and satisfaction guarantee is shared so that potential customers can see the value they may gain from shopping with our client.
The logo itself creates an interesting look, mimicking the feel of real wings on a plane or other aircraft.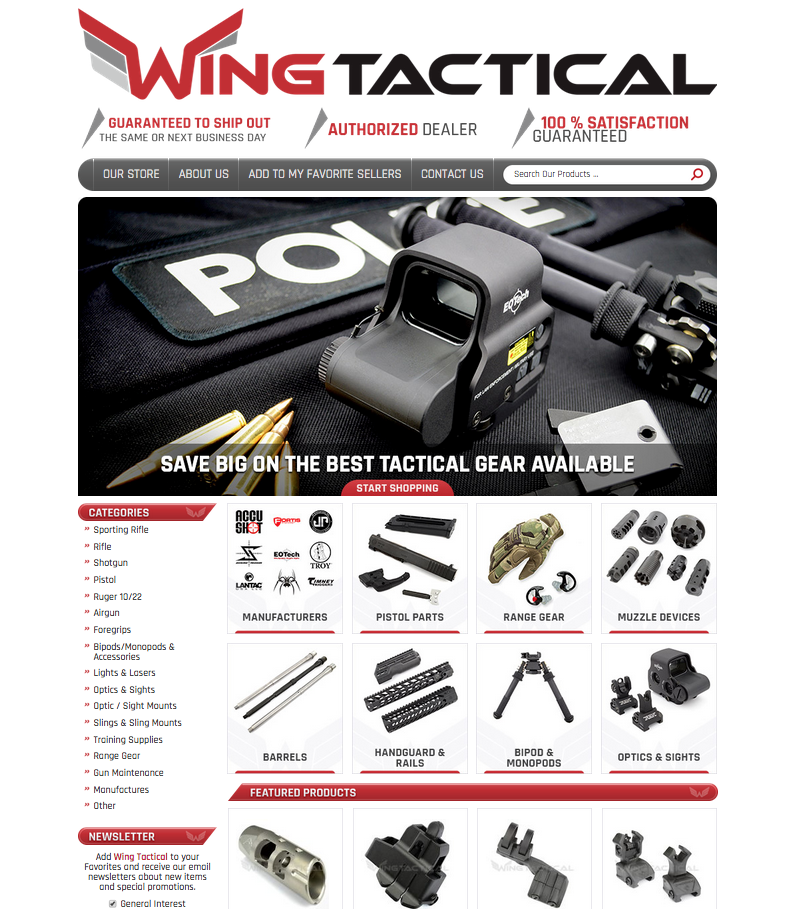 In the text links beneath the header we also added an "add to favorites" button so that customers may be able to find our client easily if they don't have time to shop at this moment. Utilizing eBay features like this helps bring in more product offerings. 
The welcome image shows some of the product offerings, as well as a note advertising that products are cheaper than expected, and a call to action "start shopping" button. All three of these aspects were chosen to help products sell more.
Featured categories and products sell more
One of the frequent features we add to our designs, no matter what kind of store they own, is a featured products (or a daily deals section) and a featured categories area. Having certain products more visible than others help encourage more browsing (through higher click rates) and a higher than average cart size.
Showing examples of these products in the featured category clickable images is a great way to help clients visualize what they could gain from our client. Featuring certain manufacturers also helps build credibility with potential customers.
If you want to help your eBay store sell more, a new storefront design is essential. It helps show potential customers that you are in business for the long haul and will take their patronage seriously. Contact us to get a free quote so that you can see how much a new design will help you. We're here to answer all of your questions.
Contact us for a free quote to get started
OCDesignsonline has a wide array of eBay listing templates to choose from on the site. Take a moment to browse our portfolio and request a free quote. Also, don't forget to find us on Facebook, follow us on Twitter and check out our Google+ Page too!