The best part of our job as eBay and eCommerce designers at OCDesignsonline is that we get to help entrepreneurs succeed. In the case of our recent client, Tent and Table, we helped their 30 year old business exceed in the eBay space with a stellar new eBay storefront design.
We started by mimicking the products sold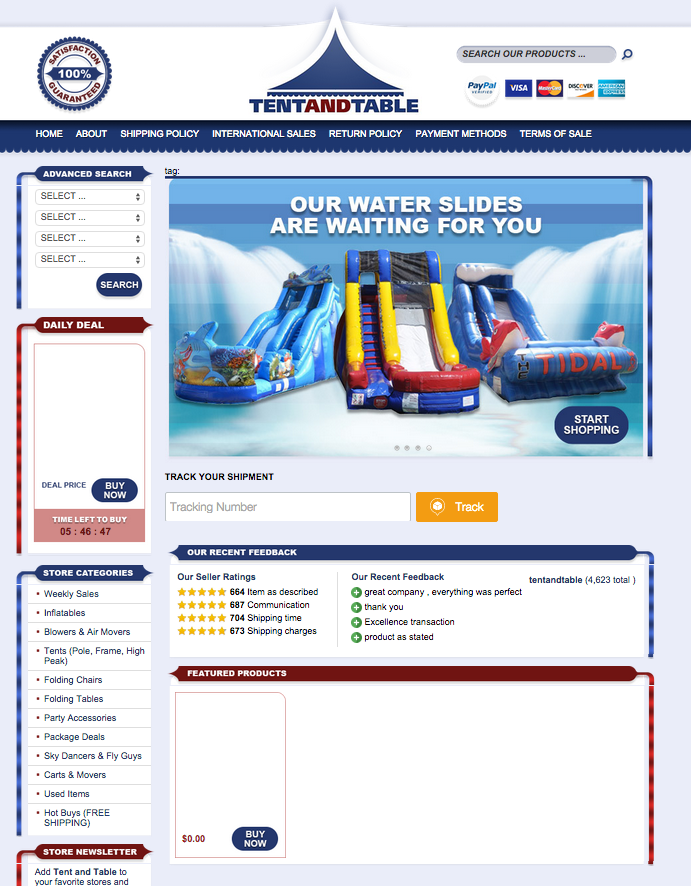 For Tent and Table's logo, we created a simple tent. It works well because it is not too elaborate, making the products seem more relatable to all kinds of customers. In the header of the site, we made the site bunch up at the top of the logo as if it was being held up by the tent. These little details help stores stand out.
We also added a 100% satisfaction guarantee button and an accepted payment area so that potential customers could build trust with our client.
Beneath the header we have some cute bunting to bring in more of the tent feel and further down a scrolling slide show welcome image to encourage shoppers to browse.
Feedback area encourages unsure customers
Above the featured product area, which we have told you in several blog posts is a must have for eBay sellers, we've created a widget sharing our client's recent eBay feedback. eBay sellers with good feedback ratings should definitely make this known to potential clients since this is a valuable tool to convert weary customers.
Browsing with a purpose brings in more sales
The advanced search area we created for Tent and Table is helpful for customers because instead of having them just aimlessly browse and get frustrated, they can find exactly what they want in the category they looking for. It makes customers convert when they can find what they want easily.
If you want to convert more customers and bring in more sales, you need a new design with OCDesignsonline. We can help you make your store more encouraging, especially with the addition of a custom listing template.
Contact us right away to get your free quote
OCDesignsonline has a wide array of eBay listing templates to choose from on the site. Take a moment to browse our portfolio and request a free quote. Also, don't forget to find us on Facebook, follow us on Twitter and check out our Google+ Page too!