OCDesignsonline is ecstatic to share with you the adorable design we put together for the eBay pet supply store, P 4 Pet. P 4 Pet is celebrating their grand opening soon with discounted prices and a new eBay storefront design from our store and we couldn't be prouder of them.
For this design we looked to mimic the fun feeling a pet can bring, even to the point of making the header look like the roof of a house. We also utilized uneven lining and friendly typefaces to mix in with the photos of pets used throughout this design.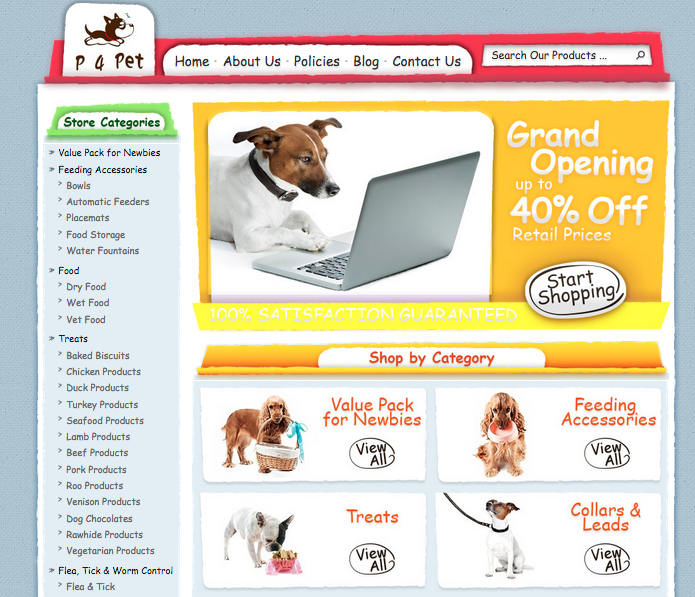 In the welcome image that advertises their store's grand opening we featured an image of a dog on the computer. Perfect! Your pet is going to want to shop with our client once all of their stock is online.
To the left of this welcome image we also featured their large category list so they can get a jumpstart on sales by having as many sections of their store indexed by search engines as possible.
Once P 4 Pet adds in their inventory, they will also be featuring a custom listing template to match their storefront. This is a feature we always recommend to prospective clients because it really makes the difference when converting potential customers into loyal ones.
If you want your store to succeed, you must know it isn't just about having the right products at a great price. Your eBay store design has to bring about the right connotations with your customers. Check out our portfolio for more examples of our high performing eBay designs and then request your free quote to get started.
Contact us for a free quote
OCDesignsonline has a wide array of eBay listing templates to choose from on the site. Take a moment to browse our portfolio and request a free quote. Also, don't forget to find us on Facebook, follow us on Twitter and check out our Google+ Page too!