We at OCDesignsonline are really excited to share with you this new unique design we've created for our client, Sneaker Outlet 1997. This client asked for something really different and we were excited to deliver to them this sales boosting custom eBay storefront design.
A unique shop by size section is prominently featured in this store
Not all eBay shoe and clothing stores have items in every size so instead of having a customer fall in love with something not available in their size, having this shop by size feature shows each customer their true options — which helps aid in customer satisfaction.
We've done shop by size sections before but we have never designed one that fits right below the header of a store and we love how it ended up turning out.
Speaking of the header, we incorporated a "Why shop with us?" message to add value and trust with our client's customers. We are encouraging this more and more with our new design projects because it really makes a difference to new and returning customers.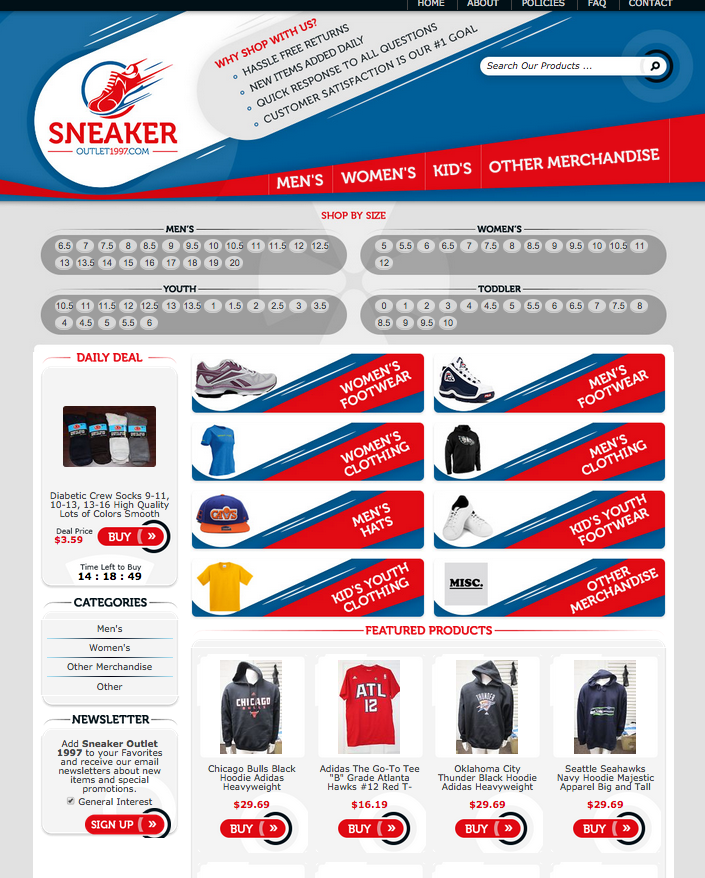 In the header section we also created movement through angled lines. The logo itself is a running shoe with action lines so we thought these angular lines suited the overall feel and brought attention to shop by size section.
Daily deals and featured products increase sales
For Sneaker Outlet 1977 we also put together a daily deal and featured product section, which we see as something that promotes sales because it helps customers browse more and see what else is available from our client.
Daily deals, featured products, and category sections also help with SEO because having more pages for search engine crawlers to index helps increase your results on Google and other search engines.
Contact OCDesignsonline for a free quote today on your new eBay design
OCDesignsonline have a wide array of eBay listing templates to choose from on the site. Take a moment to browse our portfolio and request a free quote. Also, don't forget to find us on Facebook, follow us on Twitter and check out our Google+ Page too!