If you have a pet in your home, you know that they are not "just a pet." Rather, they are part of the family. To help keep these furry family members in their tip top shape, our client Pet Wish Pros is available.
Pet Wish Pros sells grooming and general care items for cats and dogs as well as select livestock and horse items. We at OCDesignsonline were tasked to make their eBay stand out in their industry, so we are going to go into the design process on how we did that today.
Value added banners impress customers
Underneath the header we created for Pet Wish Pros, we created a banner showing the value that could be obtained by potential customers. We did so in a subtle way with small check marks next to each benefit that can be gained.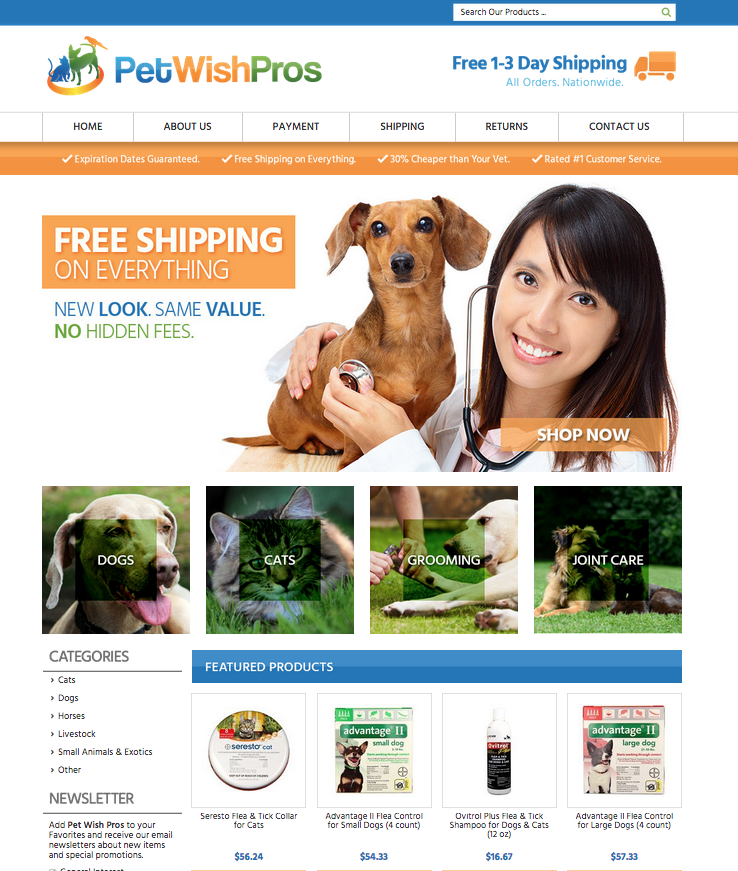 This was a strategic move on our part because larger national brands in the pet industry generally don't have "Why Shop With Us?" sections because the value those brands can provide is already known through their worldwide commercials. Smaller brands don't have this ability, so a banner like the one we created is necessary to help our client stand out among the rest.
Showing that our client is 30% cheaper than competing brands without having it overly highlighted in the design shows how assured a customer can be that the prices will always be 30% cheaper, rather than it being a temporary price cut to boost sales. Other items our client can boast to customers in a calm manner include their free and fast shipping policy and good rating history.
The About Us section is used to assure customers of quality
In Pet Wish Pros' custom eBay listing page, we created a veterinarian approved button that links back to our client's about page.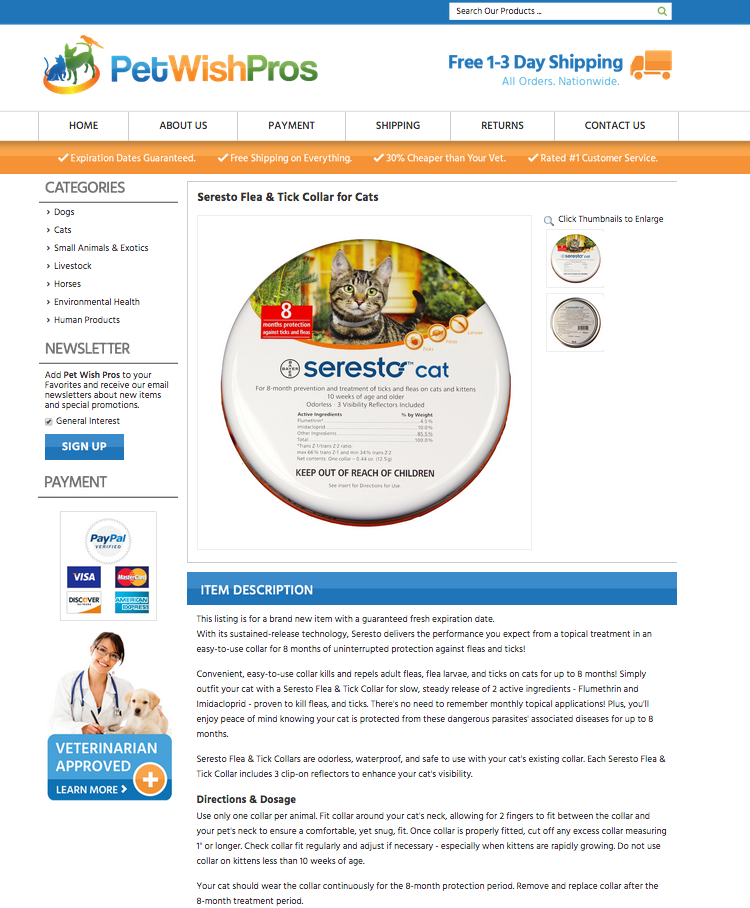 About pages are often underused in eBay stores when they can actually become a valuable asset. For Pet Wish Pros, they used their about page to share how their products are indeed safe for animals and have been approved by veterinarians. This turns this underused about page into something of value that can convert potential customers into long term patrons.
Contact us for a free quote today
OCDesignsonline has a wide array of eBay listing templates to choose from on the site. Take a moment to browse our portfolio and request a free quote. Also, don't forget to find us on Facebook, follow us on Twitter and check out our Google+ Page too!