Shopping for good quality leather is not easy, especially online where photos can be misleading, so we at the OCDesignsonline team were really happy to design this beautiful eBay storefront for our client Best Italian Leather and in turn help increase the sales of their high quality products.
A brand's store should match the feel of their products
This design suits the brand image and feel perfectly, creating a cohesive look with the products and the site. Most leather products come in brown hues so we kept that in mind when deciding on the color palette for this eBay store design. Having everything match helps builds brand continuity, which encourages customers to take a brand more seriously and feel more secure in their purchases.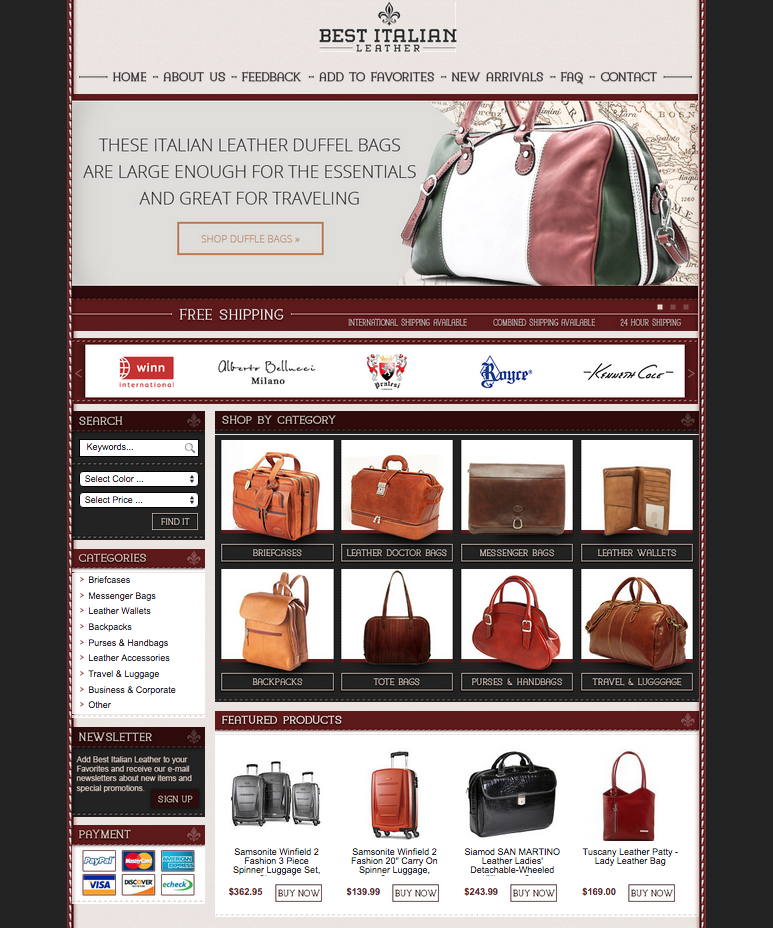 More browsing time by customers yields more sales
For our client we created several elements meant to encourage more browsing by customers. Some of these elements include an automatic slideshow, a scrolling brand reel, and clickable photo categories.
Having content like this to engage the customers eye and encourage them to browse more is proven to increase the average cart size.
Additionally, we put together a Featured Products section for Best Italian Leather. Featuring certain items over others can be used strategically by eBay sellers to showcase seasonal items, the best a store has to offer, or even on sale items that need to be sold quickly. In the case of our client, they featured a few seasonal items like suitcases so that they can show customers items they may need for Summer vacations.
And more importantly, our client has a custom eBay listing template
Our client included a custom category page and custom listing template in their design package because they took our advice about this eBay seller essential. Since the homepage we created for Best Italian Leather features a lot of unique elements and photos, a custom category page was needed to make the site better performing.
An eBay listing template is essential for serious sellers because then when potential customers find their listing from eBay or Google searches will know that this store is not run by a random person getting rid of their extra items, but rather by a professional seller looking to take their patronage seriously. In short, it converts more people into long term customers.
Contact us for a free quote today
OCDesignsonline have a wide array of eBay listing templates to choose from on the site. Take a moment to browse our portfolio and request a free quote. Also, don't forget to find us on Facebook, follow us on Twitter and check out our Google+ Page too!