OCDesignsonline has a wide variety of eBay store design clients that sell all kinds of merchandise — and we love it. It is so invigorating to see clients being so confident and passionate about their fields, it makes what we do even more motivating.
Today we are sharing with you a design that we did for one of said clients, Sockbin. This client sells a variety of socks, tights, gloves, and much more. The products all come in a variety of sizes, colors, and designs. Socks can bring together so many different feelings, like comfort and individual expression. We helped Sockbin boost their sales by creating a one of a kind eBay design and a custom listing page that involves those two feelings.
We started with images that conveyed the image of the brand
Since socks bring to mind comfort, we picked images that brought that feeling to mind. We chose light greys and warm tones in particular. The background image is a textile pattern that is reminiscent of the ribs of socks, another aspect that shares the image of the brand.
Right underneath a header of several sock images, we also have a large friendly image that shares a running sale. This helps increase order sizes right off the bat, boosting sales for our client.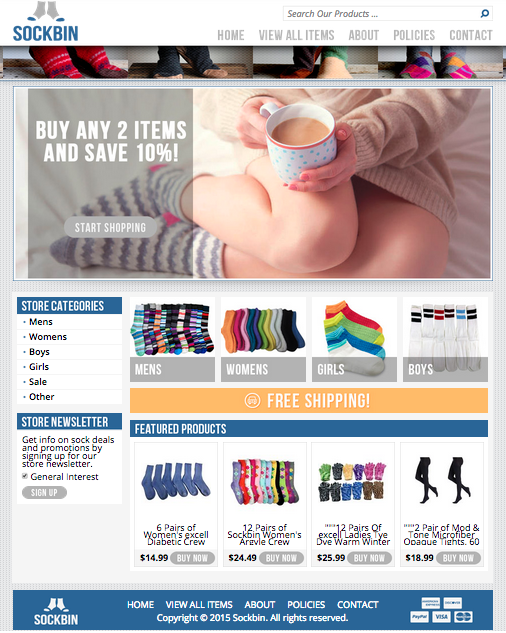 Custom listing pages help add more repeat customers
We strongly recommend that all of our clients add on a custom listing page to their order at OCDesignsonline. Custom listing pages that match your eBay storefront are a staple for all serious sellers as custom pages create a more cohesive brand image, which helps make first time customers long term ones because they see you more as a business and not as a random person selling some of their unused items.
When a customer is searching through eBay and comes upon your listing, seeing a storefront in the description encourages more clicks to your store and higher product turnaround because it brings your categories up front and center, which helps encourage new customers to browse. It's practically a guarantee to higher sales.
In particular for Sockbin, we put together a listing page that showed their free shipping guarantee and also a well thought out description field to help customers feel informed about their purchases.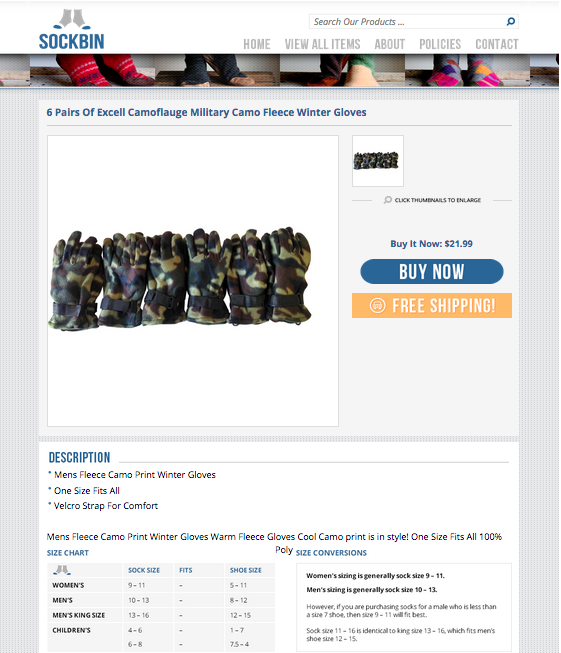 Contact OCDesignsonline for a free quote today on your new eBay design
OCDesignsonline have a wide array of eBay listing templates to choose from on the site. Take a moment to browse our portfolio and request a free quote. Also, don't forget to find us on Facebook, follow us on Twitter and check out our Google+ Page too!