Rescue Tees sells clothing and accessory items aimed at those interested in branded Army, Air Force, Coast Guard, EMS, and Navy merchandise (and more). This proud American store wanted help in increasing sales to help their patriotic clientele look and feel their best and we at OCDesignsonline did that by providing a design fit for their image.
It started with red, white, and blue
Of course with the brands our client represents, we knew that the American flag needed to be present in some way. The obvious place to add this would be the background of the storefront so we started there…but we changed the flag up a bit by darkening the tonality of it and adding texture to the flag. The red and blue of the flag can at times be too bright in designs so this really helped share the brand image without being overbearing.
These darker greys, reds, and blues are added throughout the page, as well as some subtle stars to separate different category pages.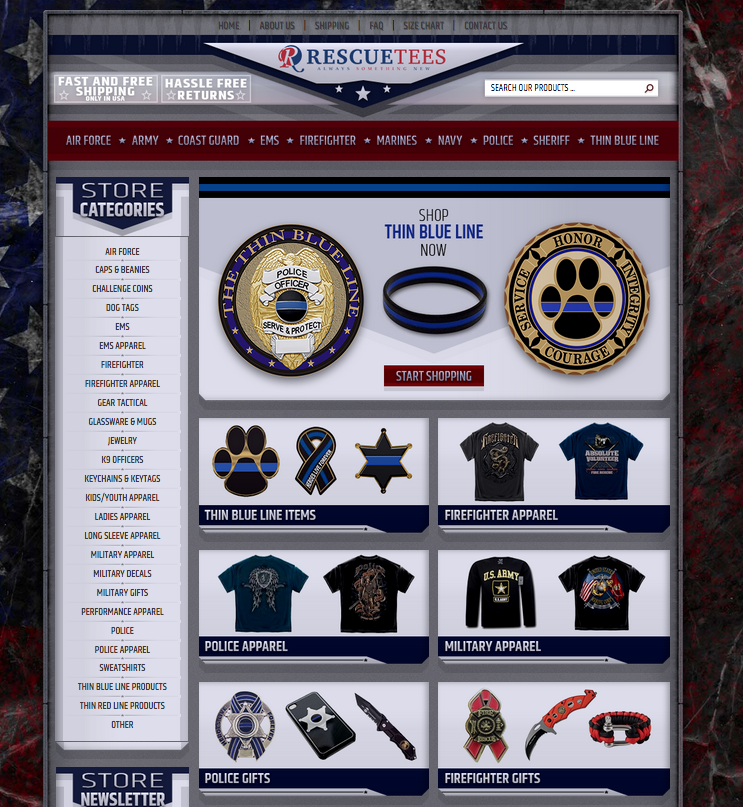 In the header of the store, we added two of our client's guarantees — fast and free shipping and easy returns. Putting the benefits our client can provide up front and center helps boost sales as it makes their customers feel secure in their choices to shop with Rescue Tees.
Then below their individual category images, we also shared a featured products section. This is something we always recommend for our clients, as well as a sharing their mailing list on this front page. Showing featured products boosts sales because showing customers what you want them to buy actually works. It's a simple idea, inspired by "ask and you shall receive." In the featured product area eBay sellers can share items with a higher markup value, limited edition sales, or in general the products they feel really identifies with their customers. It's all up to the seller.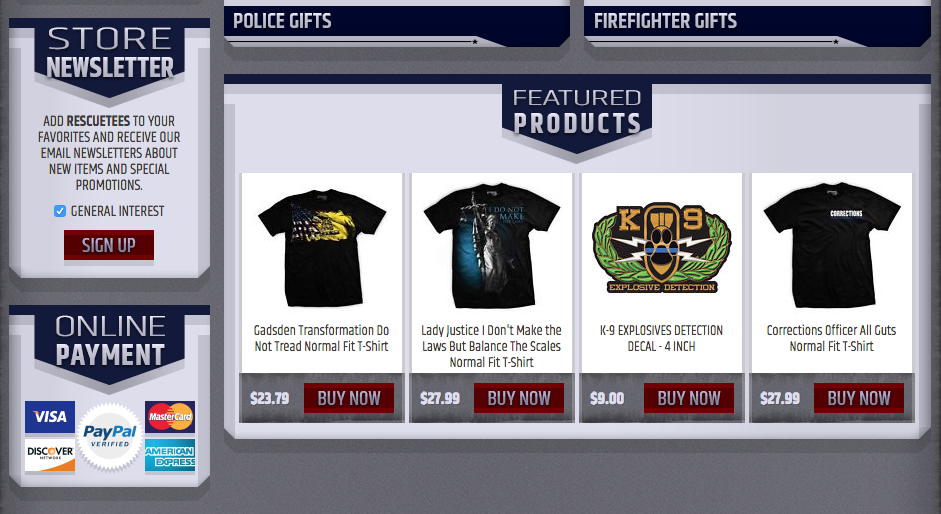 Contact OCDesignsonline for a free quote today on your new eBay design
OCDesignsonline have a wide array of eBay listing templates to choose from on the site. Take a moment to browse our portfolio and request a free quote. Also, don't forget to find us on Facebook, follow us on Twitter and check out our Google+ Page too!