eBay is a wonderful place to find unique or hard to find items. With eBay, many DIY loving customers can also take their work into their own hands by buying those rare items. Our client, Pandora's OEM, is one of those wonderful stores that provides these services for customers by selling a wide variety of appliance parts that you can't find conveniently anywhere else. We at OCDesignsonline were happy to help them exceed their sales projections.
We mixed in geometric elements to add spice to their design
Rather than stick with a more traditional store look, we wanted to add interest to our client's design with geometric elements. These shapes actually draw the eye around the page, encouraging customers to pay attention to what we really want them to see. The eye unconsciously moves to the live chat section and makes you really look at the different categories offered. This a subtle technique we were excited to implement into our client's store.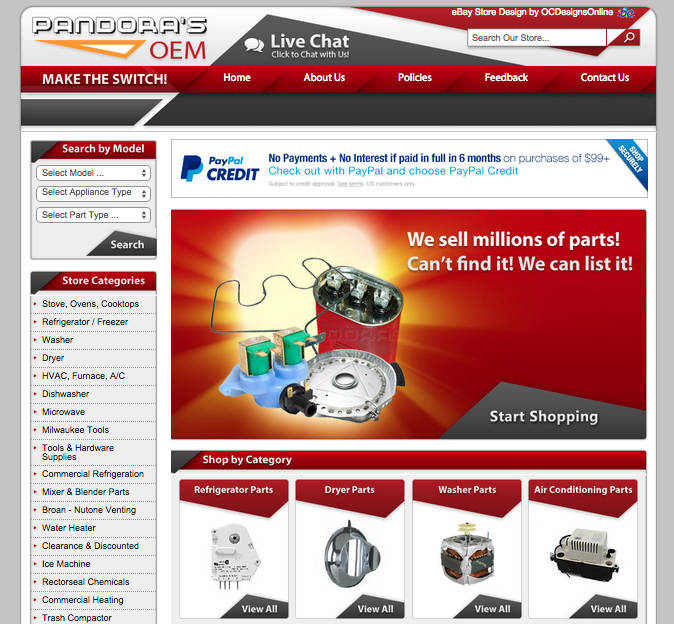 Then our client added on custom category and listing pages
Almost every one of our clients adds on one or both of these features to their design package because custom category pages and eBay listing pages really makes a difference in sales. As we've mentioned in several other posts, these aspects really create a seamless brand image that is easy for eBay shoppers that are not familiar with you to recognize. Some shoppers will buy items without ever taking a look at the seller's store so having a listing page in particular really makes an impact.
If you want to change the way your store is perceived and boost your sales, then you need to contact us for a free quote. We take your store and it's needs seriously and work with you until you have the look and feel you want. It's as personal for us as it is for you. Take your eBay store to the next level with OCDesignsonline.
Contact OCDesignsonline for a free quote today on your new eBay design
OCDesignsonline have a wide array of eBay listing templates to choose from on the site. Take a moment to browse our portfolio and request a free quote. Also, don't forget to find us on Facebook, follow us on Twitter and check out our Google+ Page too!