When you're looking to add a spark to your business's ecommerce platform, you need a custom ecommerce design package. At OCDesignsonline, we take pride in creating custom ecommerce sites and eBay storefronts that get the sales results our clients are looking for. When we were approached by our client at Liquid Dynamite to create a custom ecommerce page and a custom eBay storefront, we were happy to help them with their needs. Because they were electing to have us create a package for them, we knocked $400 of the price of the two sites with our bundle discount. We're happy with how the sites came out.
Liquid Dynamite's custom eBay store heats things up
It's always important to us that our clients' customers are able to find those items for which they search on our client's websites. We build every eBay store design and ecommerce store with this in mind. In the Ebay storefront we created for Liquid Dynamite, we made sure that every category listing was clear. We even used some image categories for our client for oft searched for products. This user-friendly design helps to drive sales and increase brand awareness. After all, if customers can't find what they're looking for, they can't purchase those items!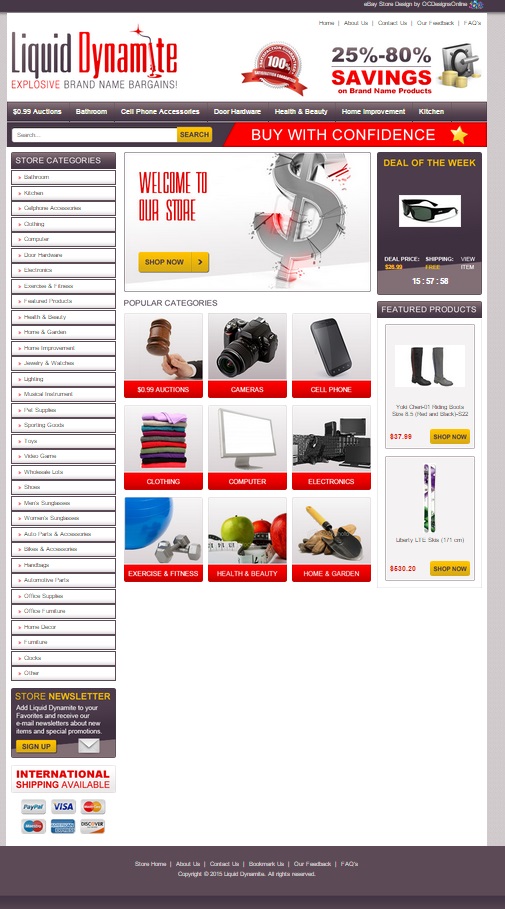 The ecommerce site we created for Liquid Dynamite looks amazing
While sometimes our clients want us to create matching sites when we complete our custom ecommerce design packages, others give us the go-ahead to create complimentary but not identical sites for the different platforms. When we created the ecommerce site for Liquid Dynamite, we really played with the freedom we had to design the site from the bottom up. Thus, we created a catchy animated slideshow header, and followed the header with featured products. We created drop down menus for the different categories of products available in the site rather than image buttons or a sidebar so that we could maximize the space available for featured product display.
Featured products are a great way to build repeat business and boost sales on an ecommerce or eBay site. They allow your customers to see what's new, on sale, of particular interest to them, or popular. When you change featured items out on a regular basis, encourages customers to come back later to see if there's anything new that catches their eyes. Featured items also help to create a sense of purchasing urgency, as the items you're calling attention to now may not be available to customers later.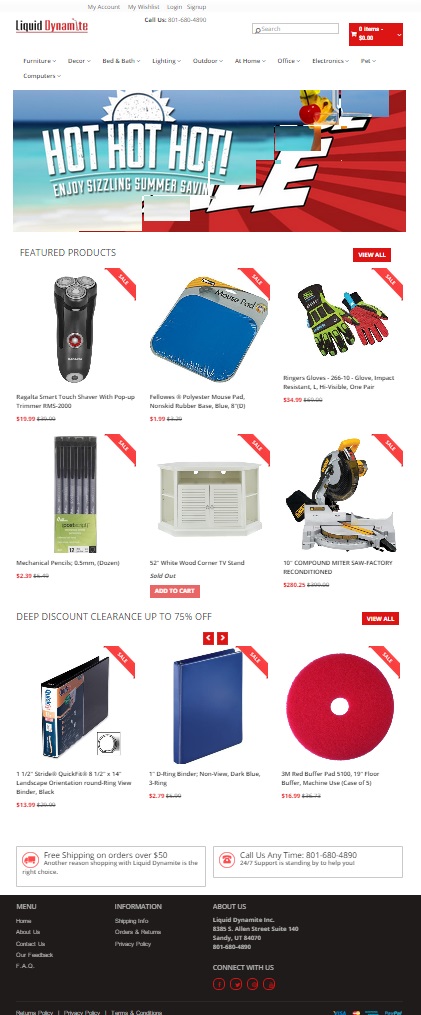 Contact OCDesignsonline today for a free estimate on a custom ecommerce design package
At OCDesignsonline, we have a wide array of eBay listing templates from which our clients and prospective clients may choose. Whether you are looking to have us create a custom ecommerce design package for your business, or you're looking for a single platform ecommerce site, we can help. Please take a moment to browse our portfolio and request a free quote. We're also Facebook, Twitter and Google+ with more great design ideas!