The right undergarments make every outfit look great. However, sometimes it can be difficult to find great undergarments that fit well, are attractive, and are available at a great price. That's why when at OCDesignsonline we were approached by our client Chic Couture, we were happy to help them boost sales by creating a custom Australian eBay store design for their products.
We wanted to grab customers' attention, so we paid special attention to the header of the page. At the very top of the page, we used Chic Couture's logo. We wanted to mimic the feel of the logo throughout the page and create an image of elegance and glamour. We used images of models in the products sold by our client to illustrate the high quality and elegance of the products they carry to further pull customers into the site. We chose to keep pall of the headings and menus black and white to allow products to really stand out, and to give an air of class to the site. We think it looks great.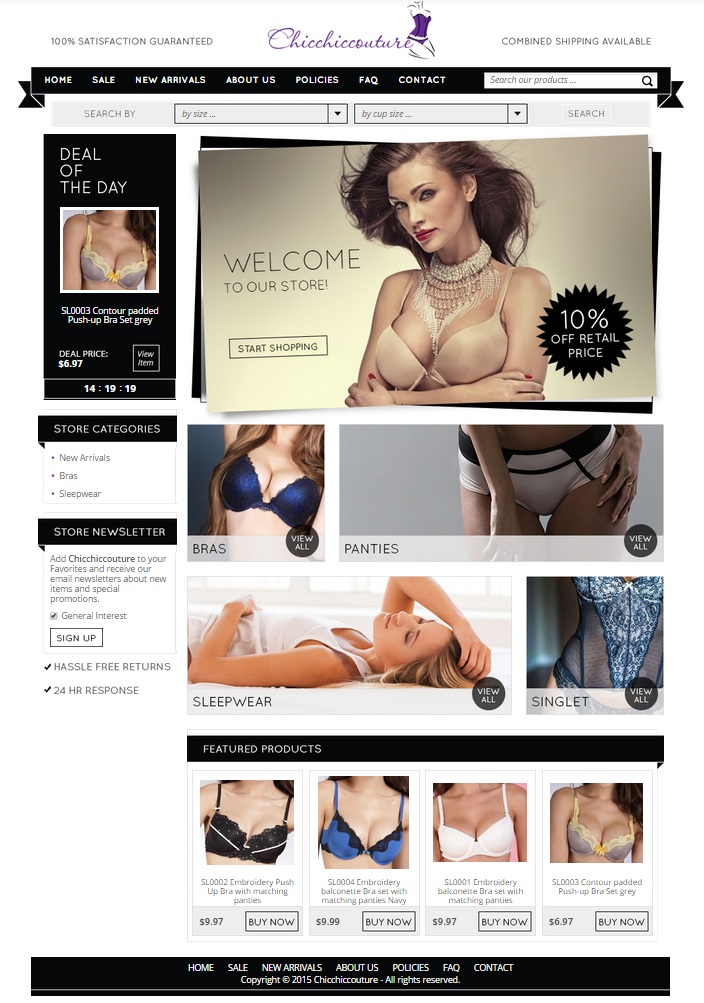 Deals of the day help sell more products for our client
We can create a deal of the day box for your products. When you choose to use this on your website, it helps encourage customers to come back to see what product will be the deal of the day tomorrow. We're really excited about how the deal of the day has been performing on Chic Couture's eBay store. In combination with the featured items boxes, they've seen an increase in sales and in repeat business.
Custom image buttons direct people in this Australian eBay store design
We wanted the customers finding our client's site to be able to navigate the site easily. Thus, we created attention-grabbing image based category buttons for each of the main categories of products carried by our client: bras, panties, sleepwear, and singlets. We included categories in the store's sidebar as well.
Unique selling points help to distinguish one store from another
We always include a store's unique selling points on their eBay storefront. We think it's important to try to ensure some of them are in the header and sidebar so that customers can view them on any page they may be browsing. Unique selling points tell customers what they can expect from the store and help to show why Chic Boutique is a better choice than another lingerie business they may happen upon on eBay.
Contact OCDesignsonline today for a free estimate on your Australian eBay store design!
At OCDesignsonline, we have a wide array of eBay listing templates from which our clients may choose. Please make yourself comfortable and browse our portfolio to get ideas before you request a free quote. Also, don't forget to find us on your favorite social media platform. We're on Facebook, Twitter and Google+!