Wouldn't it be nice if you could just wrap everything up in neat little boxes? Rylex Packaging Supply, OCDesignonline's recent client, helps customers to find the packaging materials they need so that they can safely ship, store, or move goods. We created a custom ecommerce package for them, including an ecommerce website and an eBay store. By having us create both platforms for customer purchases, not only did they maximize their ability to increase sales, but they also were able to save $400 with our bundle discount.
When we created the two pages, we created them so that they matched one another (in the images below, the ecommerce site is on the left, and the eBay store is on the right). We used the same header image in each, though we did change up our color scheme to match the platform. We wanted customers to be able to quickly locate the items for which they were searching, so we kept ease of use in mind in our design. In all, the two sites have worked well for increasing our client's sales.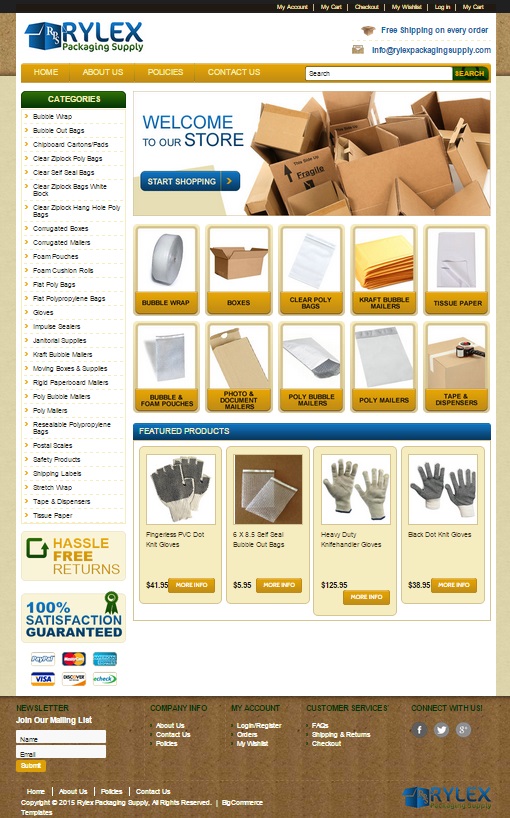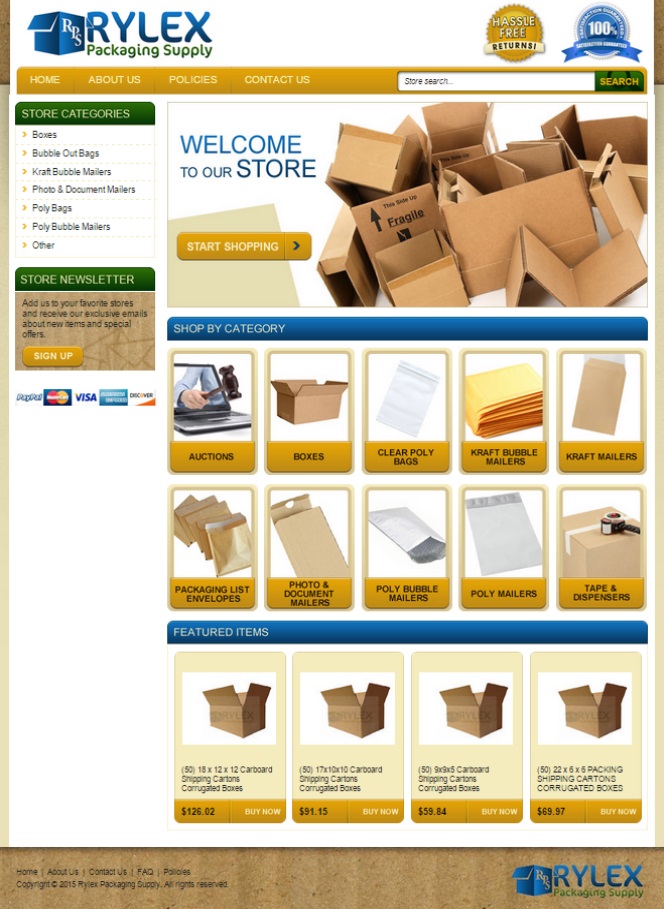 We created a header that would draw in customers
We wanted customers to know exactly which types of products our client carried upon landing in either the ecommerce store or the eBay store. We used an image of boxes in the header of both stores, and we made the decision to use image buttons for categories in each store. That way, customers can navigate the sites easily and find those items for which they are searching.
Featured items boost sales and help to create repeat business
When we create featured items areas for our clients on their websites, our clients report increased business. The featured items area gives customers a place where they can view new, discounted, or even popular items. Customers come back to see what's newly featured on their favorite ecommerce site's page. It also increases customers' likelihood of making impulse purchases.
We also created a custom eBay listing template for our client
Custom eBay listing templates also help to boost sales for our clients. When we create them, we ensure that they are mobile responsive designs, and that they make it easy for those who are browsing using their cell phones to learn more about the product and companies we help. When we create eBay listing templates, we make sure to include the store's menu and the store's sidebar so that customers can continue to browse our clients' products with ease.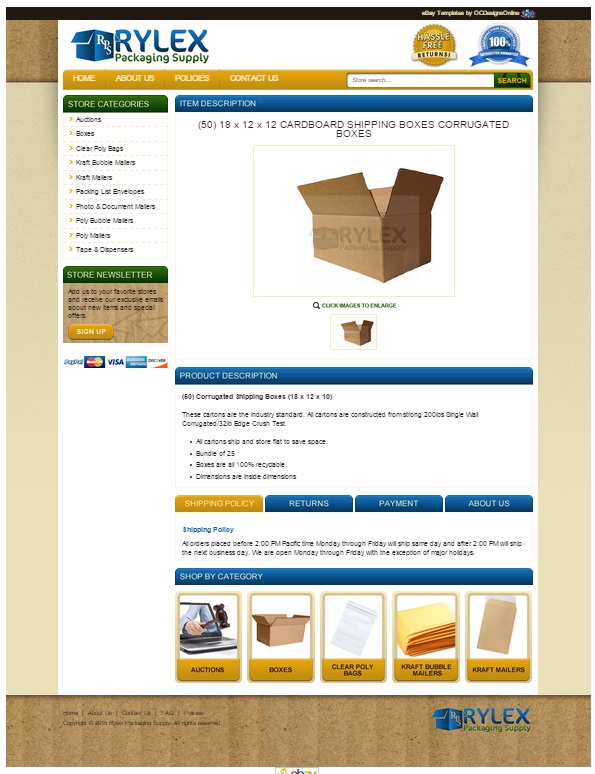 Contact OCDesignsonline today for a free quote on our ecommerce package services
At OCDesignsonline, we have a wide array of eBay listing templates from which our clients may choose. When you choose one of our ecommerce and eBay packages, you'll find that you'll save $400. Please take a moment to browse our portfolio and request a free quote. Also, don't forget to find us on Facebook, follow us on Twitter and check out our Google+ Page too!