When you choose to have us use an eBay mobile template for your eBay store, you can boost your sales up to 38%. When many shoppers use the eBay app, they are doing so because it's more convenient to shop using their favorite devices. We optimize the templates using SEO so that your customers will be able to locate your products and your eBay store. The competition out there is fierce when it comes to your eBay store! Don't drop the ball and give the other guy the advantage. Instead, let our team at OCDesignsonline help you by creating an eBay mobile site that will knock your competition out of the water.
What is an eBay mobile site?
When you are using eBay from a desktop or laptop computer, when you click on products, you see the entire eBay listing template at once. When you click on an eBay listing on your phone or tablet, however, you'll find that the mobile eBay store looks much different. We created mobile templates for our clients (we have over 150,000 with our custom designs optimized for mobile eBay usage, like the one for Pep Boys below) that look great no matter from what device your customers are viewing the listing.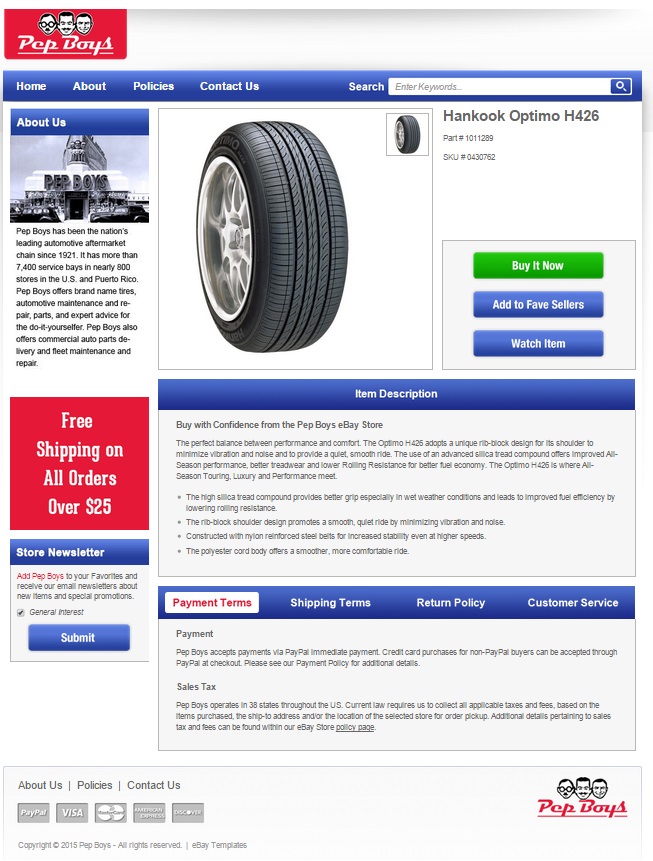 We want to help sellers succeed!
We take care in ensuring that we're up to date on the latest SEO algorithms and best practices because we want our clients to succeed. In fact, eBay account managers have referred many of our clients to us because they know we will do our best in order to help sellers succeed. One of the best ways we can do this is by creating design packages that allow easy mobile eBay access. Not only does it make a statement to your customers that they can shop with ease in your store, but also it helps to increase their perception of your site's professionalism. All around, it's a winning combination when you choose us to help with a custom mobile responsive site.
Benefits of using our eBay mobile-friendly templates
When you choose us to create a custom eBay template for you and your business, you can rest assured that every template we create goes a long way toward increasing your bottom line and helping you to meet your fiscal goals. In addition to providing you with mobile friendly eBay template, we give you a custom gallery for that template that allows customers to view the various products you offer customers easily. We also optimize the template so that it loads quickly – we all know how much of a drag it can be to wait for a long time for a page or pictures to load on a mobile site. Why keep your customers waiting? In addition, our templates include your storefront's menu and navigation sidebars. This makes it easy for a customer to continue to browse your site so that he or she may make more purchases. Finally, all of our templates are fully branded, using your logo and exact color matches, making your eBay mobile site look professional and polished.
Contact OCDesignsonline today for help with a custom made eBay mobile-friendly site!
With over 150,000 templates in circulation on eBay to date, we're clearly the experts when it comes to creating custom eBay mobile sites that will keep customers coming back to you again and again. You can't go wrong in choosing the company eBay account managers themselves recommend to sellers. Let us help you go to the next level with eBay mobile selling! Please browse our portfolio and when you're ready, request a free quote. Also, don't forget to find us on Facebook, Twitter and Google+!