When customers want to find quality materials for server racks and cooling cases, they often turn to OCDesignsonline's client, Global 1 Resources. It's important to us that our clients are satisfied with the work we provide, and that they feel they are getting a good deal on our services. When we created this custom ecommerce package design for our client, it helped them to save money while creating a great-looking site that gets the results our clients want. We created an eBay storefront and a traditional ecommerce page for our client. We're quite satisfied with the job we performed, and so was our client – and, because we bundled these services together, we were able to save our client $400.
Custom ecommerce package design helps our clients boost sales
When a client comes to us for help with a custom ecommerce package, they are always pleased to report boosted sales. One of the reasons for this is that our designs help customers to find our clients' pages. We're proud to offer great service, and we make their sites look professional and appealing. A second reason that our ecommerce packages boost sales is that customers can find two, rather than just one, storefront from which they may shop. This increases the likelihood that when searching for a particular product or product category, customers will land on your page. We can create matching pages or pages that complement one another – either way, we create a streamlined, great-looking finished product that leaves customers feeling satisfied with our work.
We started with the eBay storefront for our client's ecommerce design package
While we created each site to look similar, there are key differences between the two that will help our client to appeal to different target markets. The eBay page we created is very simple. We used gold from our client's logo to highlight the different areas of the storefront. We then used an eye-grabbing header to catch our client's customers' attention. We kept categories and category image buttons simple, making it easy to browse since there's a sophisticated search feature available through eBay. Finally, we created a space for featured items.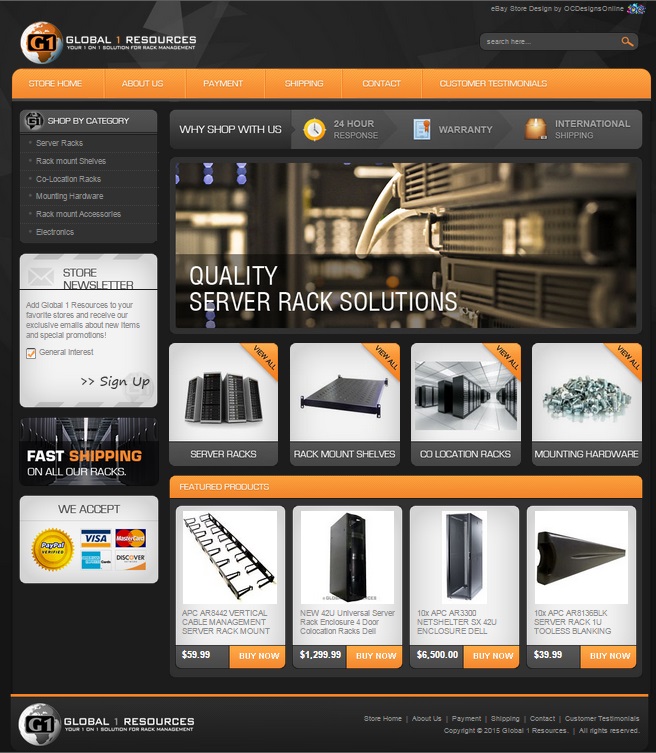 The ecommerce site design has more details that the eBay store just doesn't need.
With the ecommerce site we created for Global 1 Resources, we expounded on all the different categories of products carried by our client, and we added a second row of category image buttons. We also made sure there was room for current tech and software news so that our client's customers could be well-informed of what is going on in the field. We're quite satisfied with how great the finished product looks.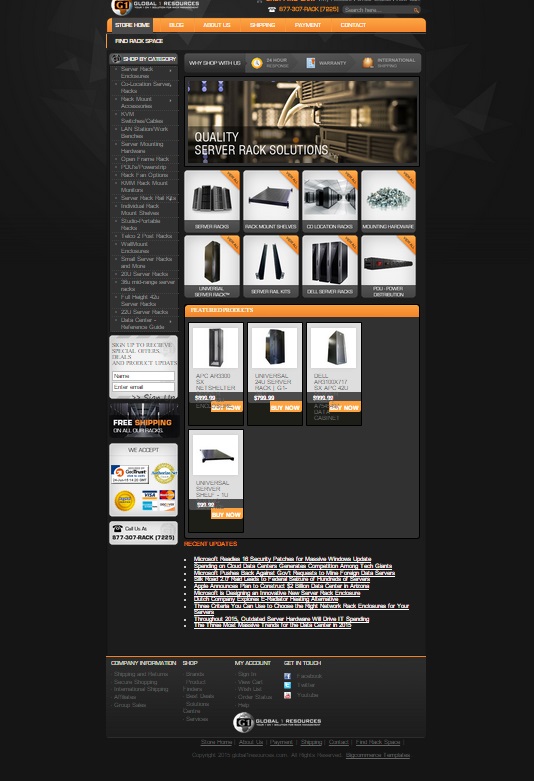 Contact OCDesignsonline today for help with your custom ecommerce package design – we're happy to help serve you!
OCDesignsonline have a wide array of eBay listing templates to choose from on the site. Take a moment to browse our portfolio and request a free quote. Also, don't forget to find us on Facebook, follow us on Twitter and check out our Google+ Page too!