Mountain biking, BMX biking, trail biking, triathlons – whatever bicycle-centered sport you enjoy, you need to have the proper gear to be safe while on two wheels. When All Sport Gear approached us for help with their custom eBay store, we were happy to jump in and help. We wanted them to have success in selling their cycling gear to their target market.
We decided to make the store all about the bike. Thus, in addition to the main header image, we used cyclists in the background image as well. We mimicked the sphere from the logo to carry the shape through the whole site. We also stuck to a color scheme similar to that in the store's logo. Thus the different blues in the logo can be found throughout the rest of this custom eBay storefront.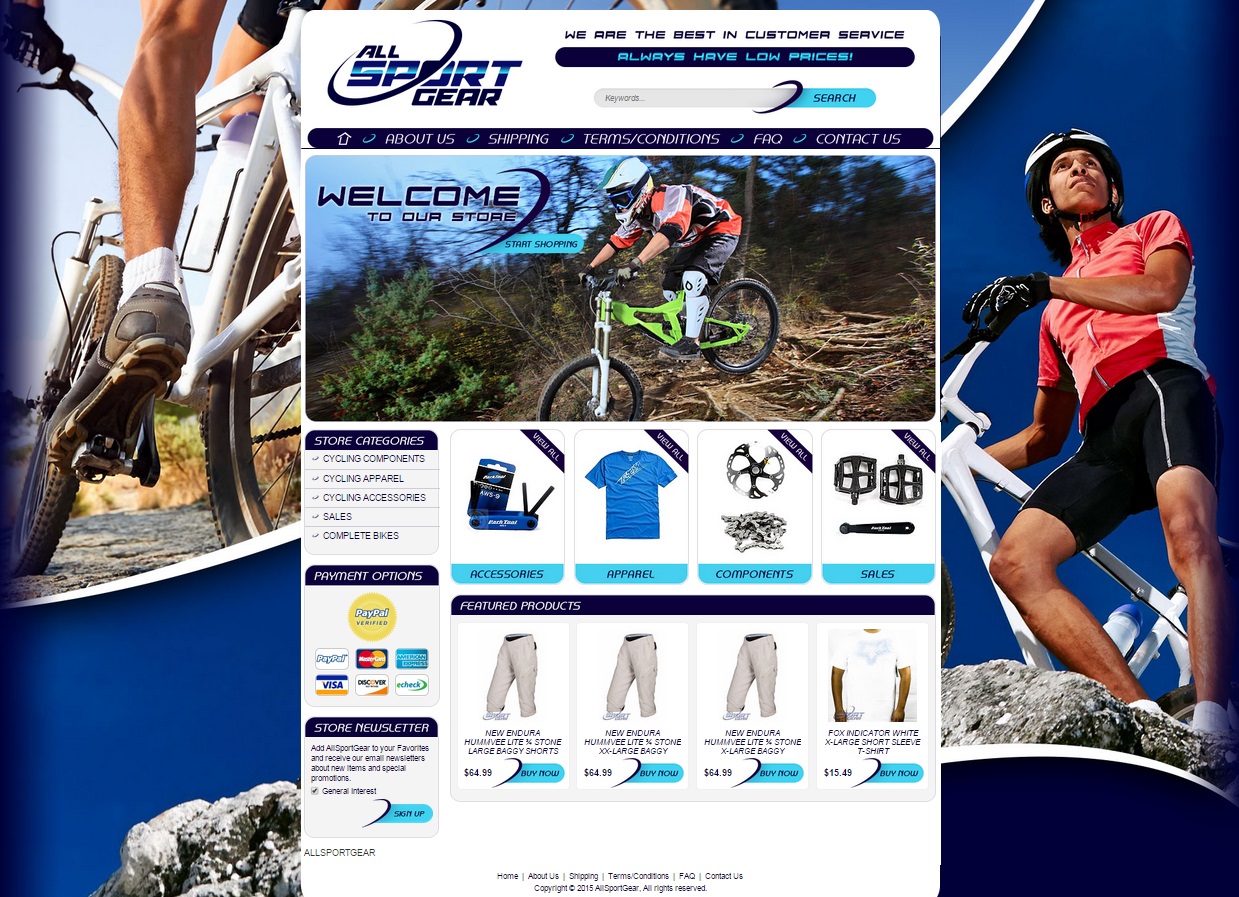 Going for the gold, we started off with a killer header
We wanted customers landing on the page to be able ot quickly and easily identify the types of products and gear they would find in this custom eBay store. So, we went big and bold. In addition to the background graphics of cyclists, we used an image of a trail racer dressed in full gear speeding through hills as the header image welcoming customers to the site. At the very top, adjacent to the store's logo, we listed two of the store's unique selling points and then created a search bar so that customers could search for exactly those products they are looking for. The informational menu also allows customers to understand all of this store's policies.
Custom categories, category pages, and eBay listing templates round this store's design out
We created custom category buttons for four of the store's product categories. When a customer clicks on one of them, it takes that customer to a custom category page we've created to match the branding of our client's storefront. This way, all of the pages in the customer's store form a cohesive whole. We even created special listing templates that carry out the branding and make it easy for our client to upload new products to the store.
Featured products keep things new and fresh for customers visiting the site
We made sure to include an area where our customer could feature different products that are of interest, new, or even on sale so that customers can easily see what's going on in the store. The great thing about having such an area in a custom eBay store is that it entices customers to make repeat visits so they can see what the new featured items are. It also encourages impulse purchasing – just as does having special items next to a cash register.
Contact OCDesignsonline today to get a free quote on having a custom eBay store built for your business
We have a large array of eBay listing templates from which our clients can choose. Take a moment to browse our portfolio. When you're ready, please request a free quote. You can also find OCDesignsonline on Facebook, Twitter and Google+!