When you want your customers to be able to find exactly what they are looking for, it's important to use the tools that help them the best. At OCDesignsonline, we are the only company on eBay to offer our clients an option to incorporate an advanced search bar in their eBay store designs. One such client we created an advanced search bar for was My Shoe Stop. The search bar we created enables customers to search a variety of categories, price ranges, sizes, colors, and brands – making it so that customers can find what they are looking for, even if they don't know quite how to verbalize that in the search bar.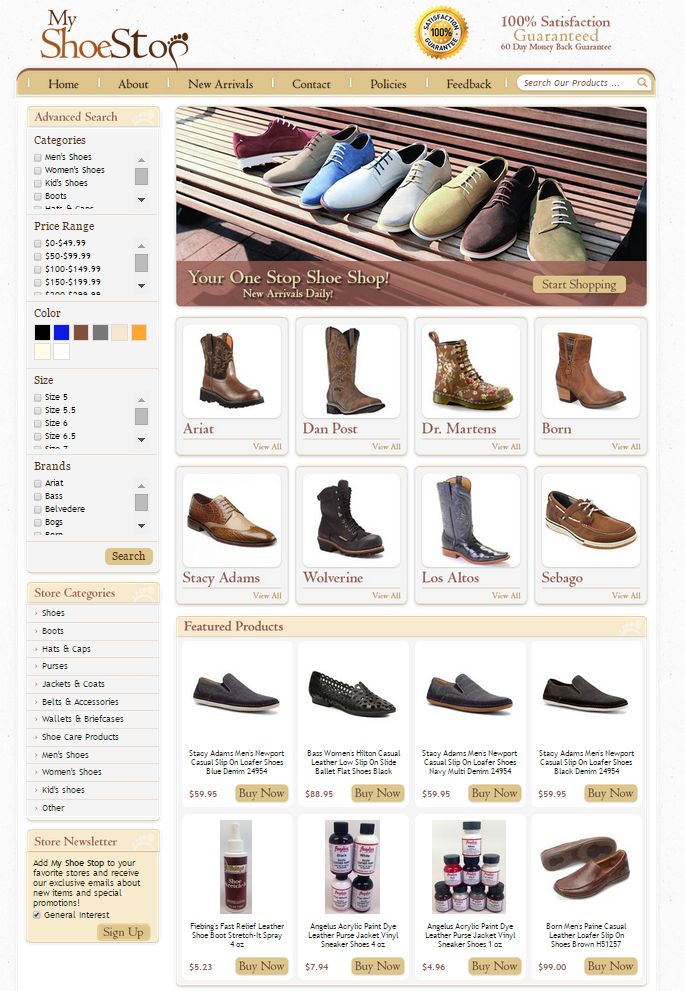 A closer look at the search bar
As you can see to the left, we created little check boxes like you find on other sites so that customers can select and de-select the specific search features they're looking for in the store. We used a scroll bar in each section so that the advanced search bar would still fit nicely on the eBay storefront while customers had access to the greatest selection of filters possible. This keeps the storefront looking nice, neat, and concise while allowing the greatest power in searching.
Keyword search + search bar = power search
When a customer is looking for something specific, he or she can use a combination of the search capabilities on the page to find the desired item. For example, a customer searching for "Cowboy boots" may enter that in the keyword search bar, and then filter the results by size or price. This really puts the power in customers' hands, and it's one of the nice features we offer that really makes a site appealing for repeat business. When customers are able to browse on eBay in the same manner they are used to from other sites, it makes it more likely that browsing will convert into sales.
A professional touch is a good thing
By choosing to have us add an advanced search bar added to your eBay store design, you are choosing to appear more professional in the eyes of your customers. This is a really good thing! Stores that look professional report higher levels of success in the long run. When you have us help you to put your best foot forward, and you keep your customers needs in mind when it comes to store design on eBay, you're already ahead of the stay at home mom who is selling extra sheets to make a little extra money for her family. You're letting your customers know that this is what your store does. My Shoe Stop sells shoes for a great price – and in doing so is making an effort to look like other shoe vendors online.
Help them find what they're looking for
When you make things easy for your customers, they make things easy on your pocketbook. Automating as much as possible about your eBay store's design really helps you to focus on what's important – great customer service. With our custom listing templates, it's easy to ensure that products are listed correctly and fully branded with your store's logo and colors. All of our work has one goal in mind: to convert browsers and searchers into long-term repeat customers.
Contact OCDesignsonline for a free quote on your eBay store design project
At OCDesignsonline, we have a wide array of eBay listing templates from which you may choose from on our site. Please take your time browsing our portfolio, and when you've found something you're interested in, request a free quote. You can find more ideas when you follow us on Facebook, Twitter and Google+. Remember, we're the only company on eBay offering the advanced search bar!