Who doesn't love an aquarium? Supplies can get expensive after a while, and it's a good thing when you can find a deal. Big Al's Pet Supplies has some great prices on aquarium equipment and much more. When they asked our team at OCDesignsonline if we would help with their eBay store installation, we were happy to oblige.
We started by using the store's logo and products as our inspiration, as we often do. Because Big Al's sells a lot of different supplies for aquariums, we decided to make a sea-themed eBay store for them. We used blue throughout the site, and we created waves in the background. We thought it was important to make customers feel as though they had stumbled upon a store that specializes in aquarium supplies and equipment from the moment they set eyes on the page.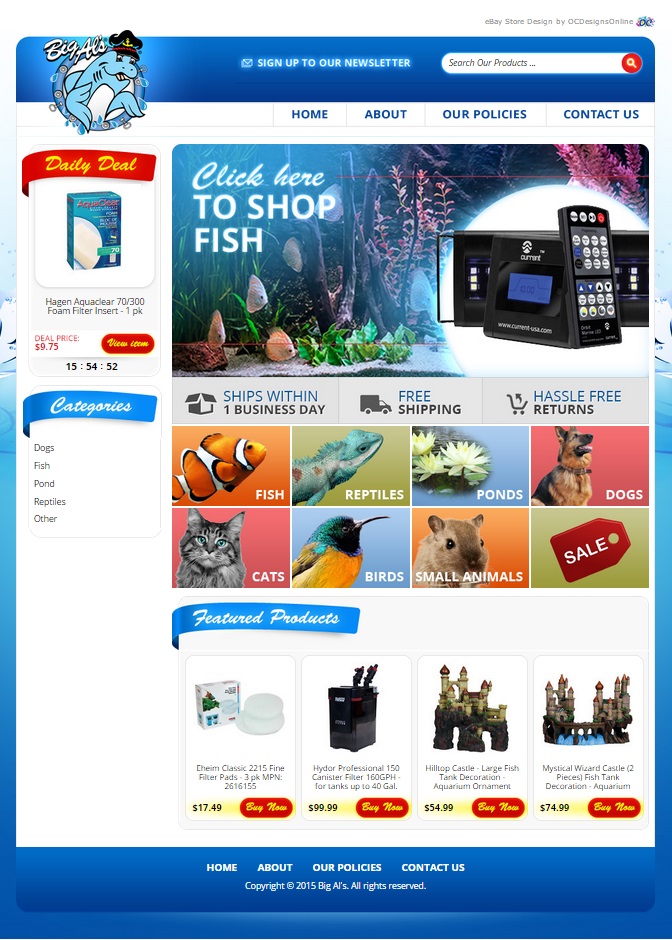 Your eBay store's heading is the first thing customers see
When customers land on an eBay storefront, the first thing they see is the logo, menu bar, and header image. We wanted to make it count. We used Big Al's unique logo at the top of the page, and we included a search bar to help our client's customers find exactly those items for which they are searching. The menu bar makes it easy for customers to learn more about the store and the store's policies. Underneath that, we included a clickable header image of an aquarium scene and the "daily deal."
Daily deals encourage repeat business and page views
We offer all of our clients the ability to have us install a daily deal box for them. By offering a specially priced item for one day only, you can help entice customers to visit your store on a repeat basis. It also helps boost sales on that particular product. When daily deals are combined with a "featured items" bar, the potential for repeat business and impulse shopping goes up. Our clients often offer items that are new, on sale, or of particular interest to their target market in the featured items section that we create for them.
Category buttons with images help customers click through the site
In addition to including categories in the sidebar where customers can click through to browse the eBay store from any page, we offer the option to use image buttons for categories. This makes the site more visually appealing and professional in appearance. It also helps some of our clients to clarify the types of products they carry and offer their customers. When customers click on a category, they are taken to the branded category search results page for that category. This helps customers feel comfortable since it functions the same way many ecommerce sites function.
Keeping the design simple lets the store's products speak for themselves
We wanted customers visiting Big Al's Pet Supplies to focus on looking for the products they are interested in as opposed to looking at the site's design. While we created an eBay store installation that was great looking, we also kept things simple so there wouldn't be too many moving parts distracting or overwhelming customers. This makes the store easy to navigate and shop, boosting sales and our client's bottom line.
Contact OCDesignsonline for a free quote for your eBay store installation project
At OCDesignsonline, we have a large selection of eBay listing templates from which our prospective clients may choose. Browse our portfolio and request a free quote once you see something you like. You can also follow us for more ideas on your favorite social media platform. We're on Facebook, Twitter and Google+!