Everyone needs a way to protect their cell phone and mobile device investment. When you put your phone in a case, it's also a great way to express yourself and your sense of style. The Case Doctor came to us at OCDesignsonline and asked us to help them with an eBay and ecommerce site design package. It's a great way for our clients to save $400 on our services and reach a larger audience with their products.
When we work on ecommerce and eBay packages, woe ensure that the pages compliment each other. In the image below, the ecommerce site for The Case Doctor is on the left and their eBay storefront is on the right. In each of the designs, we pulled colors from their logo to use throughout the site. We varied the two so that they would be targeted to the specific audience they are meant to reach.

Custom category pages on the eBay site help to build brand awareness
In addition to creating complimentary landing pages, we wanted to carry the branding throughout all of the pages for The Case Doctor's products. Thus, we created a custom category search page design to help customers when they are searching for specific products within the store. It was important to us that their customers are able to easily identify that they were still in right place, and it helps to give the eBay store that custom eBay commerce feel that customers are used to from shopping online for products.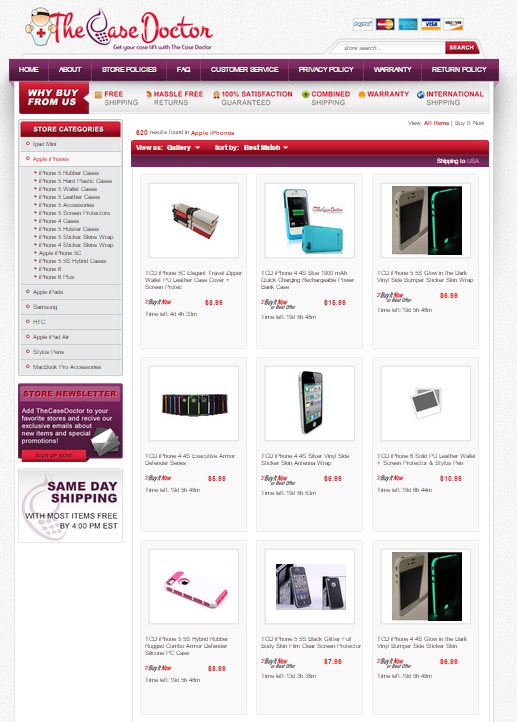 Custom eBay listing templates help to complete the professional image
Professionalism and branding are important to show customers that you're not another person trying to make a few extra bucks in your spare time selling items on eBay. When you choose to have a custom eBay listing template that matches your overall design, you're continuing your branding throughout your site. We make sure that all of the tabs and hyperlinks in the custom listing work, so that it's easy for customers to continue browsing the products you offer.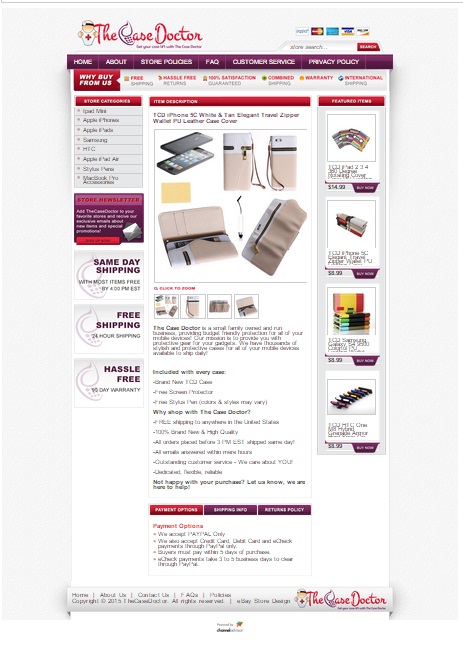 Double your return on investment with both types of custom design
Not everyone is comfortable using eBay's seller format. Because of this, if you're offering discounted goods and happy with a "buy it now" format, you should consider having a traditional ecommerce site as well. This way, you can appeal to a wide range of potential customers. We offer a package price with $400 off to create both an eBay site and an ecommerce site.
Contact OCDesignsonline today for a free quote on our design package services
At OCDesignsonline, we have a wide array of eBay listing templates from which to choose on our site. Take a moment to browse our portfolio. When you have some ideas about what you'd like us to do for you, request a free quote. Also, be sure to find us on Facebook, Twitter, and Google+!