Our clients report greater sales when they use our eCommerce and eBay store packages. We offer $400 in savings when we do both so that they have full company branding on both sites. In the package we created for eOutletDeals, you can see that the pages we created were similar in that they used the same company logo, colors, and header image on both the ecommerce site and the eBay storefront that we at OCDesignsonline created for them.
We believe that branding is an important part of successful sales online. That's why we take special care to create great-looking solutions for our clients. For eOutletDeals, we made sure that their customers know right away that they work with pet supplies. We felt the best header image possible for their package sites would be the image of a family with their dog, evoking feelings of nostalgia and warmth.

Branding helps customers become familiar with you
When you have a fully branded site, it helps customers to recognized you and your products no matter where they come across you online. We use the same colors on both eBay and ecommerce sites that we create for our customers so that the store feels the same on both ebay and our client's own website. This helps to boost sales because it helps customers find your shop in multiple ways – and it increases the number of search engine entries you will have for various products.
Branding throughout eBay listing templates
We create custom eBay listing templates to help our clients make a statement about their brands – even on the individual listing pages. This way, when customers are browsing through your eBay store, your product listings stand out in the landscape. If they come to your store via search engine, it makes it easy for them to identify your brand and browse the rest of your listings by clicking on one of the hyperlinks there. This goes a long way to boosting sales for our clients.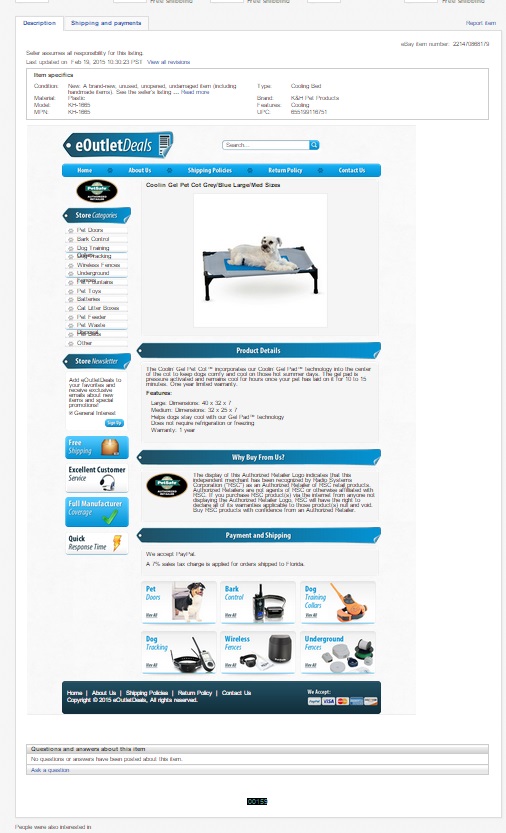 Increase your reputation for professionalism
Customers love sites that look professional. When you choose to have an ecommerce site and an eBay store built, you can reach customers where they are. Your ecommerce site will stand alone and help boost sales by being there for new and repeat customers who go searching for your brand, and your eBay store will help bring in new customers who are searching for great deals on the products they love. It's a great situation all around.
Contact OCDesignsonline today for a free quote on your ecommerce and eBay package
At OCDesignsonline have a wide array of eBay listing templates to choose from on the site. You can save $400 by requesting that we create an eBay and ecommerce site package for you. Take a moment to browse our portfolio and when you're ready, please request a free quote. For more great ideas, follow us on Facebook, Twitter, and Google+!