Finding quality beauty products at a great price doesn't have to be a challenge. When you know what you're looking for, and you want a great deal, searching for that deal on eBay can be a great idea. When OCDesignsonline worked with our client Look Beautiful, we wanted to create a custom eBay beauty store as attractive as their target customers would be. We're pretty sure we succeeded at that goal.
The logo for this eBay store is red and black, and features a profile silhouette. We took the elements from the logo and worked them throughout the page. The red is carried throughout in the menu, logos, and shop now boxes. The black also appears throughout the store as does the profile silhouette. This gives the whole site a cohesive feeling that helps customers feel at home in the store.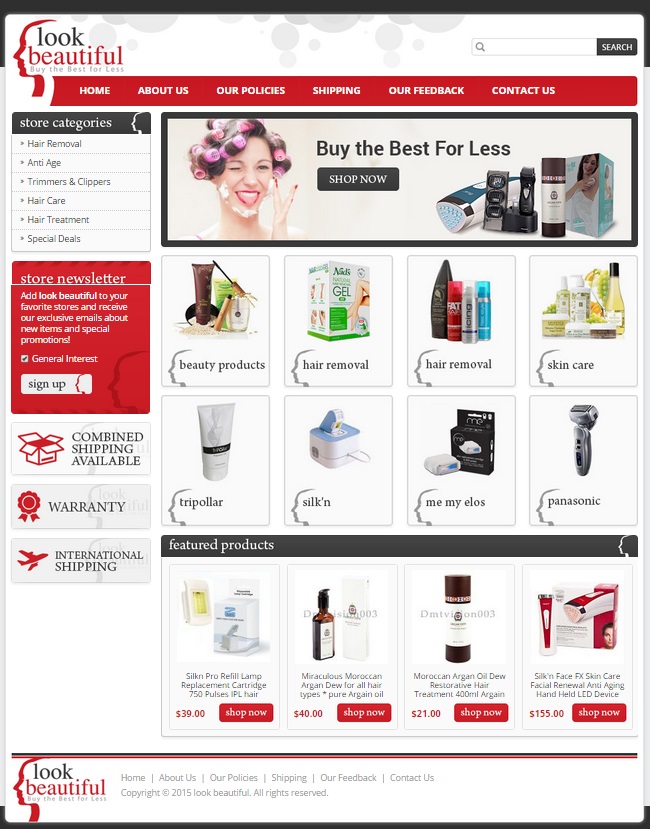 A strong header makes a great first impression
We wanted our client to make a strong first impression on their customers. The first thing customers see when they land on the page is the store's logo, a bubble graphic, and the search bar. We then have a menu bar where customers can find all of our client's policies and shipping information. The header image has a woman engaging in a beauty routine, an invitation to shop now, and images of beauty products. All of this works together to invite the customer in to shop and browse.
Categories and listings make this custom eBay beauty store work
When customers come to an online beauty store, it's often because they are looking for a specific type of product. Because of this, we made sure that we included two ways for customers to browse – they can click on category images from the storefront to go to a custom category search results page or they can click on the sidebar categories from any page in the store. We also created custom listings for our client, carrying their branding throughout the entire store.
Featured products help inspire impulse buys
We created a space for our client to feature some of the products carried in the store. Featured products can be those that are new, on sale, or just of special interest to our client's target market. By changing out featured items on a regular basis, it gives potential customers who are "just browsing" an incentive to return to the online store. This helps increase traffic, brand awareness, and sales.
For help with your custom eBay beauty store design, contact OCDesignsonline
OCDesignsonline has a wide array of eBay listing templates from which you may choose. Browse through our large portfolio of work, and request a free quote when you find something you like. We're also on your favorite social media platforms: Facebook, Twitter and Google+!